Jenny is turning into one of the most bizarre cats I've ever known. Which is to say she's an average cat. On one hand, she is terrified of everything. If somebody rings the doorbell or there's a loud noise, she vanishes in a flash. Needless to say that if I have a visitor, she hides until well after they leave. If I walk into a room... even carefully, she bolts. She is the very definition of a scardy cat.
And yet... she is demanding as hell. 20 minutes until breakfast? Screw that. She wants to be fed now. You want to work when she wants to be petted? Screw that. She wants to be petted now. She has discovered how to meow, and she uses it when you displease her. And she's completely manipulative about it. If her first meow doesn't work, she will try different meows until she gets results. It's totally adorable, of course. Well, it's adorable so long as you pet her in the way that she wants to be petted. And she will totally supervise your every move to make sure you are doing it right...
And speaking of supervision... Jenny will show up to lord over you whenever you are working on something interesting. When I was rewiring my media center, she sat staring at me for a full 20 minutes...
In other news... Jenny rules my entire house now.
After getting Carl the RoboVac, I had to remove the electrified "Scat Mats" because Carl liked chewing on them. Jake would always hop over them when sneaking into the kitchen, but Jenny rarely crossed over. And, on those rare occasions that she did, it was never while I was around. But now? She puts her little foot out to make sure she isn't going to get zapped... but she goes into the kitchen whenever the hell she feels like it. And that's whether I am there or not. She is fascinated by the refrigerator, and makes a bee-line to the kitchen any time I dare to open it...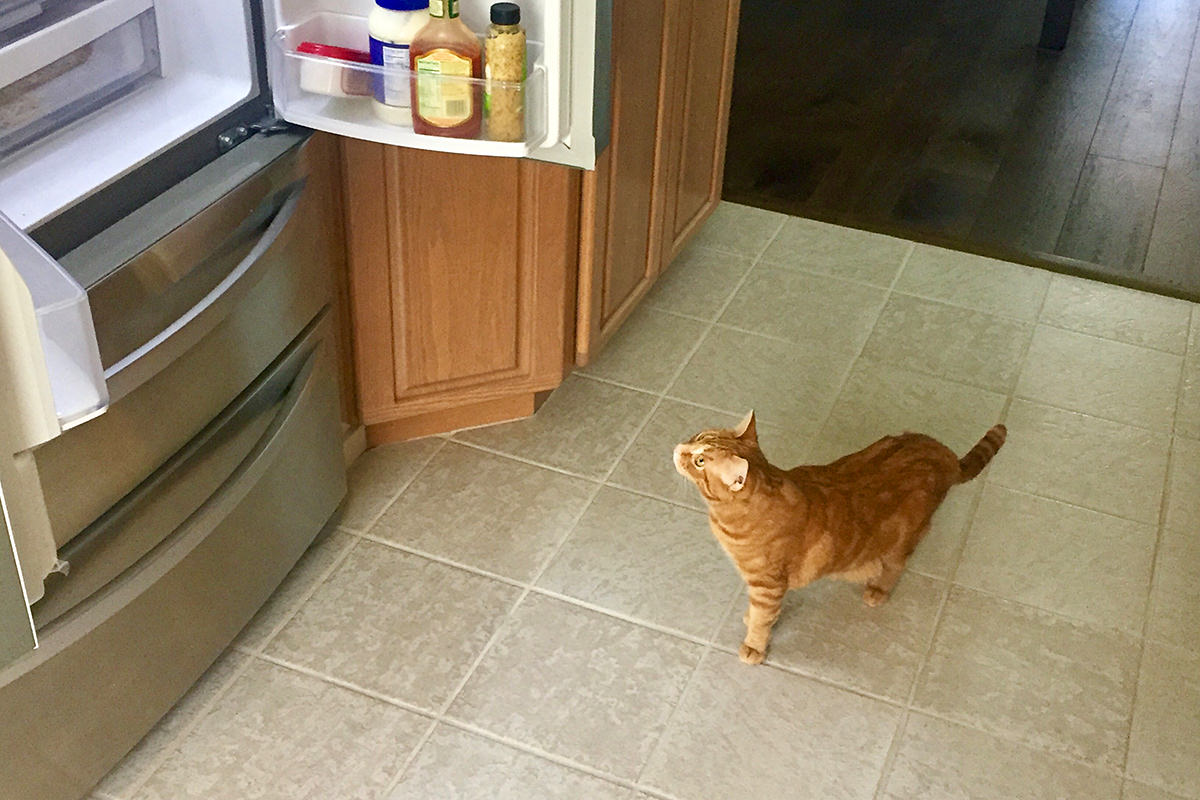 Jake, on the other hand, won't go into the kitchen unless I'm gone or upstairs. And if I ever catch him in the kitchen, he bolts the second he sees me. Jenny, on the other hand, has zero shits to give any more.
And speaking of Jake in my kitchen...
I finally got around to painting two doors that I've been putting off for months. I knew I'd need a third coat, so I just left the paint can on the kitchen counter with the lid barely on and the paintbrush nearby. But then... as I was in bed typing this... I hear a big crash that sounds like it's coming from the kitchen. I take a look at the security cameras to see what the heck is going on, and...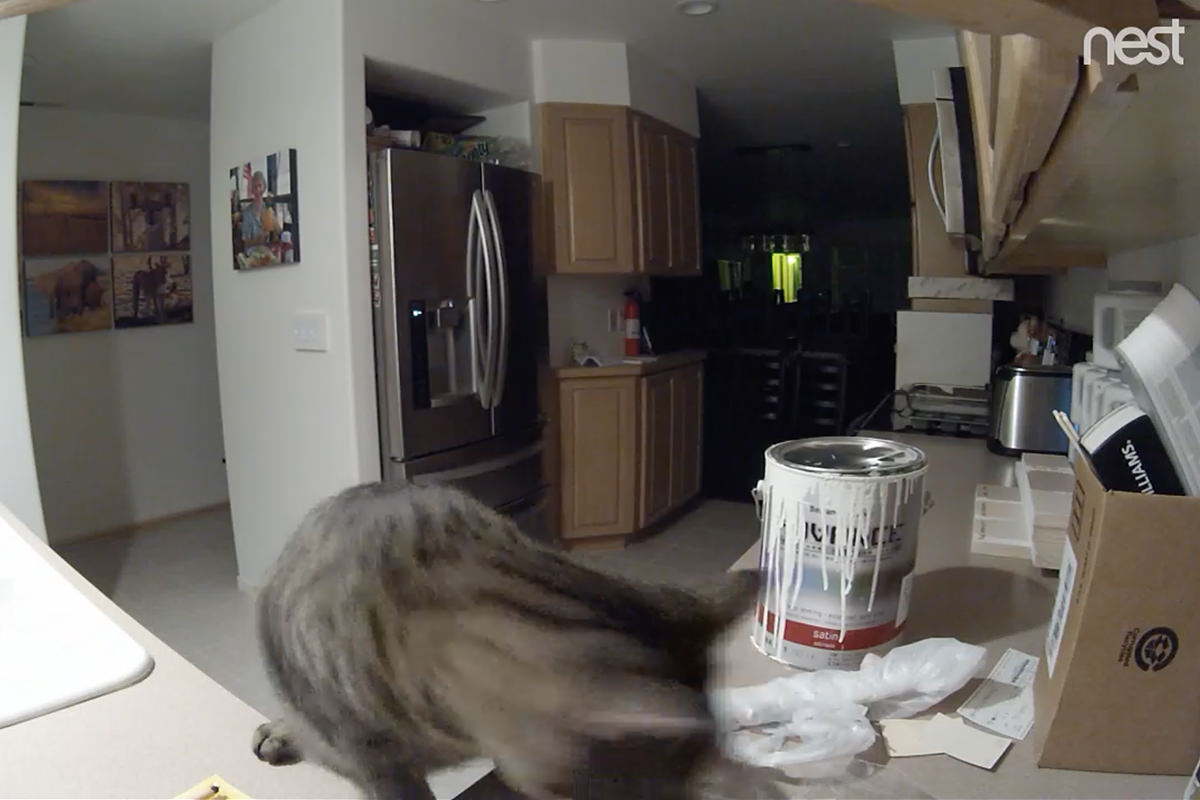 I didn't even wait for the video to finish playing. I tossed aside my laptop and went running downstairs expecting to find my kitchen covered in paint. Except, luckily, didn't happen. Jake walked right by the paint can... went to the cupboard... and pawed a can of PAM cooking spray onto the floor... and that's what I had heard.
In other Jake news... he's been stealing Jenny's new favorite spot on the stereo receiver lately. Though sometimes they do share it. Usually when it's getting close to dinner time and they feel like staring at me in an attempt to get an early meal...
At least until one of them passes out from hunger...
And, since I mentioned Carl the RoboVac earlier...
Apparently Carlthe RoboVac has declared all-out war on Litter Robot. It's robot vs. robot...
I attempted to tell Carl to be nice since his fellow robot is literally cleaning up shit all day long... but Carl is having none of it.
Probably because he's cleaning up shit every day too.
Though, not literal shit. That would be horrifying.