Ah memories.
Comixology (an online comic book distributor) has been adding older issues of Superboy and the Legion of Super-Heroes to their offerings. When I logged on last night, they happened to be displaying the first book of the series I ever read, issue no. 253 (courtesy of a Whitman Comics poly-bag-three-pack* I found in the local Safeway)...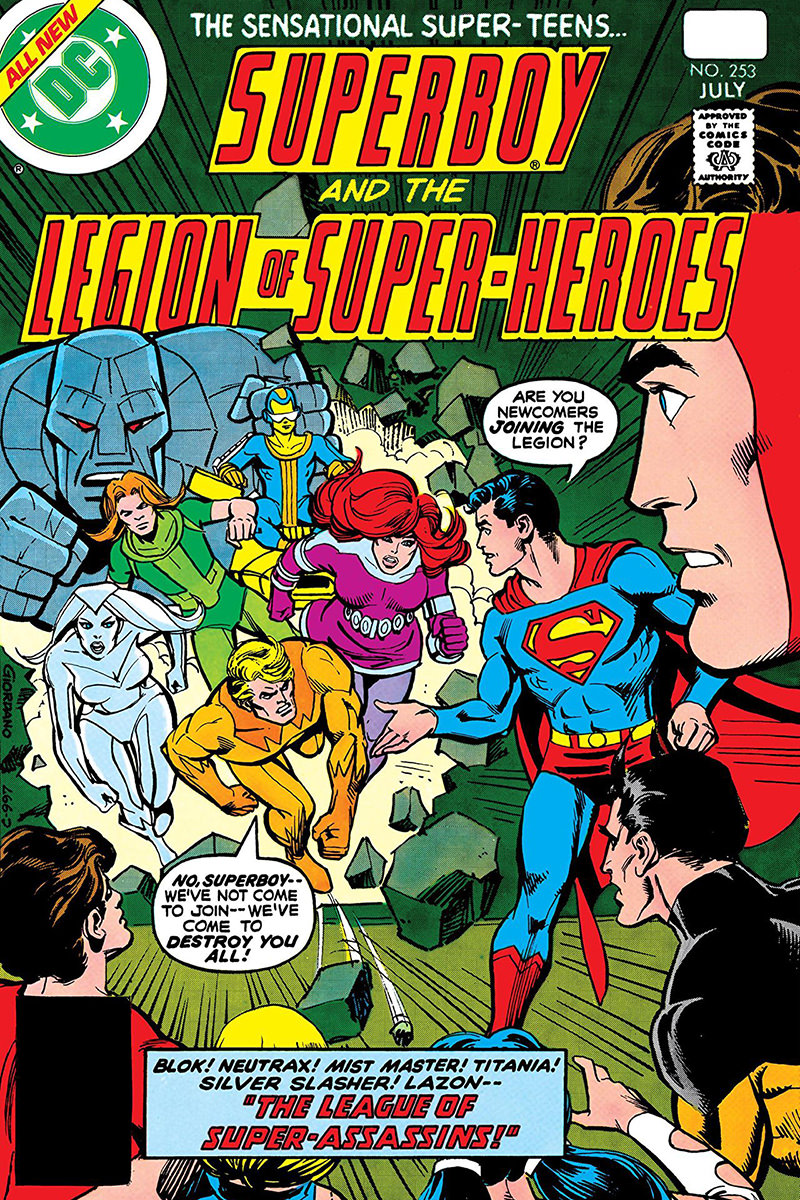 Looking back, this was a pretty stupid cover. A bunch of costumed people come breaking through the wall of your clubhouse and you think they're there to join? Pretty sure I'd knock on the front door if I wanted to join up. But, this was par for the course back in the day. They always took the thrust of the story and found a way to repackage it in some ridiculous context to sell the book.
It was at this point... with this very issue... that I went from being a casual comic book reader to an obsessive comic book reader. I bought up every issue of Superboy and the Legion of Super-Heroes I could find, and then started hunting for all the back-issues, all the way back to issue no. 197, which was when Superboy was re-titled Superboy and the Legion of Super-Heroes. No easy feat. And it wasn't cheap either. Especially for somebody who mowed lawns to earn pocket money.
I don't know what it was about the Legion that made it so appealing to me. Perhaps because it was a super-hero book (which I already liked) with the added element of science fiction (something I also like). Superboy would time-travel to the future so he could have adventures with the team in the 30th century. An intriguing concept to be sure.
And then there were the sheer variety of super-heroes in the book. You name it, Legion probably had it at one time or another. The cast of characters is vast...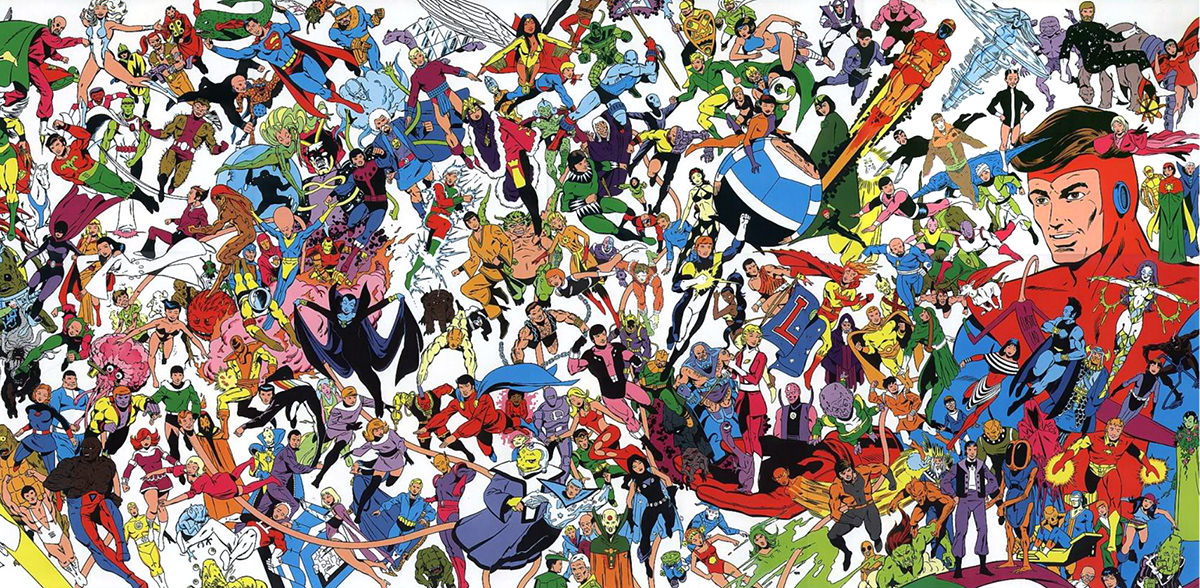 From the time I started reading the book in 1980, many many changes would occur. The most notorious were the numerous ret-cons** that took place in the early 90's. Since Superboy was phased out of continuity at the time, suddenly the entire foundation of the Legion (which was inspired by Superboy) was no longer available. This left the writers scrambling for stories to keep the book's very existence relevant in the DC Comics Universe. And boy did they dream up some doozies. It was a confusing time, but the stories were still interesting, so I kept reading.
Eventually the huge mess that The Legion of Super-Heroes had become was too unmanageable even for writers with the best imaginations, so the entirety of their universe was completely rebooted in 1994.
The book was never the same.
But still I hung in there.
Ten years later in 2004, the book was completely rebooted again. It was okay, but not the Legion I wanted to read.
But still I hung in there.
Various mini-series and guest appearances would come and go after the last reboot died at issue 50. It was a depressing time for Legion fans because nothing made sense. Appearances would contradict each other and there was no overriding narrative to keep the team going.
But still I hung in there.
Then DC Comics' New 52 "reboot to end all reboots" happened and the Legion was brought back with two new books, neither of which were that great. I think they were canceled inside of two years.
But still I hung in there.
Then DC rebooted everything yet again with their "Rebirth" initiative. The Legion hasn't gotten a new book in the new continuity yet, but I'm sure it's coming. It always does.
And even though it's bound to disappoint compared to the glorious 80's that defined the series for me, I'll undoubtedly hang in there and buy the books.
It's hard not to be a fan for life when it comes to the Legion of Super-Heroes.

* Whitman was an imprint of Gold Key Comics. They would commission special print runs of DC Comics with their logo on the cover, bag three books together, then sell them in huge quantities all over the country in all kinds of stores... including the local Safeway grocery store where I got mine.
** The term "ret-con" means "retroactive continuity" and is when story elements established in past stories is changed, contradicted, or ignored in order to make past events have continuity with current storylines. Wikipedia has a fascinating article on the practice.