My cats are frickin' adorable.
I mean, most cats are adorable, but every cat is adorable to their human in different ways. Jake and Jenny are very different cats with entirely different personalities and behaviors. And yet... they somehow still manage to get along. They still play together. They still groom each other. They sometimes still sleep together, though Jake has gotten so big that this isn't as practical as it once was.
While reading through a cat forum recently, I saw that people were posting things about their cats they find adorable. I came up with a list of my own, which I am re-posting here for Caturday...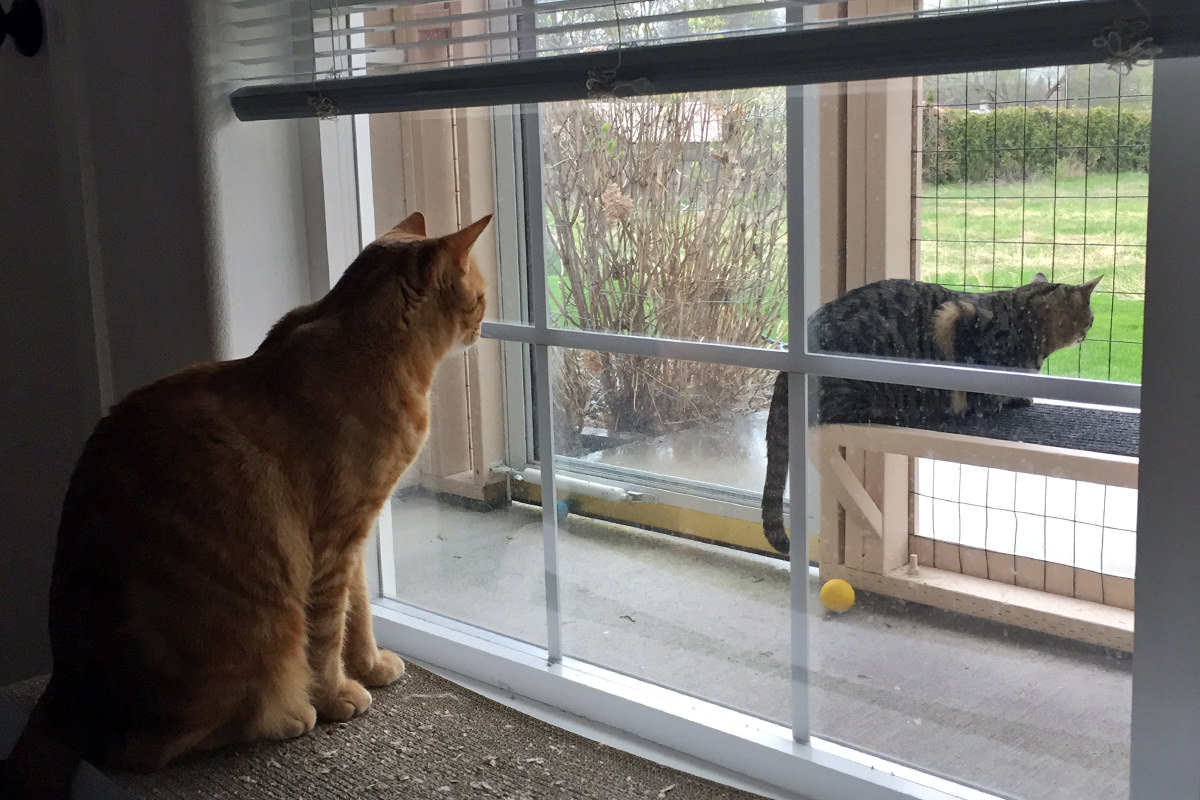 Both cats run to meet me when I get home from work. But it's Jake that gets so excited he just can't stand it. Yesterday when I got home, I had groceries to unload and Jake got impatient waiting for his daily head scratches. So I look down and he's looking up at me with one one paw stepped into the kitchen... a place he knows he is not supposed to go. I look down and say "Jake, Nnnnoooooooo!"... and he draws the paw back. ADORABLE!
When Jenny hears me turn on the shower in the morning, she rushes to the bathroom and patiently waits for me to get out so she can get her head scratches. When I open the door and grab a towel to dry off, Jenny will wait for a minute or two... but start meowing if I don't dry off fast enough. That's already pretty adorable, but last Tuesday she yawned mid-meow and I nearly died it was so cute. ADORABLE!
When I climb the stairs, Jake will sometimes go racing past me and stop on the step so he can cut me off and get petted. I'll pet him for a minute then climb over him. If he's not done being petted, he'll race past and cut me off again so I'll have to pet him more. ADORABLE!
Jenny's favorite thing is smacking her brother in the face. At first she would wait for him to get settled in for a good poop in the Litter Robot, run up and bitch-slap him, then run off. But eventually she got tired of waiting for Jake to poop, and decided to find other ways of smacking him. The latest? She'll haul ass ahead of Jake up the perches in the catio, wait for him to catch up, then smack him in the face as he makes the last jump. ADORABLE?
I think I've mentioned before that Jake can't meow. He just kind of "squawks" instead. Like he opens his mouth wide but can't get anything to come out. It's adorable... but even more adorable is that he doesn't seem to realize he isn't making noise. The other day he wanted my attention, but I just started meowing at him. Each time he'd respond with a longer and longer squawk until I couldn't take it any more and gave him pets. ADORABLE!
When I turn off the lights and go to bed, Jenny will follow me up and hop on my bed with me because she wants to watch TV. This happens almost every night, but sometimes I don't feel like watching television and leave it off. Jenny will meow until I turn it on. ADORABLE!
And... I'm out of adorable for today.