My cleaning routine is fairly basic. I divide the house into sections, tackle a section each morning... then vacuum on Saturday... and finally handle any needed repairs or remaining cleaning on Sunday. Simple, really. Except not really. BECAUSE CAT HAIR! GAAAAAHHHH! Cat hair goes beyond dusting and cleaning because it gets into places that require you to tear apart your home to get to. And so I do this on the first Saturday of every month. Which is today. This morning, in fact. Which means my house right now is the cleanest it will be for another month. It's been completely ripped apart with all furniture moved and every crevice vacuumed out.
And then... just as I was sitting down to type this... a clump of cat hair goes floating past the window.
HOW DOES THIS HAPPEN?!? WHERE WAS IT HIDING? WHY, LORD... WHYYYYY?!?
It's interesting how my cat's behavior is ever-changing.
As an example, I have a water fountain that I bought for Spanky to try and keep him from meowing for the bathroom faucet. I've had it out for Jake and Jenny since day one. But, unlike Spanky, they never drank from the water spout... they just lapped from the bowl at the bottom...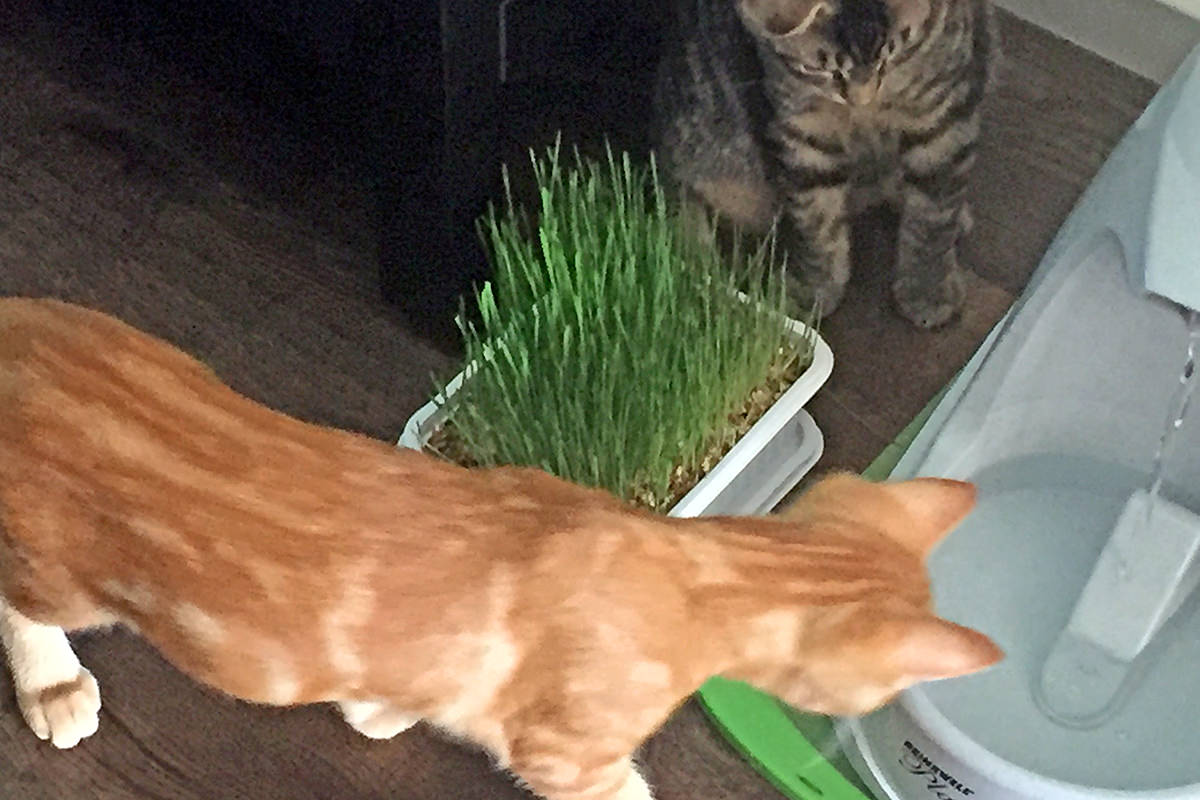 Then today I noticed that Jake has started drinking from the water spout instead of the bowl, just like Spanky did. Jenny looks like she's trying to do that, but she goes in sideways and gets more on her face than in her mouth. Oh well. I'm sure she'll get it eventually.
When it comes to ordering pet food and supplies, I bounce between Petco, Amazon, and Chewy. Chewy was recommended by friends, and they've got the best prices on most things, so that's where most of my stuff comes from now. Especially food. You can tell when my bi-monthly shipment arrives, because the cat cupboard is full-up...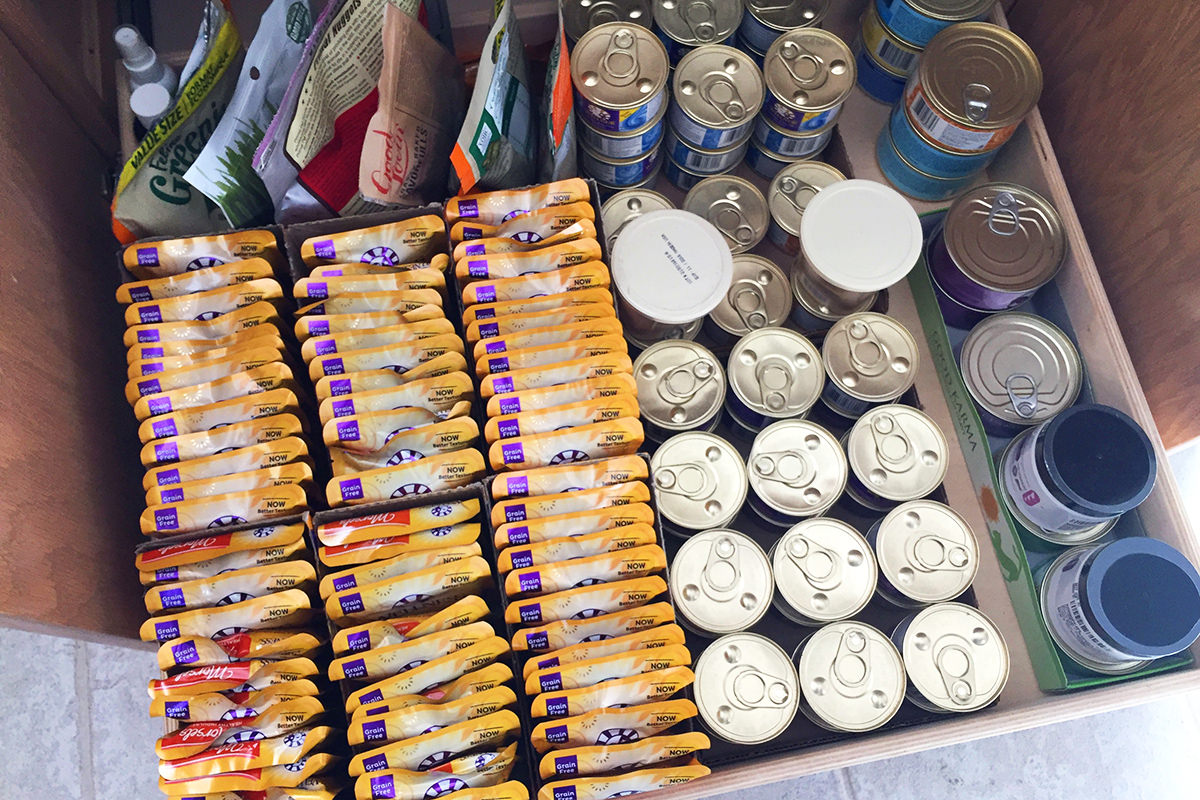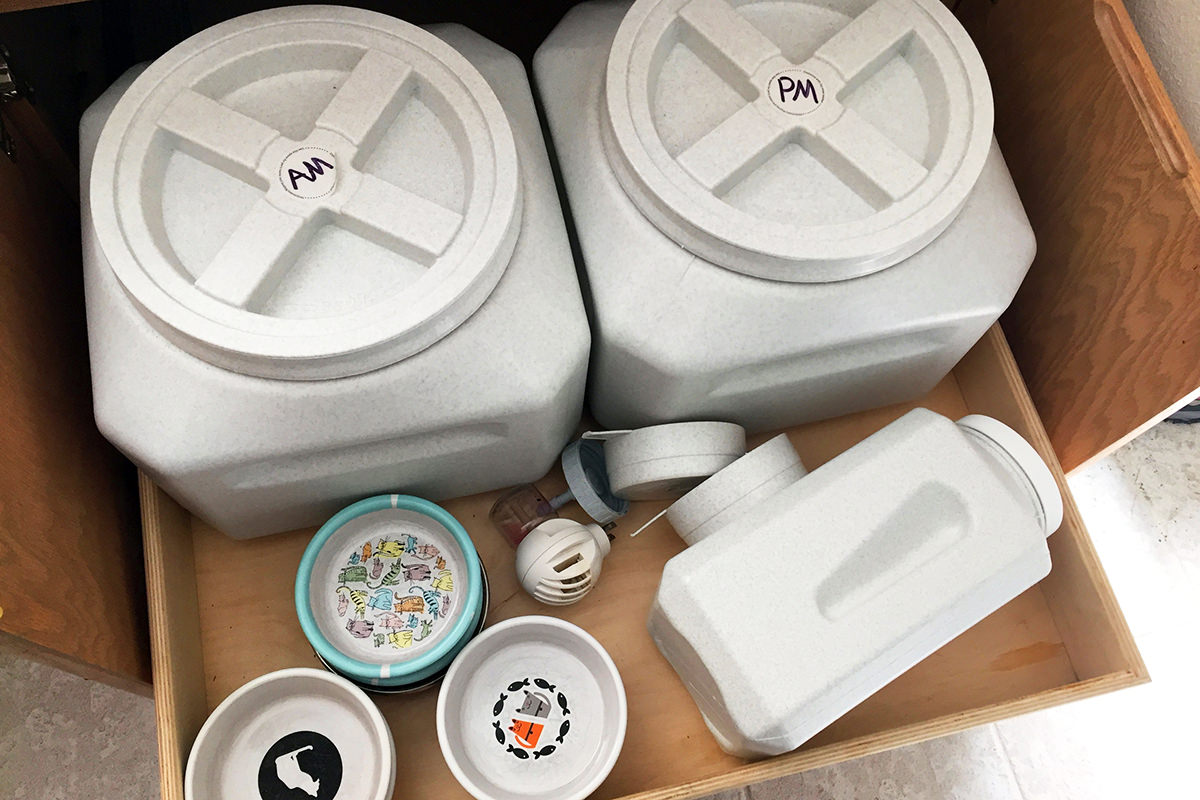 If there's one place in my house that's organized, it's the cat cupboard.
And then...
STEP ONE: Sniff at the box!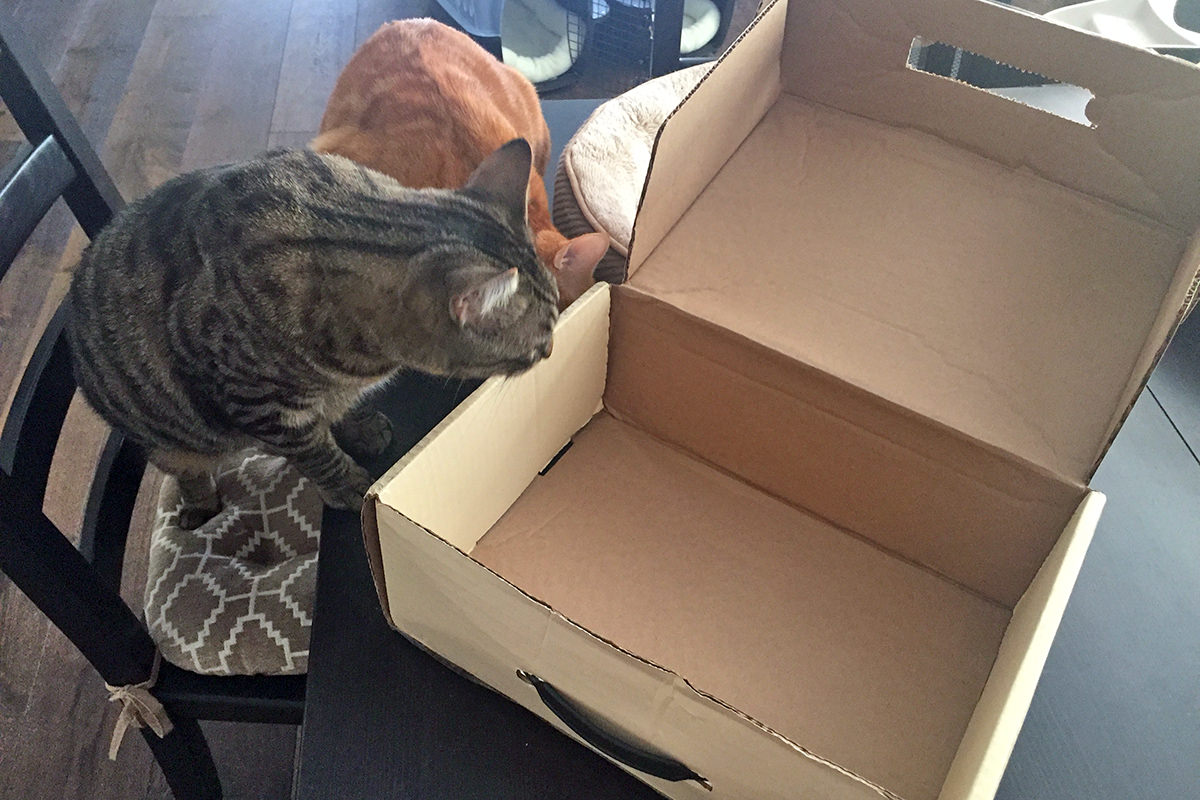 STEP TWO: Step into the box!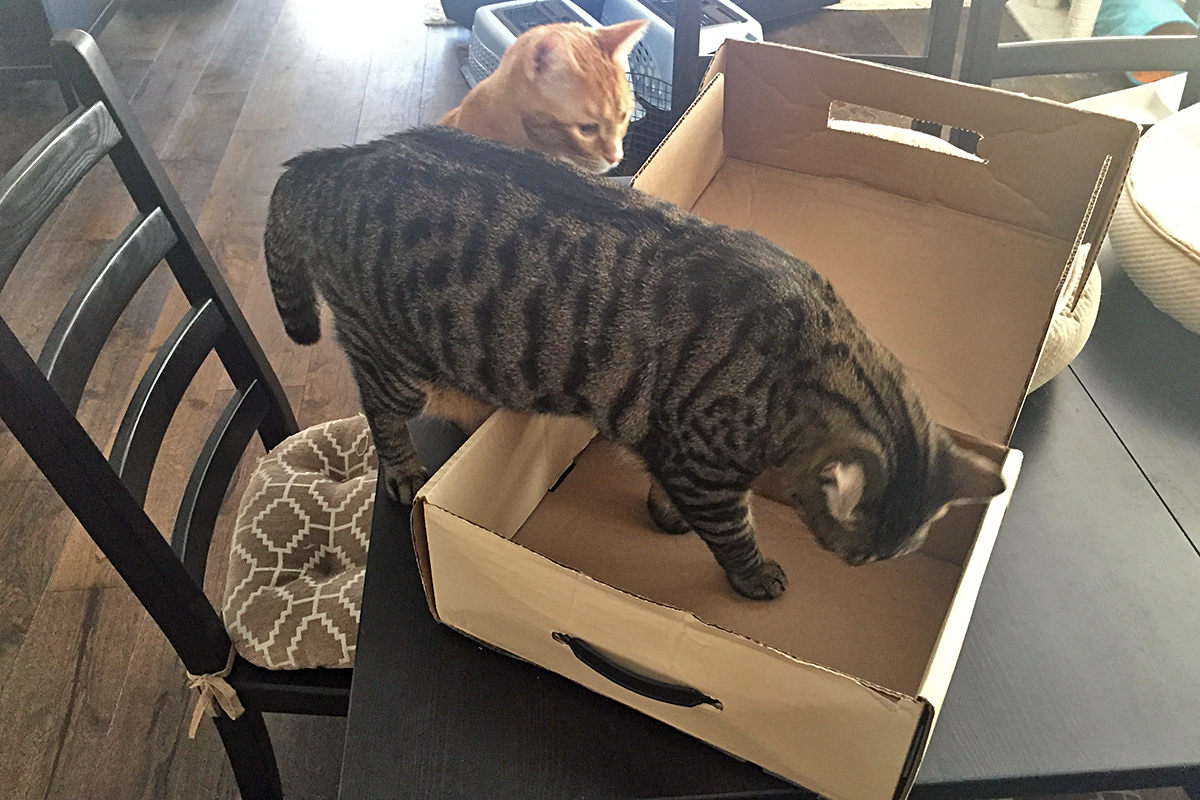 STEP THREE: Get in that box!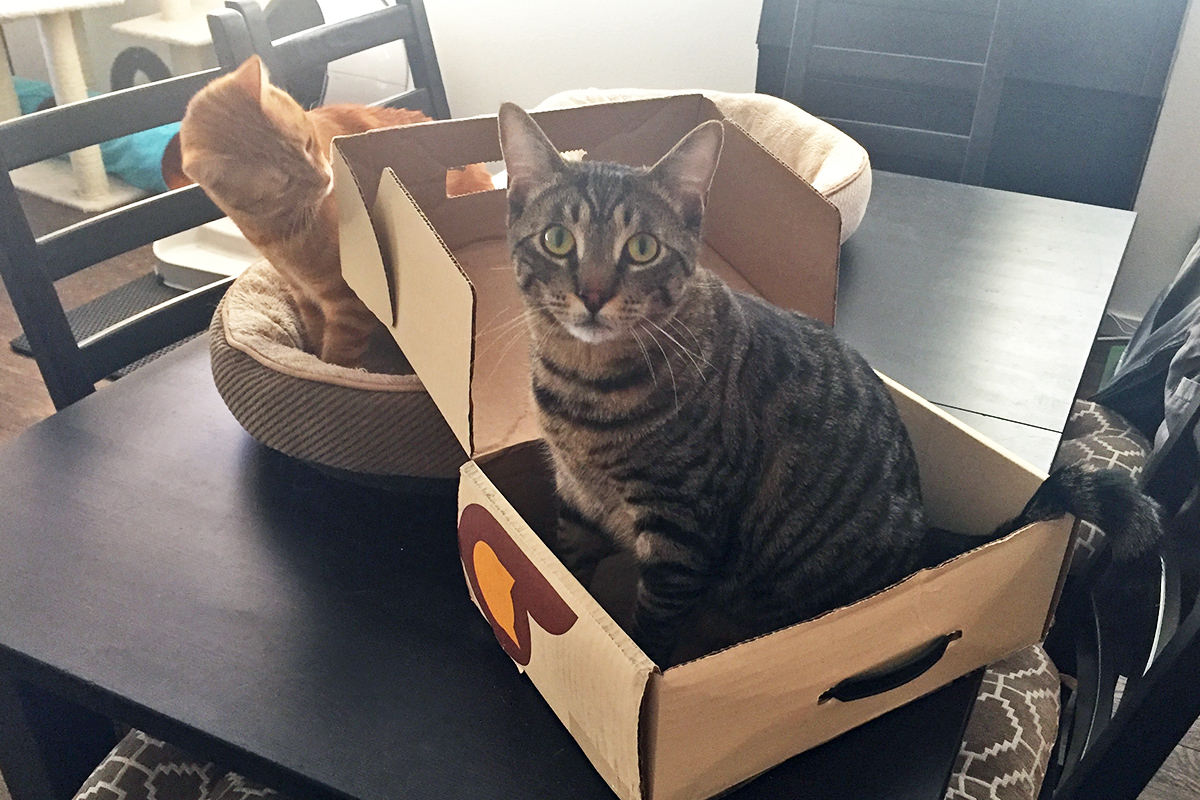 And that's the way we do it...
It's a cat in a box!
At least they're taking turns...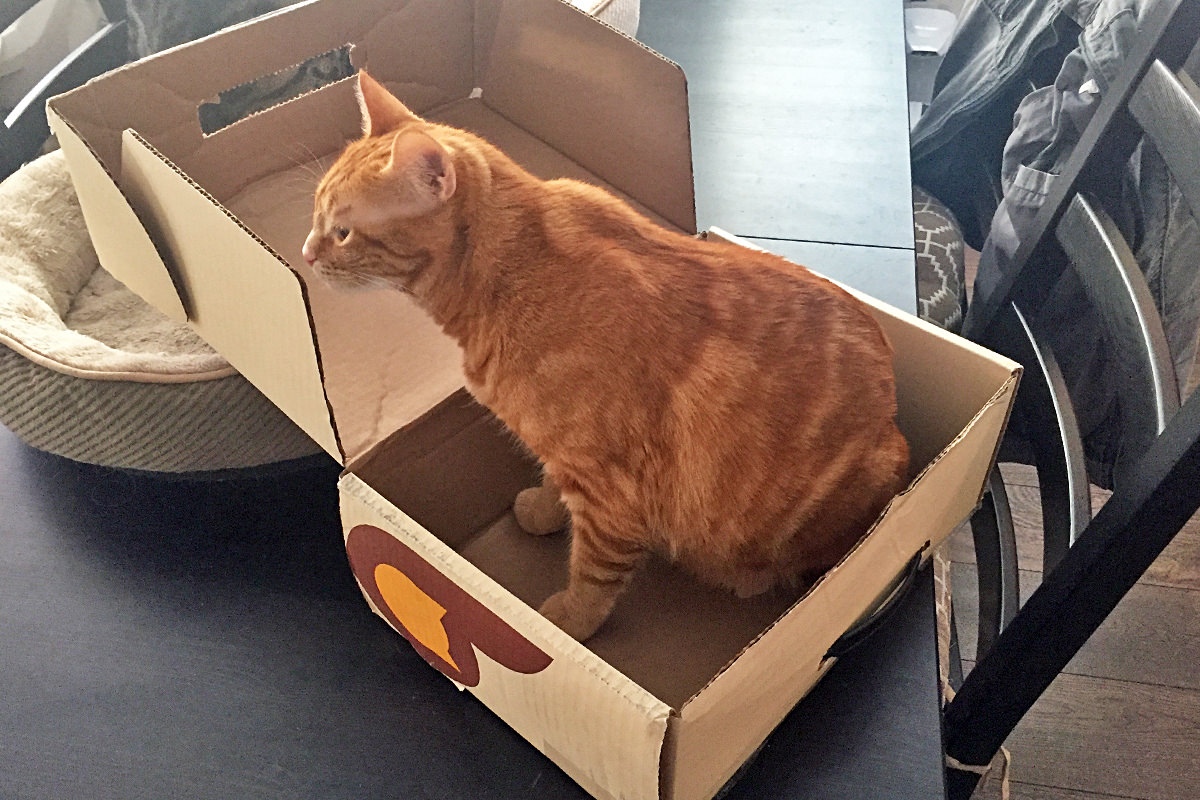 Cat in a box, yeeeaaaaah!
And now, in security camera theater...
Listen to this and tell me that Fake Jake isn't possessed by Satan! It starts out mournful, but then goes full-on crazy. Note that when Fake Jake smashed into the catio fencing, Jenny ran inside. BUT THEN MY LITTLE TROOPER WENT RIGHT BACK OUT AGAIN! And... can anybody tell if Real Jake is growling back at Fake Jake? It kinda sounds to me like he is!
I have two sets of security cameras. One has video history, the other does not, and only stores a few clips at a time when it notices motion. I had an extra clip camera, so I decided to put it in the guest room, which is where the cats are always getting into trouble. A couple nights ago I heard a crash from the guest room while I was on the phone. When I got off the phone, I go running in and see this...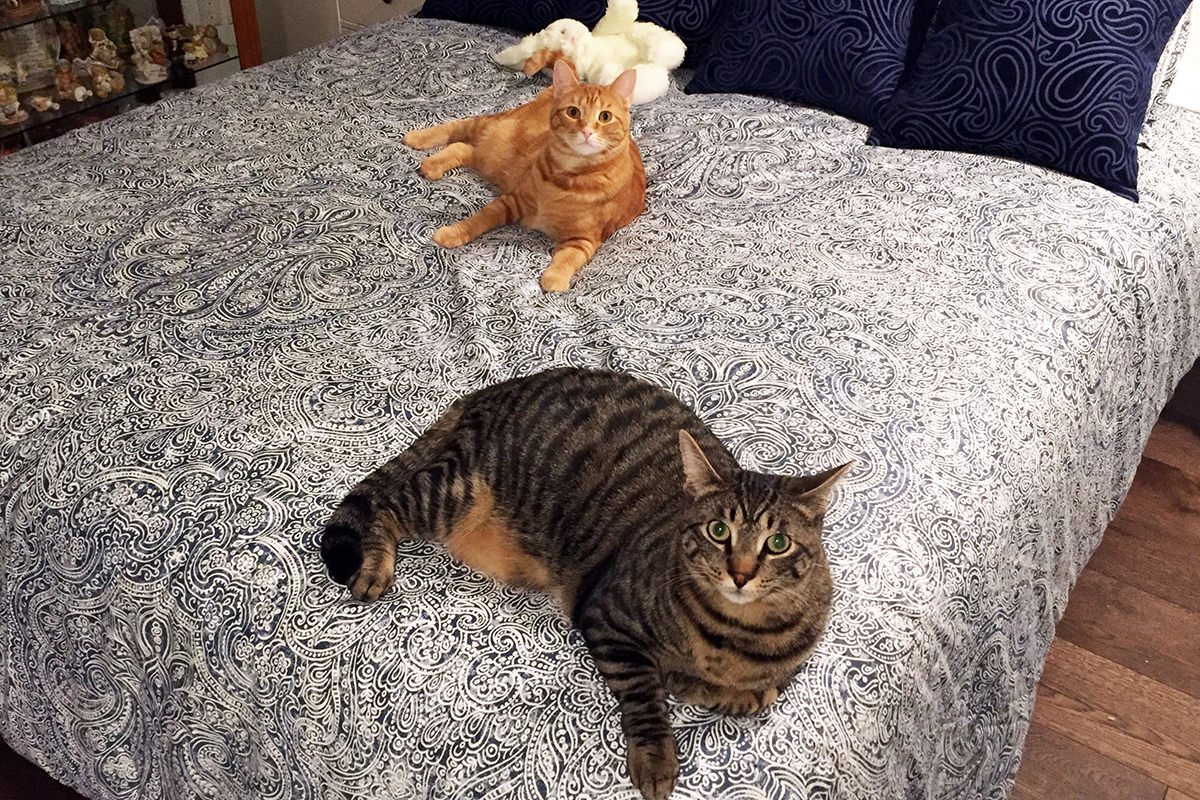 I check the clip camera and see this waiting for me...
Turns out Jake knocked another rabbit off the shelf. I'd be mad, but he's been playing Jungle Panther Cat lately, and he's too cute to be mad at...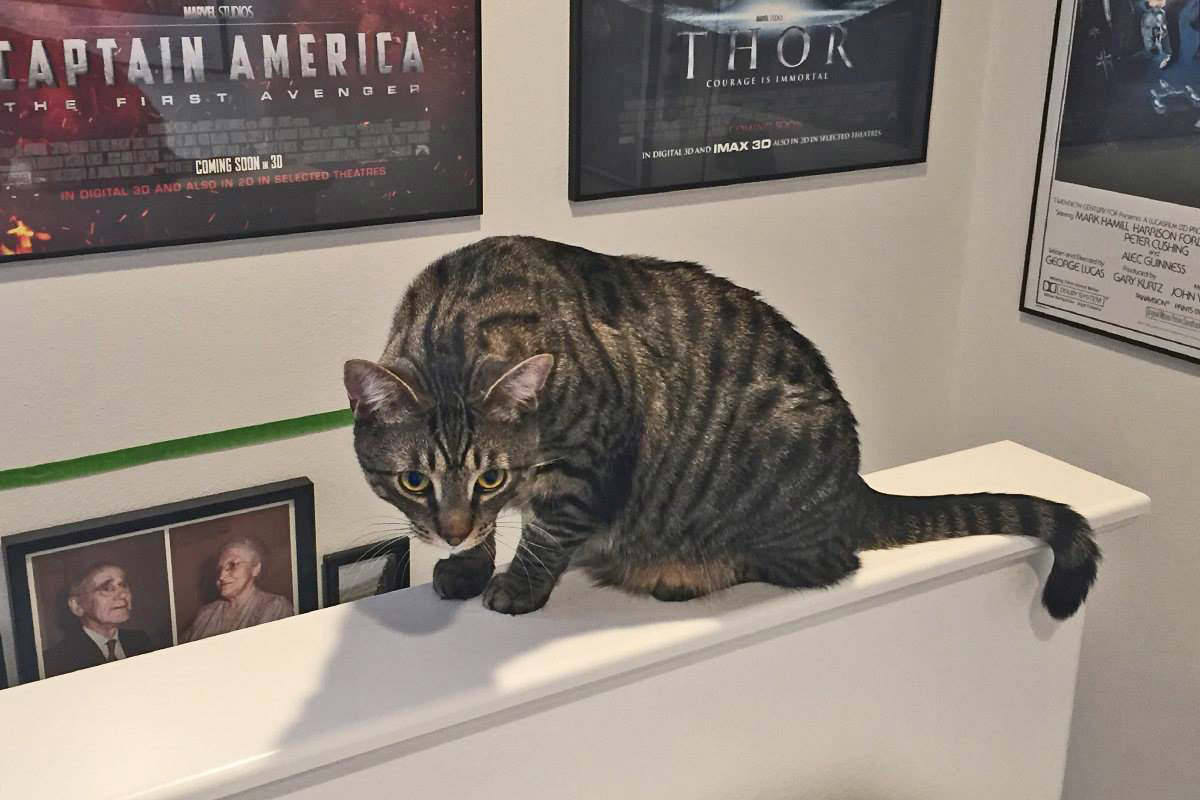 Alrighty then... until next Caturday...