A woman once called my cats "ordinary" after I posted a photo of them when they were impossibly adorable kittens. I'm assuming she was referring to the fact that they were "merely" American shorthair cats, and exceedingly common. Unlike the three Persians that graced her profile.
It was kind of an odd reaction, because I never said anything about them being "extraordinary." I think she was probably just jealous that so many people commented that they were cute.
I asked her if her precious Persians could solve quadratic equations, because MY CATS FUCKING COULD! She never commented back.
Anyway...
This is not my week. First The United States of America ends up in the shitter and now my cats won't let me dry my washing! Jenny loves the clothes dryer. I can never get my clothes out fast enough because she hears the buzzer and immediately runs to the laundry room. Oooh... nice, warm clothes...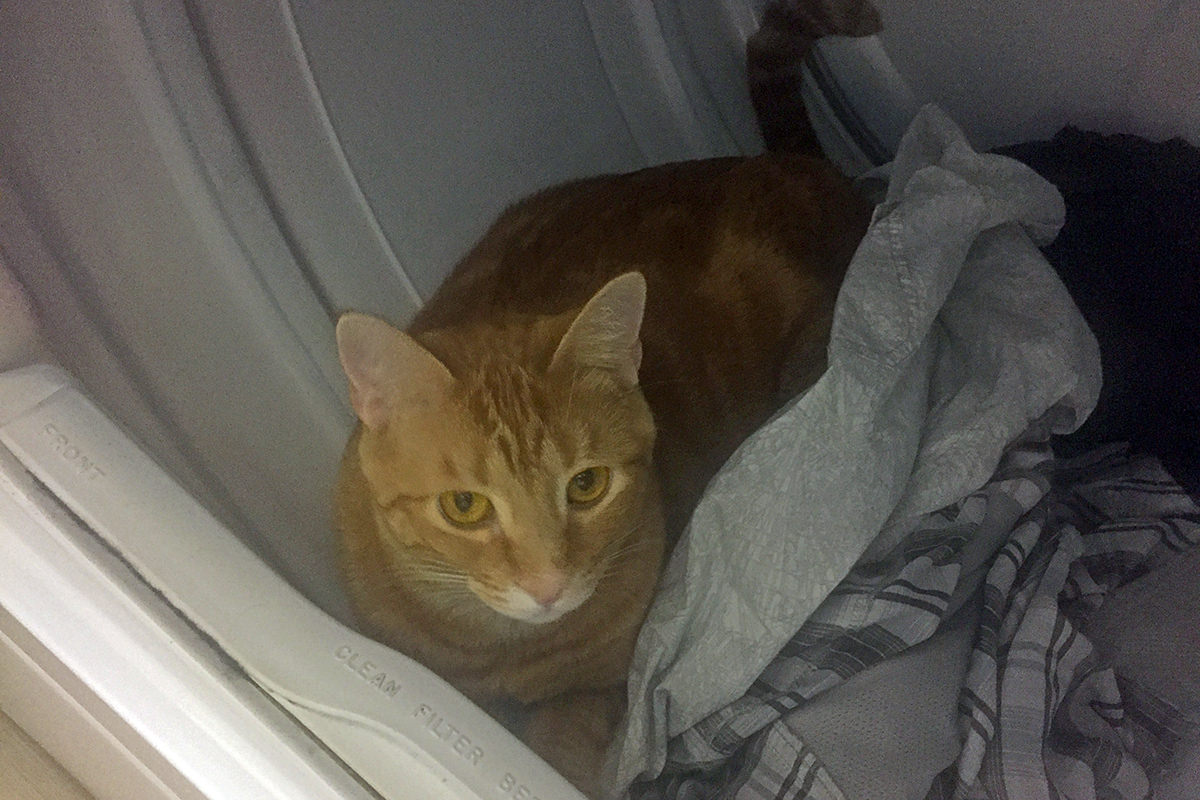 Once I manage to get my clothes out, Jake decides to hop in too. It'll be at least 15 minutes before I can put the next load in now. But... awwww... look how Jake has his arm around Jenny!
Jake sure has grown up to be a big boy!
Speaking of Jake... all the photos I've been posting lately have been on him hanging out with me watching TV. But Jenny does that too...
The difference being that when Jenny sees something that upsets her on the television, she will run up and smack it. For example, here she is about to smack a 5ive Gum commercial...
Other times she will run up just to see what's going on in the world...
Smacking my television is a bit upsetting, but she's always really gentle about it, so I don't say anything. When it comes to cats, you have to pick your battles. So far as Jenny goes, she pretty much behaves all the time, and I'd like to encourage that.
Jake, on the other hand?
Well... when he's not going places he shouldn't go (like the kitchen) and getting into things he shouldn't get into (like the water fountain reservoir)... he's doing things he shouldn't do.
Like smacking pictures on the wall. Which he does every chance he gets for whatever reason.
In most cases, I just remove or move the picture. But there is one picture that I can't really move... my original Pulp Fiction poster. It hangs in the stairwell below the banister, and you can only see it going down the stairs. Jake likes to lay on the banister and smack at it. Until I admonish him, at which time he'll sit there pretending he's just innocently looking at it...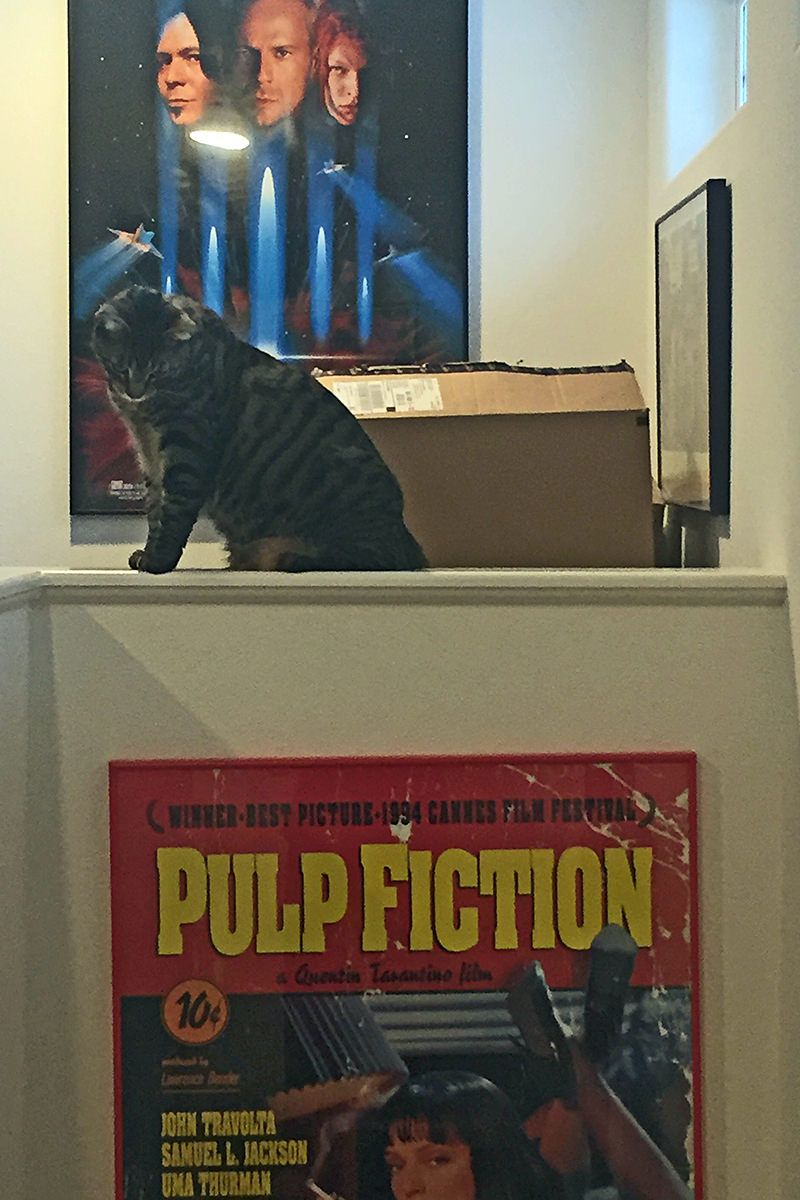 You can see that he's made it all crooked.
Eventually I can't take how adorable he is and call him over for petting, which he loves...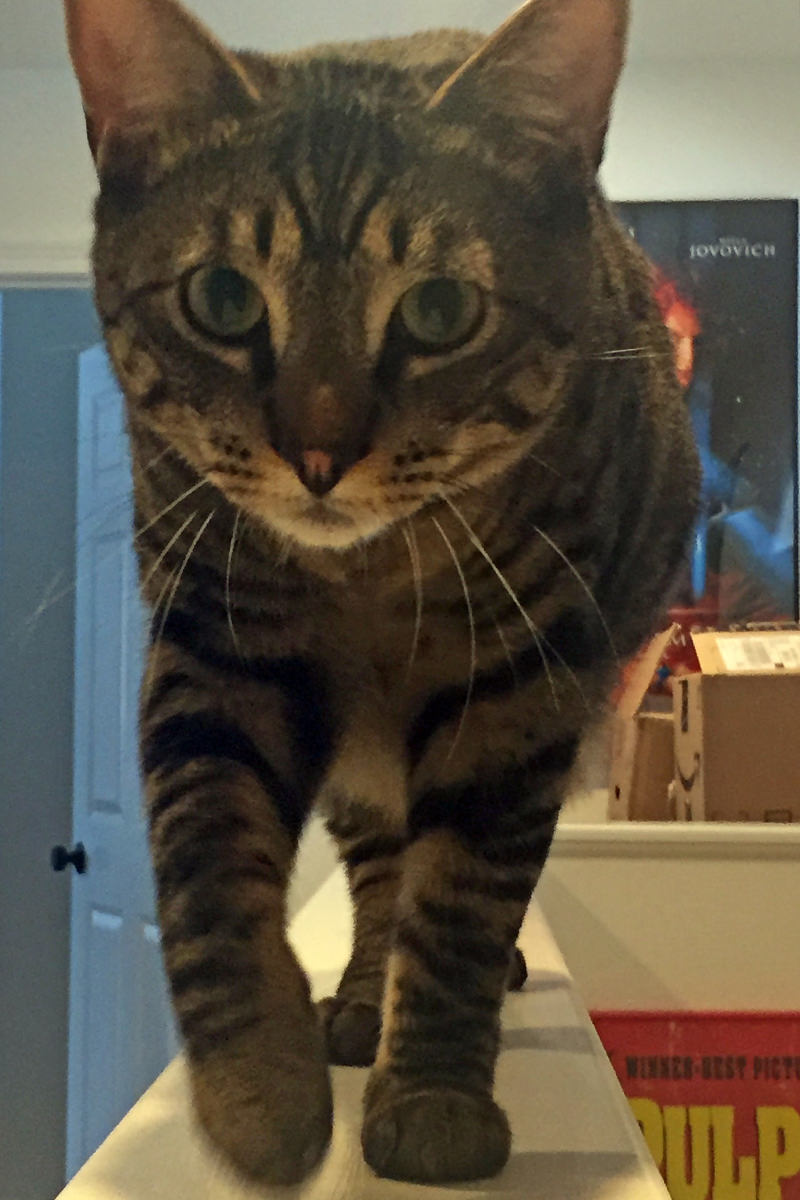 AWWWWWWW! What extraordinary cats I have!