I've been thinking a lot about cooking lately.
Partly because it seems like a good creative outlet now that my woodworking has been suspended for the season... but mostly because I want to eat stuff that I can't buy the way I want it made.
For example... I bought a frozen apple crisp last week. It was terrible. Way too much spice and the apples were cut too large. I also didn't like the topping, which seemed more spongey than crispy. And so I've been researching recipes online, which is a bottomless pit of confusion. Apparently there are literally hundreds of ways to make the stuff, and everybody has an opinion as to what makes a perfect apple crisp. The only thing that makes it a little easier is that I can automatically discard the recipes which include raisins (WTF?!?).
My concern with trying to make stuff myself is that I always end up with more than what I can eat because recipes seem to feed a dozen people, on average... also the ingredients are usually expensive... and the actual cooking never seems to go as well as I hoped.
Like the time I tried to make potato salad...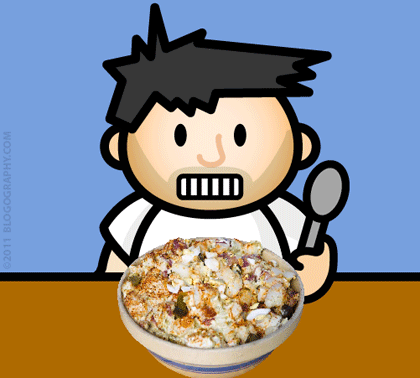 And yet...
I suppose I'll give it a shot after the holidays.
I'm thinking I'll cut the ingredients in half and hope that it won't affect the cooking time. I don't think I've ever burnt anything before, but there's always a first time.
Now, if you'll excuse me, I've narrowed my recipe choice down to eleven options and I've got to decide on nuts or no nuts in order to get to the next elimination round.