For all those who wrote me emails or sent me texts or even called me... wondering what the heck happened that I had disappeared off my blog... thanks!
The explanation is both simple and complex. But let's start with what it is not going on...
I'm not sick.
I'm not dead.
I'm not on the lam.
I have not been abducted by aliens.
I have not given up blogging.
Here is what is going on...
As mentioned previously, the security I have on Blogography has been keeping me from posting. I can't disable the security, because I keep getting hacked (apparently having 15 years of Google-indexed entries makes you a desirable target). It has something to do with switching internet when I moved house, but in order to post now I have to log in to my blog, turn off the security, log out of my blog, log back into my blog, restart blogging services, post my entry, log out of my blog, then log back in so I can turn security back on.
It's quite an ordeal, and I really don't have time for it.
So I took to posting a week's worth of entries all at once in an effort to deal with it all.
That worked for five months.
And then it didn't.
No matter how many hoops I ran through, I couldn't get to the point where I could post. Not that this stopped me from writing entries. On the contrary, I was still writing every day like I always do...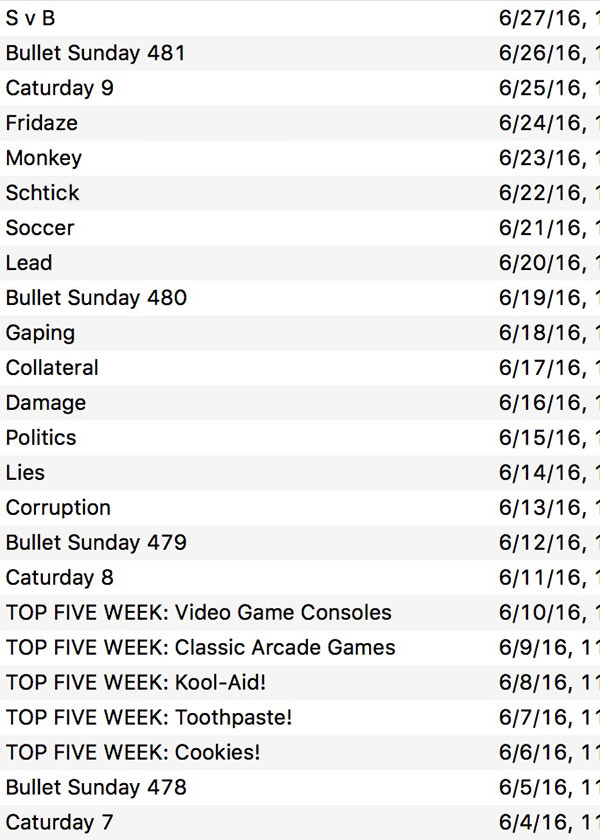 I just couldn't do anything with them because I could never find the time to fix my blog.
Until today.
I finally backed up the database, uninstalled everything, reinstalled everything, then restored everything. And it seems to be working.
Which leaves me in a quandary. Do I just flood post a month's worth of entries as if nothing ever happened? Or do I chalk up the month of June as a loss and start up fresh? Who wants to back-read a whole month of the stupid crap that I post? Is this stuff even relevant after all this time?
I dunno.
My inclination is to summarize my month tomorrow on the 3rd. Then resume posting on the 4th... exactly one month from when I stopped. Then I can swipe some old material I wrote... refresh stuff that's no longer relevant... and get back to all new musings that my legions of Blogography fans demand!
As much as I loathe the idea of there being a month-long chunk of missing entries in over a decade of daily posting, I think this is the best way to move on.
Hope you enjoyed your vacation from me.