I'm on my fifth run-through of Star Wars: The Force Awakens, and I love the movie more with each viewing. Not because it's the greatest film I've seen... it definitely has its problems... but because after thirty-five years of waiting for a Star Wars film that didn't suck balls, here it is. Sure it's a complete re-tread of Star Wars, didn't break any new sci-fi ground whatsoever, and lacked the imagination and risk that a truly great Star Wars film should have... but maybe re-telling the Star Wars story over again in a new way is what we needed to reset everything? A re-starting point that reminds everyone why the Star Wars universe is so amazing?
I dunno.
So let's talk about the film shall we? But first... a warning...

Yeah, spoilers follow. So if you're one of the three people on earth who hasn't yet seen The Force Awakens, you might not want to proceed.
Okay?
Okay!
Since everybody has seen the film, it's pointless for me to recap the story, so let's skip that part.
The thing that strikes me most about Episode VII is the spaceship battles... in that so few of them take place in space. Much like The Empire Strikes Back melted my brain with Snow Speeders bringing a space battle down to "earth" (so to speak), The Force Awakens has all kinds of amazing shots which make the battles considerably more grounded. And they do it so beautifully. Shot after shot of stunning interactions between ship and environment provide a thrill much more personal than the cold emptiness of space. I mean, sure it makes no sense that Rey can fly the Millenium Falcon at expert level when she's never flown it before, but look how beautiful that shot is! And... MILLENNIUM FUCKING FALCON, BITCH...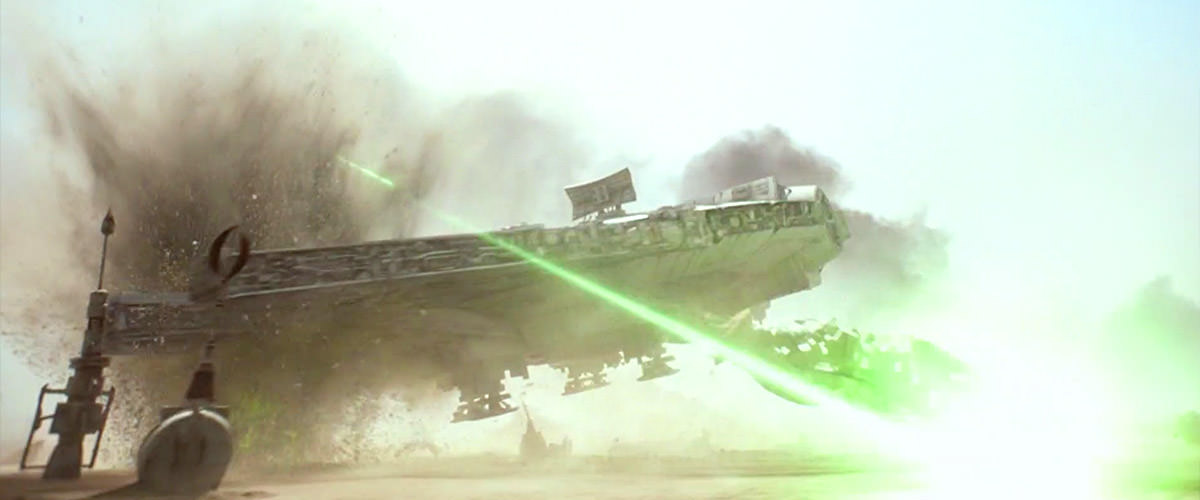 Even when there's no battle, you can't help but be impressed. I could watch the Millennium Falcon fly across the water to Maz Kanata's palace over and over again without getting tired of it. It's just so gorgeous...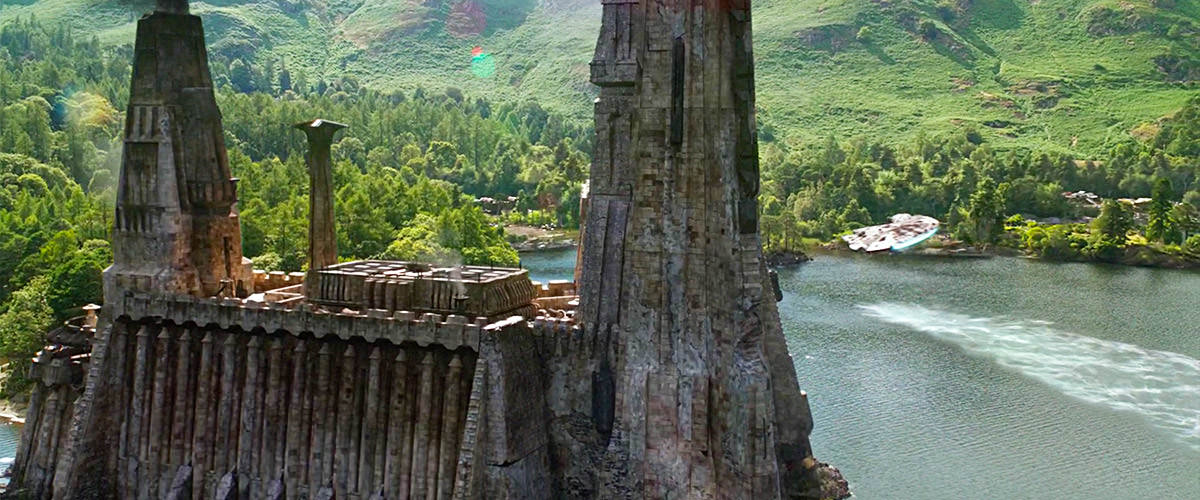 As are all the special effects, which are about as flawless as it gets.
Granted, Abrams has the benefit of better technology than Lucas did for the shit-fest that was Episodes I-III, but it was Abrams choice to do practical effects whenever possible that truly made Episode VII a vastly superior movie. The actors were able to inhabit their environments in a way that elevated their performances. And it shows. Instead of being stuck in a big green room trying to use half their brain to figure out what the hell is going on while the other half tries to make their character's lines convincing, Episode VII actors could focus on their performance. Natalie Portman and Ewan McGregor are exceptionally gifted actors... but just look at the half-baked performances they turned in for Episodes I-III. The fault isn't really theirs, and I can't help but wonder how much better they would have been with a director who understands how acting works.
And then we get to the cast. Daisy Ridley and John Boyega are superb in The Force Awakens. There's not a moment where they falter, and to see them light up the screen is what makes the movie so compelling. Hell, even fully-CGI characters like Maz feel authentic, and it's all thanks to unparalelled special effects coupled with the perfect casting of talented people like Lupita Nyong'o...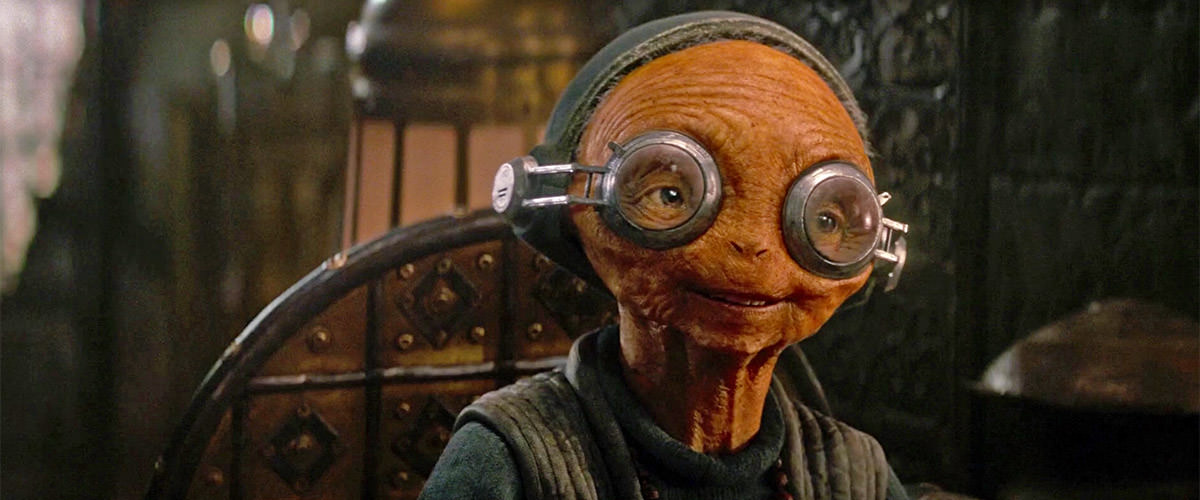 I hate to keep trouncing all over Lucas, but he anchored his entire pre-saga around horrendous performances from Jake Lloyd and Hayden Christensen. No amount of acting talent surrounding such horrors can make up for that. Abrams made sure the people anchoring his movie could deliver the goods. And boy did they. Having original cast members show up was just the icing on the cake. Especially Harrison Ford, who gave us the funniest scene in the film...
Of course, it wouldn't be a Star Wars film without lightsabers... and The Force Awakens gave us some memorable saber action. But in a good way. Not in the comical, farcical, over-the-top way that the prequels stunk up the screen. I still laugh my ass off at "The Battle of Genosis" (Episode II: Attack of the Clones) where we finally get the chance to see an entire batallion of Jedi in battle... only to have Lucas shit the bed by conveniently forgetting that the Jedi are capable of stunning acrobatics. No no... let's not have the battle be cool as fuck... let's just have the Jedi sleepily, randomly swing lightsabers around and occasionally "force push" a robot away so he falls down and goes boom...
And that's about as exciting as the "battle" got. Holy shit was that movie lame.
But Force Awakens takes a different tact. Even if it doesn't make sense that Rey could take on Kylo Ren when she's probably never even touched a lightsaber before. I don't care how hurt Kylo Ren was... or how "in-tune" with The Force that Rey was, it was a bit ridiculous. I mean, Kylo Ren can stop a fucking laser blast in mid-air, but he can't kick the shit out of an untrained saber newbie because he has an owchie on his side? Please. But, ooh... look how beautiful it looks!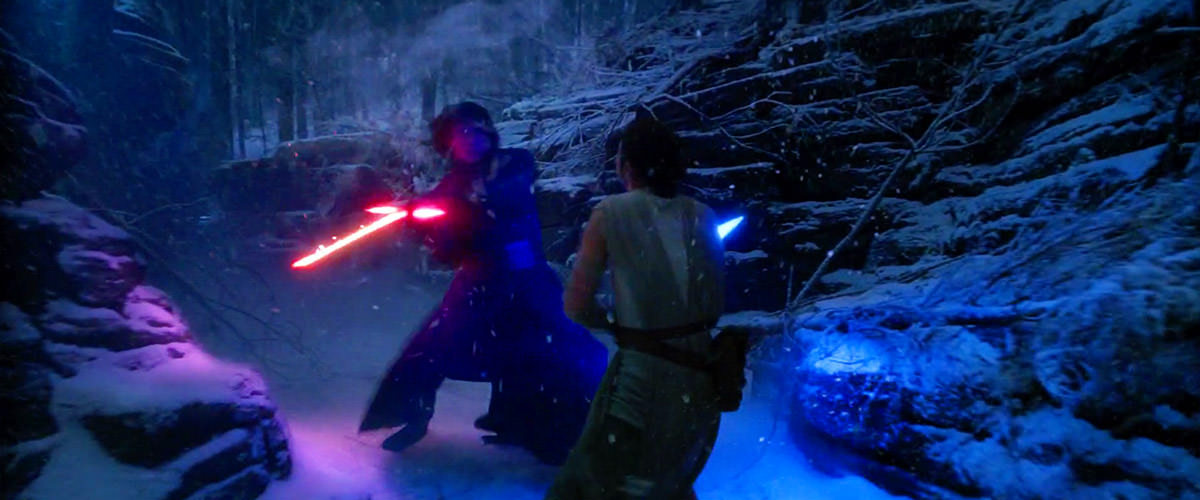 A big nod to Quentin Tarantino's Kill Bill here. His battle at The House of Blue Leaves between Uma Thurman and Lucy Liu made for great pre-viz...
Though putting a lightsaber fight in the snow is genius. I love how Kylo Ren and Ren are accidentally chopping trees in half and boiling snow when their sabers touch it...
And, speaking of lightsabers, about that twist everybody saw coming...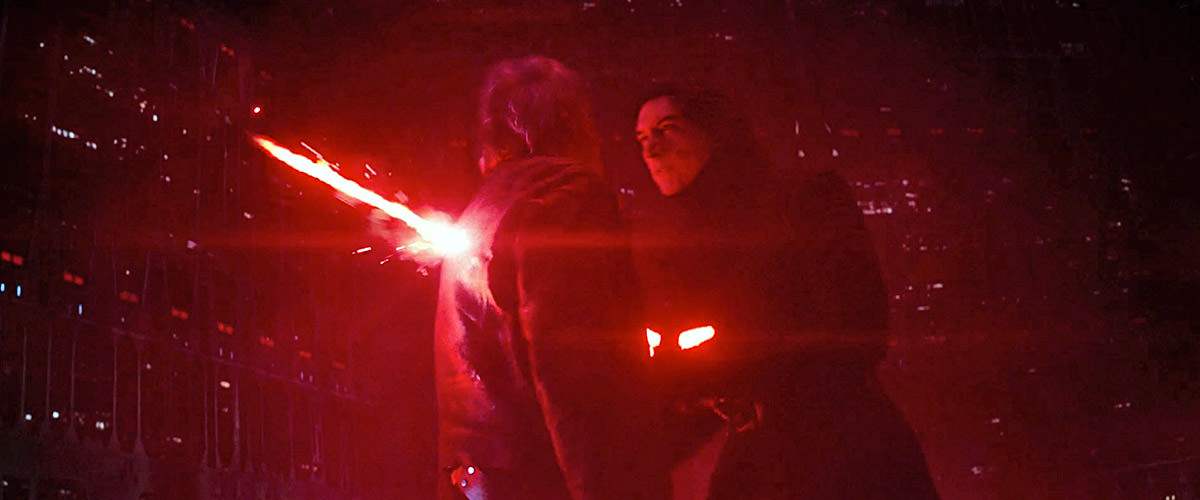 Harrison Ford has been asking for Han Solo to be killed off for years. At least Abrams found a way to make his death mean something. The pity being that the heart and humor of Star Wars is gone. Forget Luke Skywalker, it's Han Solo that encapsulated the awesomeness of the franchise. At least all my best Star Wars memories are of Han Solo. Maybe Darth Vader. But he's already gone. I will miss Han Solo in future installments.
Ultimately, this next iteration of the Star Wars saga will live or die on the second act: Star Wars Episode VII: Echoes of the Dark Side or Star Wars Episode VII: Space Bear or Star Wars Episode VII: Return of the Return of The Jedi... or whatever. Will it be a retread of the best Star Wars film, The Empire Strikes Back? Or will they strike out in a more inventive direction?
Who knows.
But so long as there are spaceships and lightsabers and George Lucas is nowhere near it, I'll be there.