My new home has an utterly bizarre design choices. It's a nice place but, logically, rooms are positioned strangely, walls don't align as they should, and absolutely nothing is centered. Some of this I was able to address in the remodel, but other things ended up sticking around because there's just not enough remodel money to deal with all my ADD issues.
One of the areas that my new home's quirks made especially challenging was decorating. Since nothing is lined up and nothing is centered, placing pictures on the walls is a maddening struggle.
Take, for instance, my upstairs hall.
I decided I wanted to decorate it with movie posters. One wall has two small windows above a stairwell (off-center, of course), another wall has bizarre angles cut into it, another wall ends in a desk nook that's off-center from two bedroom doors. And, as if that wasn't bizarre enough space to try and align some wall hangings, the far wall comes out of a stairwell and has the HVAC vent return! It's enough to drive you crazy.
For this wall I decided to put a couple Star Wars posters (A New Hope and Empire Strikes Back... the only two that matter) and have them line up with both the stairwell and the upstairs hall. This left a big gap in the middle that needed filling.
I decided a light saber might be cool.
Only to find out that replicas are insanely expensive.
And then I happened across a "science kit" from "Uncle Milton" that featured a "Build Your Own Lightsaber" style room -light... for just $25! SOLD! I liked the design of Darth Vader's lightsaber best, so that's what I went with.
Opening the box had me bust out laughing, because it's not actual-size. It's a mini-saber that's tiny, tiny, tiny...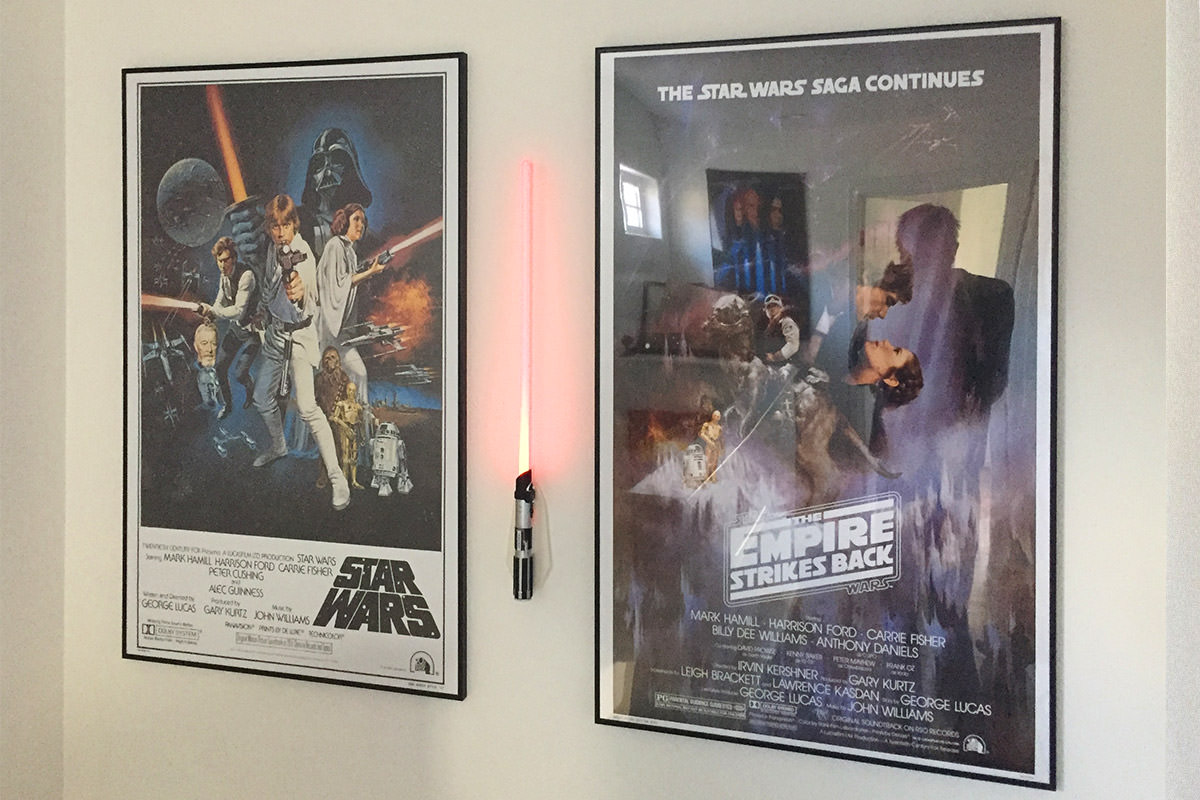 As if that wasn't funny enough, the "Darth Vader" lightsabers come in a box with a picture of Kylo Ren!

Even though it's billed as a "room light" it sure doesn't glow bright enough to light up a room... even in total darkness. But it does make a lightsaber sound when you turn it on, so I guess that's something. It comes with a remote control, but the remote doesn't turn the thing on, so I have no clue what the hell it's for (you have to push the button on the hilt to get it to "activate"). The description at Amazon said that the blade changes to eight colors with the remote, but the Darth Vader blade only glows red.
Ultimately, a big disappointment, as this is not the lightsaber you're looking for... move along.
Eventually maybe I can find a decent FULL-SIZE replica with a glowing blade that's affordable. Until then, a mini-saber it shall be.
May The Force be with you.
Always.