For decades I've been vowing that if I were to ever get my own place, I would never have carpeting again.
This was only confirmed when I pulled out the carpeting in my new home only to find that massive amounts of dirt were sitting beneath... belying the clean appearance of the carpet from above. It's pretty heinous... even if you're got a power vacuum like a Dyson.
Anyway...
The problem with hardwood is that it makes for some slippery stairs... especially if you have kittens that struggle to climb them and need something to grab onto. This means buying some stair treads, which is easier said than done, as there are a number of hurdles to overcome. First of all, decent stair treads are really expensive. I've seen them as high as $50... per stair! Second of all, I am picky in that I want something which blends in with my flooring as much as possible... but still stands out enough so people know they're there. Since I couldn't find them local, I had to best-guess while shopping online, which is always dangerous as the color you see on your display rarely matches reality.
Amazon here I come.
There were a few options that caught my eye, but the one that really stood out was the treads by casapura...
Most important, the "chocolate brown" color looked to be a good match from what I could tell in the photo.
There were 15 treads... exactly the number I needed... when most sets only had 13 (I only have to order one set!). As a bonus, you also get a mat!
The reviews were really good.
They had a "London" design which was rounded to show off more of the wood, which I liked much, much better than big rectangles that covered everything.
They were among the cheapest treads available... just $89!... which meant I wouldn't be out too much money if I didn't like them.
So I ordered them with my expectations kept in check.
Imagine my surprise when I opened the box and found that they were absolutely perfect. The quality. The color. The shape. The size. Everything. They look far more expensive than $89, and work perfectly for my kittens to navigate the stairs safely...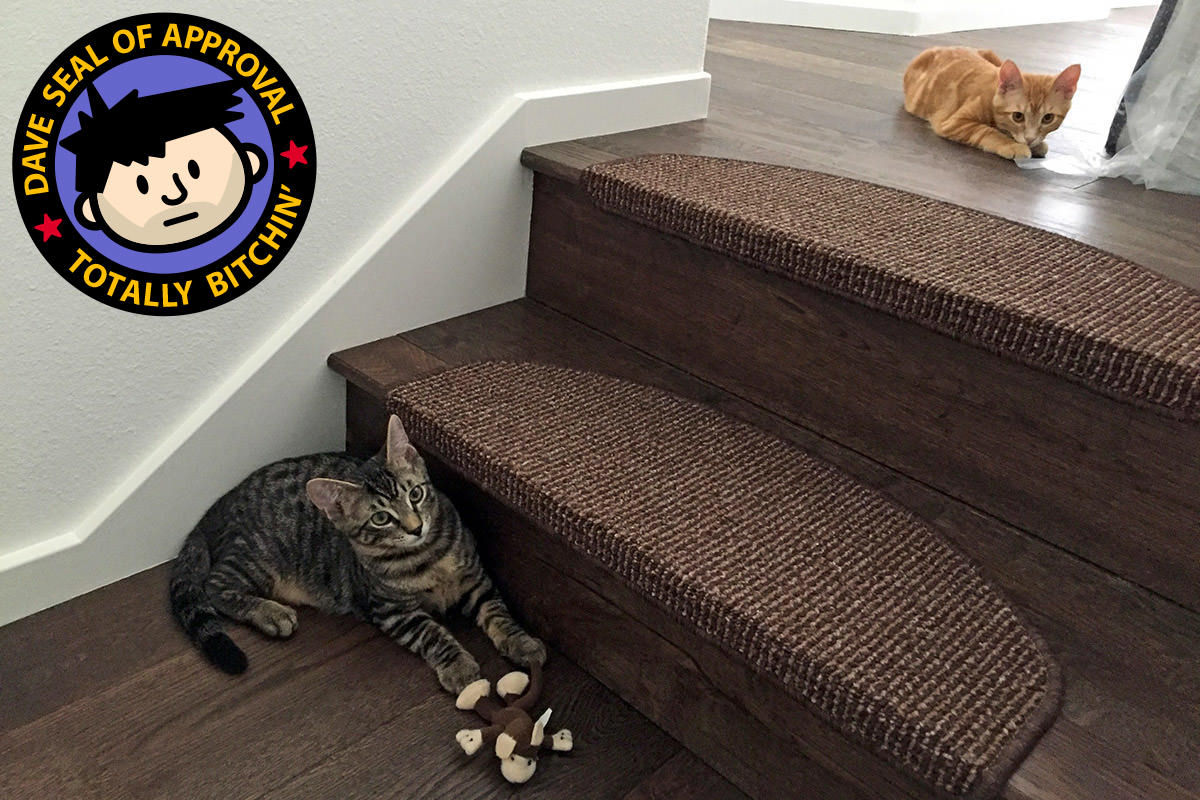 If I have one complaint, it's that quite a few treads didn't have the pattern perpendicular to the edge. It's not hugely noticeable, but for somebody ADD like me, it does drive you a little crazy. Other than that, I'm very happy with the casa pura stair treads... and even happier that I only had to pay $89 for them.
When it comes to installation, it's pretty straight-forward. There are adhesive strips on the back which keep the tread securely positioned. Some people in their Amazon reviews complained that it wasn't strong enough, but mine have been holding just great. I was sure to carefully clean and dry each step to get the best adhesion, so maybe that's all it takes. I did remove a tread to see if it comes off cleanly, and it did, but I don't know if that changes over time.
A helpful hint: After measuring my treads and stairs, I found that they centered with 4-1/2" gaps on each side. In order to make sure they all lined up perfectly, I found a small box that was 4-1/2" wide to set them against...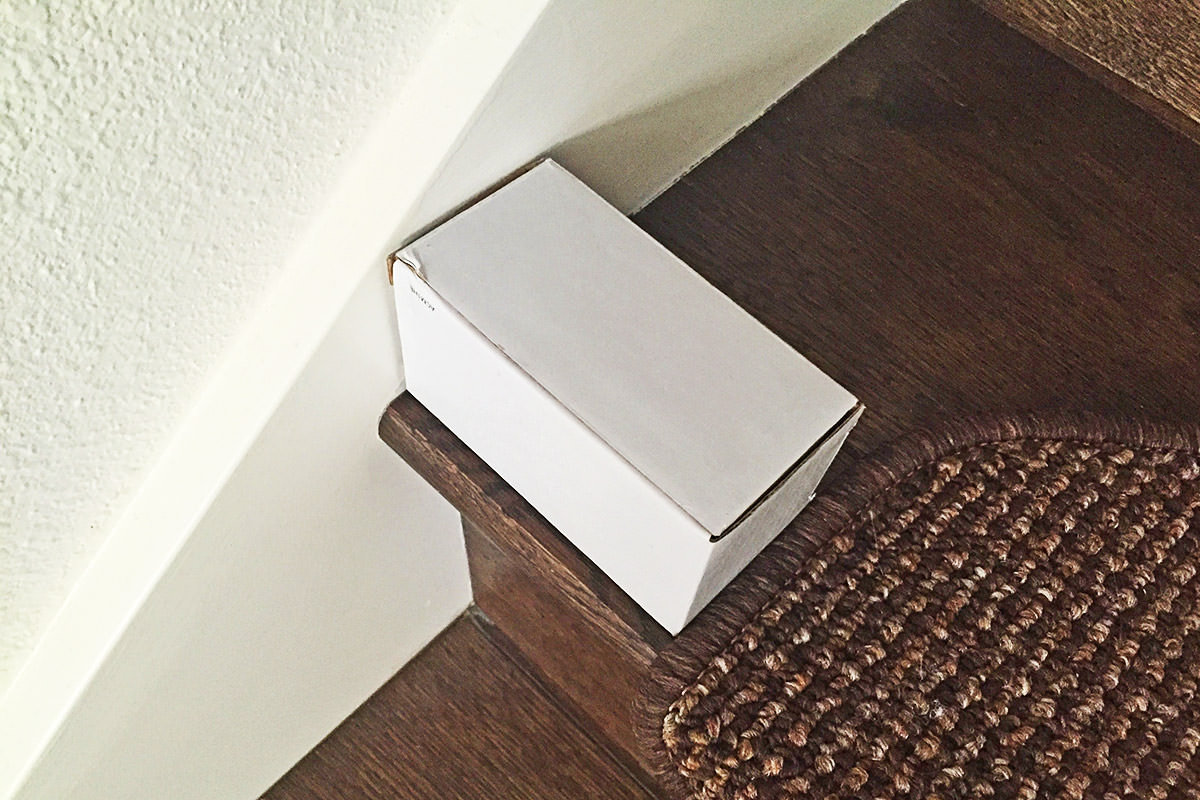 This made installation a snap.
You can find the casa pura treads over at Amazon... though, ironically enough, the "chocolate brown" color I purchased is no longer listed.