The biggest drawback of watching Apple's latest wankfest of all the "insanely great" technologies they've got coming down the pipe is me sitting in front of the computer screaming "WHY DON'T YOU FUCKING FIX THE SHIT THAT'S BROKEN BEFORE ADDING MORE PROBLEMS FOR YOUR USERS?"
Because more and more, Apple's myriad of bugs and busted shit in OS X is giving me Microsoft Windows flashbacks. What's worse is that Apple seems to have little interest in fixing stuff. No response in the forums. No fixes in the updates. No acknowledgement of anything wrong, despite many, many users reporting the same problems.
Take for instance iTunes.
The program is utter crap. It has been for years. I could go on for ages about how stupid it is that you can't stream movies you buy, but are forced to download them. I could rage for days on how utterly insane it is that the iTunes Store doesn't let you know which movies you're already bought. Or how your movie purchases never show up in the "My Movies" tab unless you've downloaded all of them. It's just such a steaming load of bullshit. Yet it's been going on for years. And Apple doesn't care. And the way you can tell they don't care is that they never fix this moronic crap. But what's worse than helpful features being omitted are the legions of bugs that make using iTunes such a horrendous experience.
iTunes Match is FOREVER fucking up. Every damn time I fire up iTunes expecting to be able to play the music I purchased "in the cloud," iTunes just sits there spinning it's wheels. It doesn't matter which computer I'm on. It doesn't matter if I disabled all virus protection. It doesn't matter if I clear caches. It doesn't matter if I try all the idiotic work-arounds people come up with. It doesn't even matter where I'm at around the world. Sometimes, after 20 minutes or so, it will tell you there's a problem and tell you to logout and login again... which does work... but should I have to do that every fucking time I start iTunes? It's become almost automatic for me now, which is fucking bananas. Because, of course, if you logout you end up having to re-start Match which takes ages to get going again.
And I can't tell you how many times a day I have problems with iCloud. I'm consistently and constantly seeing this on my screen...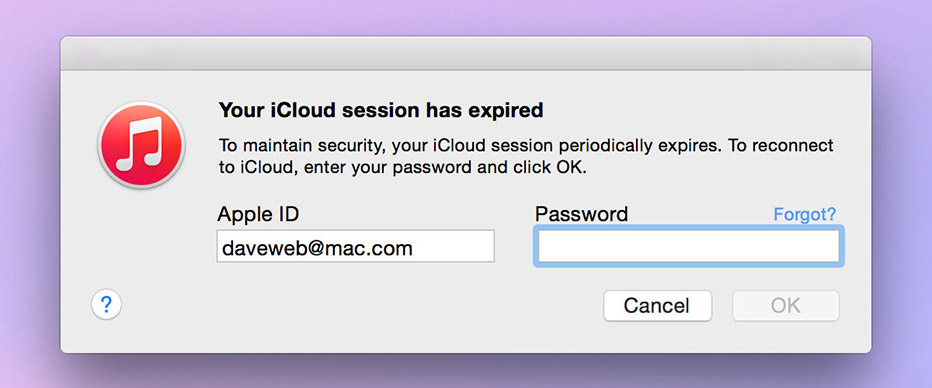 This is so stupid on so many levels. First of all, my Macs are all password protected. If I've got them password protected, nobody is accessing them but me... so why in the hell is iCloud logging me out? Even if I were to accept that this is a valid security concern, "periodically" to Apple means SEVERAL FUCKING TIMES A DAY. I have to login to iCloud to use iTunes. I have to login to iCloud to use iMessage. I have to login to iCloud to FaceTime. I have to login to iCloud to scratch my nuts. Once a month would be fine. But I am sick to fucking death of this CONSTANT need to have me login over and over and over and over AND OVER again. Shit... if I logout of iTunes to try and access my Match music, I'm forced to login to iCloud THREE GODDAMN TIMES before the nonsense stops. That alone causes me to go ballistic. Add in all the other times I have to deal with this shit and I'm in thermonuclear meltdown over Apple idiocy daily.
Who the fuck is in charge of fixing busted shit? ANYBODY?
But that's old news.
The latest boatload of crap coming out of Cupertino? This...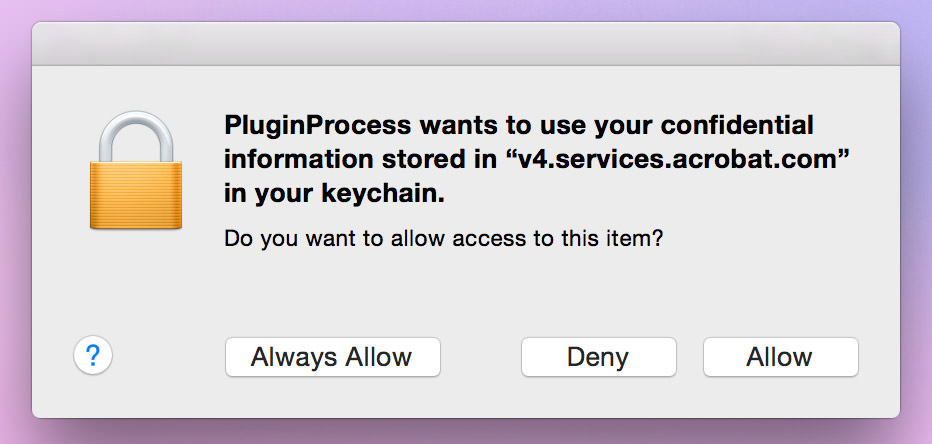 I click "Always Allow" of course.
But Apple must not know what the fuck "ALWAYS" means, because I keep getting this damn dialog box popping up all the time. Sometimes at random. Always when clearing my browser history. Does Apple give a shit? Of course not! NO response to those sick and tired of having to deal with whatever the fuck "PluginProcess" is. No patch to fix the problem. No acknowledgement a problem even exists, because if it goes unacknowledged, the problem isn't real to Apple! It's all in your imagination!
Apple used to have a motto of "It just works."
That hasn't been true in fucking ages.
Macintosh isn't superior to Windows any more. Sure it looks better and is more logical but, in the grand scheme of things, it's not better.
If you're not going to aspire to be better than your competition, just fucking close it down and concentrate on your iPhone or iPad or Apple Watch or Apple Music or whatever the fuck is your flavor of the moment. Anything less is just wasting everybody's damn time.