It never ceases to amaze me how a city known for its rain consists of a population who has no idea how to drive in the stuff.
Today my commute to work which is usually 30-40 minutes took a mind-boggling 1-hour 45-minutes... assumably because motorists lose their damn minds any time it rains more than a sprinkle.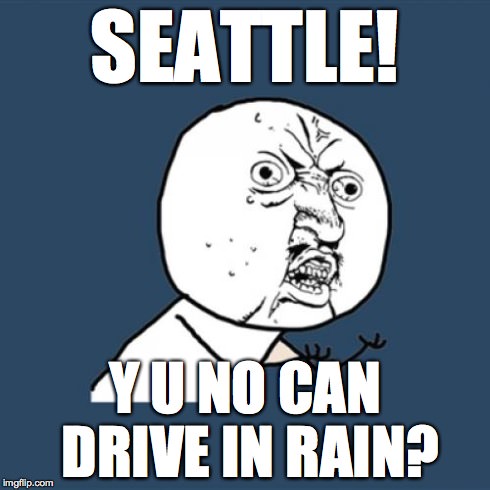 Google's traffic map was lit up like a Christmas tree with accident reports this morning, leaving me no clear route to take. So I bit the bullet, headed to the heinous mess that is the 405, and sat in traffic for over an hour. Absurd.
Though I did get free entertainment when somebody drove clean off the road for no reason other than they were probably texting or brushing their teeth or slicing strawberries for their oatmeal, or whatever the fuck it is people do that causes them to drive off the road.
Hey! Here's an idea... maybe if people would pay attention to the damn road when weather conditions are less than optimal and allowed a little more room between cars and slowed down a bit and sliced their strawberry garnish at home... everybody could get to work only ten minutes later than usual instead of an hour plus.
Just a thought.