For years now, all my email has been forwarded to a webmail account at SpamCop, a spam filtering service. While not a perfect solution, this drastically reduced the amount of spam I had to deal with, so I accepted it as a necessary evil.
But then SpamCop announced that they were discontinuing all their webmail accounts come September.
Since I had paid $30 for a year of service back in May, I was understandably upset. I had only received 1/3 of what I paid for. Under the terms I signed up with, I was entitled to a refund...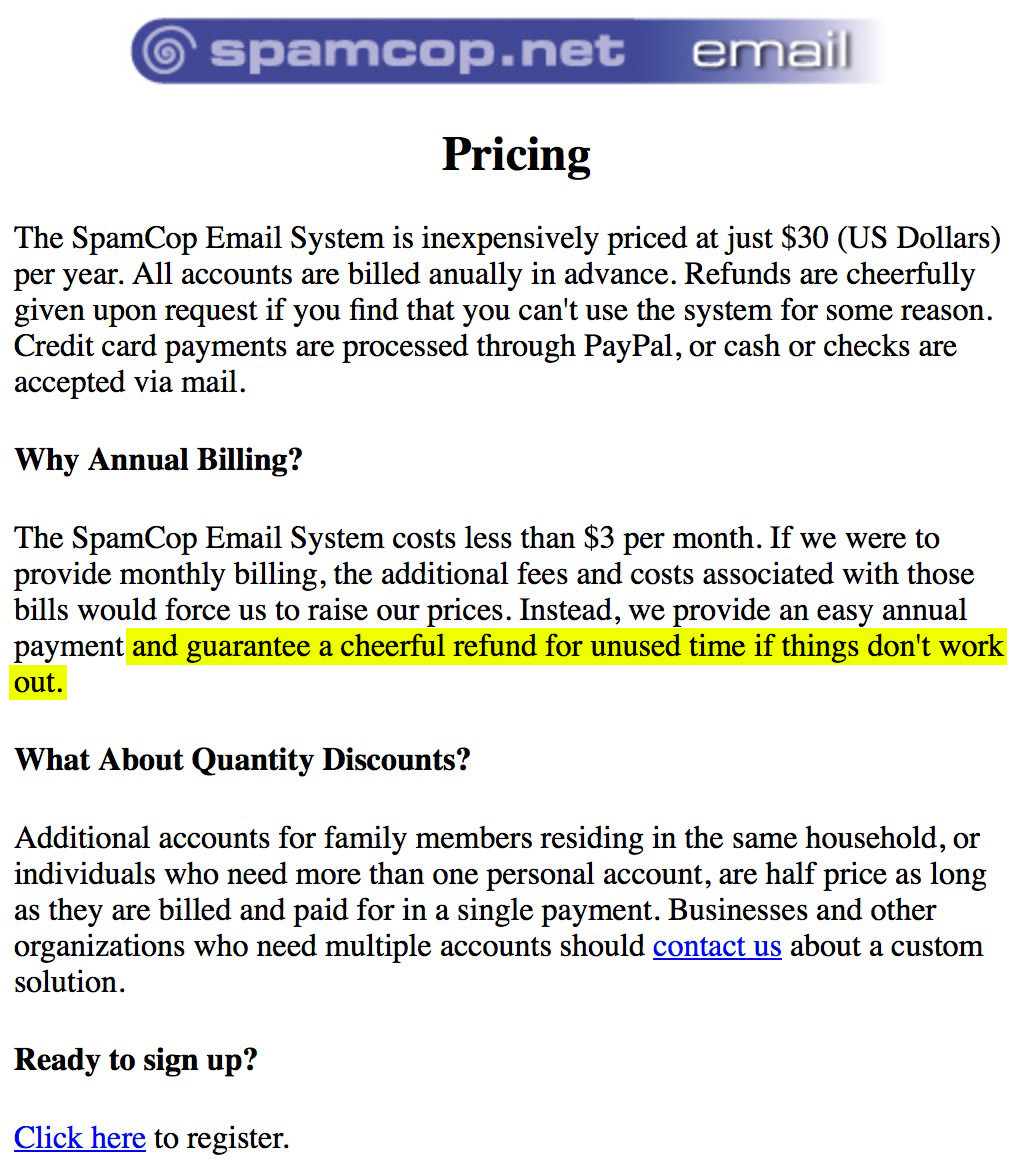 So I wrote to SpamCop Support and requested I get $20 of my payment returned.
Their reply? "I'm sorry but there are no refunds."
I've written back twice explaining that they shouldn't have promised refunds if there were no refunds, and I want my money back, but they've been ignoring me. None of my emails have been replied to.
Really?
Look, this is not about the $20.
This is entirely about living up to your promises... something that is increasingly rare now-a-days, and I'm just sick of it. Nobody seems to give a shit about living up to their word anymore. Integrity? Honesty? Ethics? Responsibility? Meh. Who cares? Yeah, I took your money with the promise of providing a service, but I don't feel like providing that service any more, so too bad! And no, I won't be giving you an explanation, And yes, I'm keeping your money.
Sorry!
My life would be so much easier if I could just abandon any sense of integrity, honesty, ethics, and responsibility. Sadly, I was raised better than that, so now I'm stuck in a world where possessing such qualities... and expecting such qualities in others... is a detriment.
To the tune of $20.
And my trust.