Another summer. Another issue of THRICE Fiction Magazine!
As usual, I'll be discussing the artwork that went into our latest issue. This may or may not include spoilers for the stories, so I urge you to download your FREE copy of Issue No. 11 and give it a read before continuing.
Alright? Alright!
This time around we are very fortunate to feature another beautiful cover by Katelin Kinney...
Even though I do composite photo work like this for a living, Katelin has a way of making it seem like magic to me. I've stopped asking her how she constructs these images for us because the magic is more fun.
For a look at the first half of the art included in this issue, read onward in an extended entry...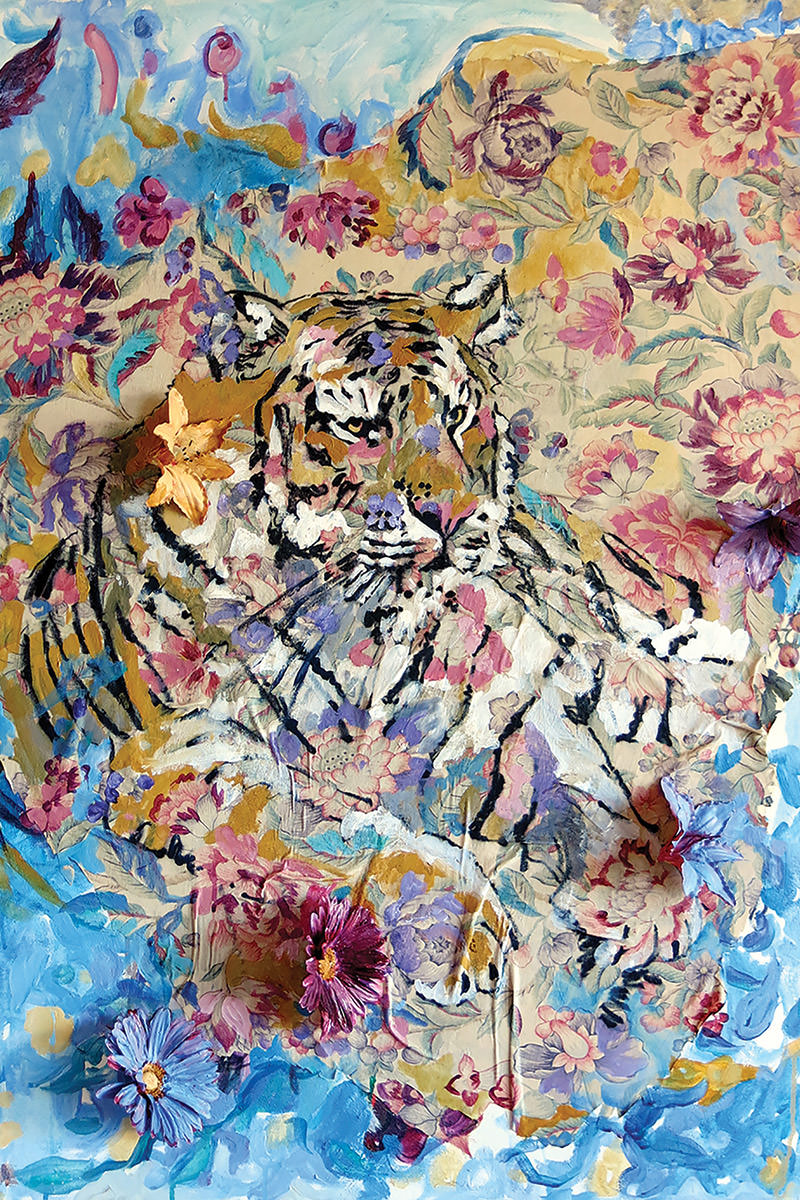 INSIDE FRONT COVER. The first image the reader sees when opening the magazine is the only image that stands alone as an art piece. Because of that, it's usually the only place where artist credit is attached. Everywhere else, the art's purpose is to support the author and their writing, so artist credit would be distracting and gets moved to the back of the book. Finding works to fill this space is a bit of a challenge. This time? Not so tough. The minute I saw this piece in Rachel Slotnick's portfolio, I knew I wanted Tigers in Red Weather to open the issue. Pretty amazing stuff.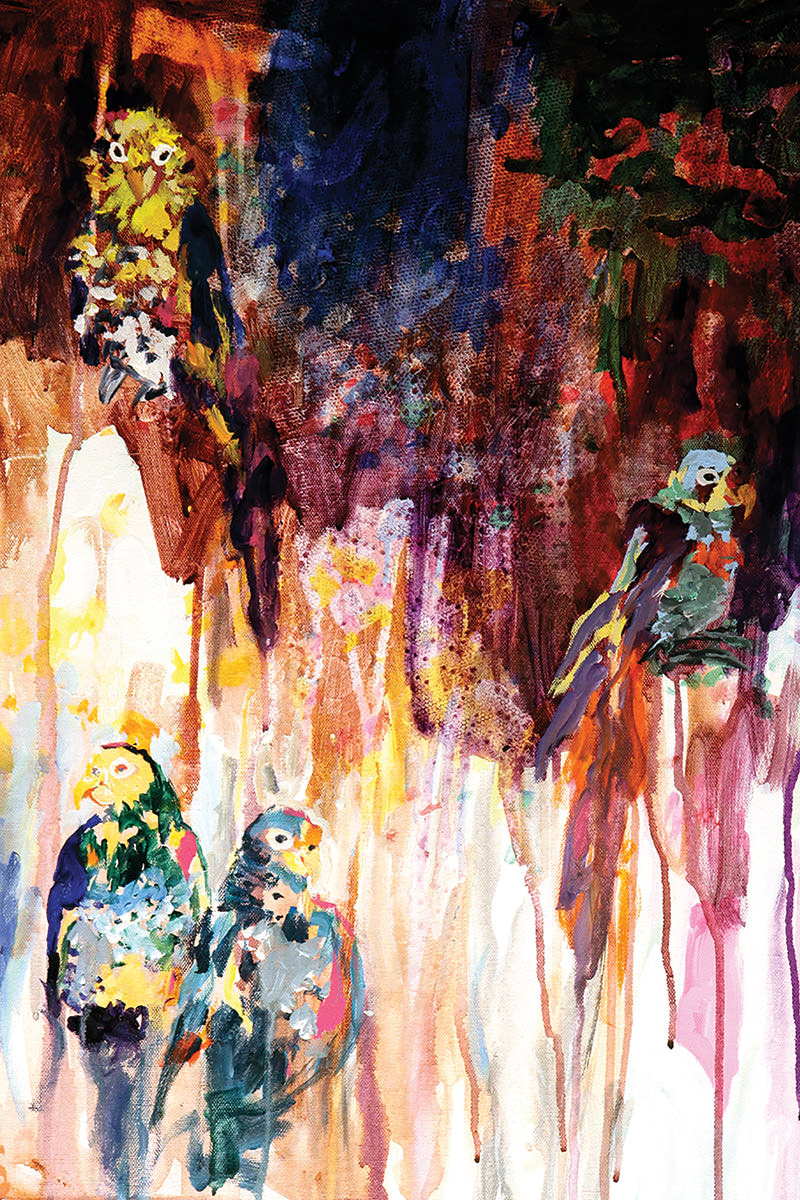 THRICE 11 NOTES. Another great piece from Rachel's portfolio that didn't leave my head. I thought it paired perfectly with RW's talk of "spring wings." It also had a nice yellow tone hidden in there that said "summer" to me.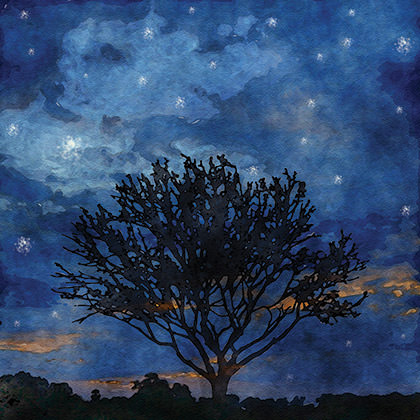 PAGE 1. Rich Ives crammed so much beautiful imagery into Some Great Beast of the Stars that I initially had a hard time deciding which way to go. After a couple read-throughs I decided to just pull the tree from the first sentence, add the titular stars, then call it good. At one point I had a giant "beak cloud" poking in from the side, but thought that detail was best left to the storyteller. The background is a photo I shot in Cambodia that's been painted over. The tree is a vector piece I drew for a client logo. After compositing them, I ran it through a few Photoshop filters to get them happily merged together. To add a little symmetry to the story, the smaller piece at the end is a chunk of the main image rotated 180 degrees.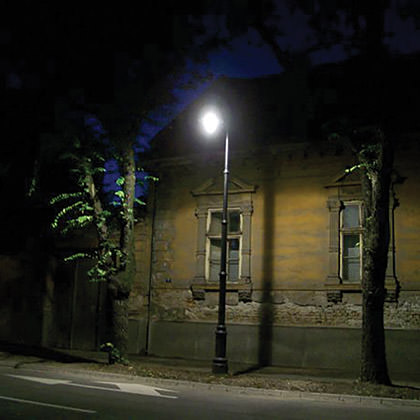 PAGE 8. Most of the time, we are happy to accommodate a writer when they provide artwork for their stories. But we never feel under any obligation to do so if I feel the work doesn't fit with the visual "flow" we've got going on. But there were no such reservations when Timothy B. Dodd sent us this photo for Returning Home. It's a great shot and works perfectly with his story.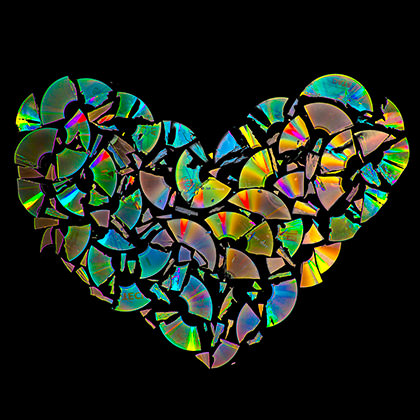 PAGE 9. Wanting an image that would reflect the photo on the facing page, I sent the full spread for Melissa Binari's No Looking Back to Katelin Kinney. She took the idea of reflection literally, using the shiny service of broken CD's to reflect the colors in Timothy B. Dodd's photo. In the shape of a heart. Genius. That the image fits the story flawlessly is just icing on the cake.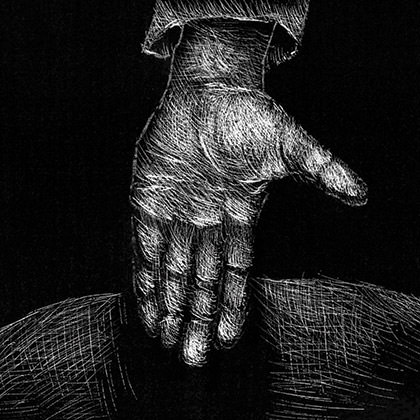 PAGE 10. With his third story in our pages, Kevin Tosca is quickly becoming a welcome voice for THRICE Fiction. His latest piece only confirms this. At first I wanted to illustrate it myself and had my heart set on a steaming bowl of soup (even though I didn't know what vegetable ciorba was). But when I sat down to start drawing I felt a bowl of soup missed the mark, and offered no support for what was actually being said. Rather than risk another mistake, I handed the story off to Chad who, of course, knew exactly what to do.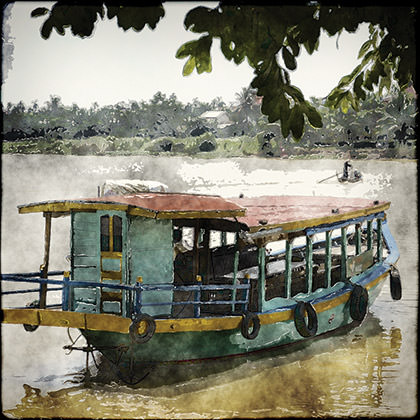 PAGE 11. Having just returned from a trip to Vietnam this past September, Khanh Ha's wonderful story set in the country, All the Rivers Flow into the Sea, was especially meaningful to me. The narrative flows so beautifully, I just took my cue from the words and pulled three river shots out of my photo album. After painting over them and running them through a few filters, I sprinkled them in the story so the reader would get used to a pattern before... BAM!... just like the story, the imagery takes a darker turn. I absolutely loved the way everything came together, and hope that Mr. Ha graces our pages again one day.
PAGE 17. One of those pieces of flash fiction that seems so much bigger than it's size, Laura Casteel's The Forbidden World was begging for the kind of imagery Katelin Kinney excels at. And boy did she ever nail it.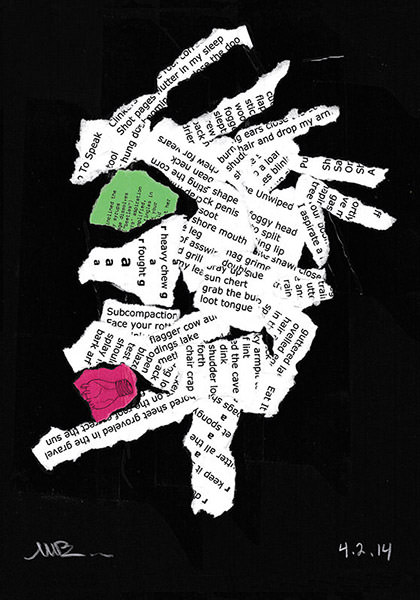 PAGE 18 & 20. Interpreting John M. Bennett's work is one of the highlights of my time with THRICE Fiction. But, as these pieces he created clearly show, the best person to interpret Bennett is Bennett.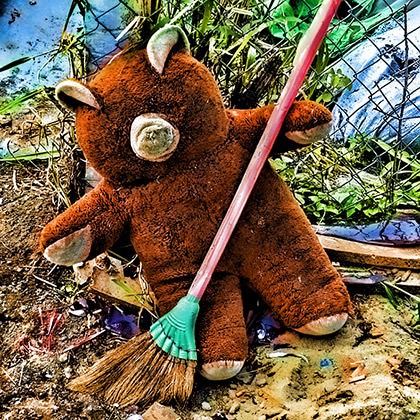 PAGES 19. Nicholas A. White's imaginative Percy Has Two Moms was originally going to be floating over a background of bubbles I had painted. It looked fantastic, but I felt the story weren't represented very well, so I decided to raid my photo library for some options. "Mom Bear" was a photo I took in the countryside just outside Saigon. I didn't stage it, that's exactly as I came across the poor thing. I shifted the color so that it was vivid like a child's imagination and, voilà, dinner is served.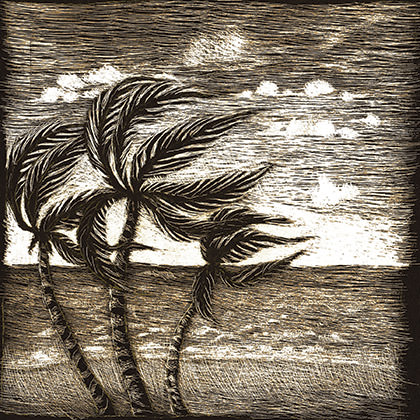 PAGE 21. Athena Nilssen's short story, Visualize Your Ideal Day is one of those rare cases where I just couldn't wrap my head around the proper visual to support the story. So I do what I always seem to do in these situations... turn it over to Chad and have faith that he'll figure it all out. Which he did, of course. And with a solution which is far more elegant and impactful than anything I could dream up.
PAGE 25. The artist who was tasked with creating visuals for Paul Edward Costa's Green Martyrdom dropped out at the last second, leaving me in quite a bind. My idea was to take a drive to photograph the only person I know who has "long waves of red hair," but I could never find the time to arrange it. Fortunately, I know of somebody else who fits the bill perfectly... longtime THRICE Fiction contributor Kyra Wilson! She took the idea and created a series of beautiful shots, each thoughtfully composed and photographed with some help from her daughter. Many, many thanks to Kyra for squeezing this last-minute project into her busy schedule!
Annnnd... we're at the half-way point. I'll run through the remaining pieces tomorrow.
Annnnd... PART TWO is up! ...