I loathe shopping.
I've never enjoyed it. If given the choice between going to the mall or getting water-boarded, I'd probably take the water-boarding. Especially during the holidays (at least the first time... as I've read that being water-boarded is seriously no fun at all). Now-a-days I rarely go to a mall or physical store to shop, I buy everything on the internet. And while I still loathe shopping, at least with online shopping I don't have to put pants on.
But that's not the only difference.
The biggest difference to me is that online shopping comes with customer reviews. When shopping at Amazon (my online store of choice) I have immediate access to the opinions of other people who have purchased the item I'm looking at. This can be a big plus. Except sometimes the reviews are paid or planted to make a product sound better than it is, in which case it's a huge detriment. They can also be sabotaged by people with nothing better to do than trash perfectly good products for petty reasons. But, overall, I trust reviews to even out and paint an accurate picture of what you'll be getting.
And, for the most part, this trust is not misplaced.
But what happens when it does?
I really like my current camera bag, a Tamrac Velocity 7x, but it's now too small to hold all my equipment and it screams "I'M A CAMERA BAG!!!" which probably acts like a beacon to thieves looking for an easy score. So I decided to buy something new. Which isn't an easy feat because no photographer I know has found the perfect bag. But this doesn't stop them from battling to the death in promoting the bag they prefer while brutally cutting up bags they don't. As you can imagine, this makes researching which bag to buy incredibly difficult. But I put in the time anyway and eventually landed on one which looked perfect for me.
Enter "The Brixton" by Ona Bags...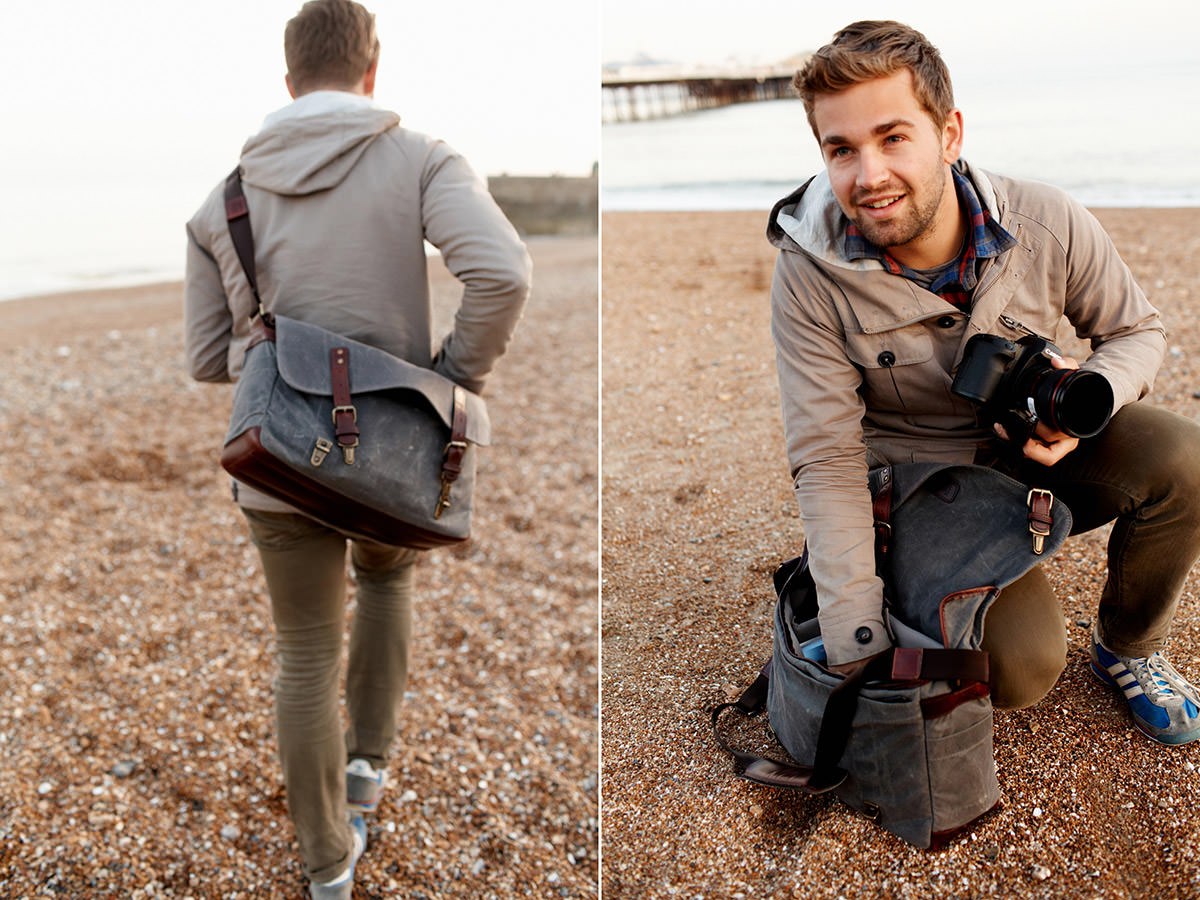 Photo from Ona Bags featuring photographer Colin Hughes
First of all, it's one of the best-looking camera bags I've ever seen. It looks like a high-end messenger bag and doesn't say "I'm a camera bag" at all. Sure, for the sake of the cows that died to make it, I wish it didn't have leather accents, but at least those poor animals can rest in peace knowing that their hide was used to make something so beautiful.
But, when it comes to baggage, I'll take functionality over beauty any day, so how well does it work as a camera bag?
Well, according to all the reviews I read, it was the most amazing thing since sliced bread. Honestly, I had a hard time finding anything bad that was said about it. Photographers loved the thing. So I did my best to ignore the TWO HUNDRED AND SEVENTY-NINE DOLLAR PRICE TAG, and placed my order with B&H Photo.
I was so thrilled to have finally found the most perfect camera bag ever made that I was walking on air for days.
And then it arrived.
Yes, it is indeed beautiful... but holy shit is it a cluster-fuck of disasters...
The wax coating on the canvas scratches very easily. Just removing my bag from the box resulted in some hefty crease marks on every surface. This isn't necessarily a deal-breaker for me... I'm sure eventually it will have an old weathered look I'll like... but, seriously, why couldn't they just use a standard spray coating? The thing looks beat to shit and I've had it for two days. Two days of doing practically nothing! Heaven only know what it will look like after two weeks of travel!
The Brixton has an unremovable strap(!) with very little padding on a shoulder piece that slides all over. It doesn't even have a rubberized coating to keep it from sliding on YOU. This is pathetic and unforgivable for a bag that costs TWO HUNDRED AND SEVENTY-NINE DOLLARS!
The handle on top is off-center and off-balance, making it uncomfortable and pretty useless. Why they couldn't have gone dual-handle to make it carry well is a mystery.
There is a pocket in the back that's kept closed by magnets, which is nifty. What's not so nifty is that it has no cover-flap and doesn't seal tight, which means water and dust are just going to pour into the thing when you're trekking into nature's wild abandon. The smart thing to do would be to seal it shut with silicone... but... well, it's a pocket. I do love my pockets. There are also two wide-open, unprotected pockets on each side. =sigh=
There are two pockets in the front right under the bag's cover flap. They are roomy and deep, which is great... BUT THAT'S ALL THE INTERNAL POCKETS YOU GET?!? Absolutely no provision whatsoever for organizing all the tiny crap that photographers seem to accumulate. This is a horrible problem. My Tamrac spoiled the crap out of me with all the useful little places to organize things. This is awful. I mean, holy crap... NOT EVEN A PENCIL POCKET?!?
There is a divider inside so that you can slide in a small (13-inch or less) laptop. This is a welcome addition, but it's attached FLAT with velcro so it's more of a slot than a pocket. That's great for a very thin computer (like the MacBook Air) but just plain wacky for anything else because it distorts the back wall of the main compartment. Why not at least attempt to add some depth there... especially if the whole thing is removable if the customer doesn't want it taking up space! And would it kill Ona to put a piece of rigid plastic at the back of the bag to keep your computer from bending in half as it bends around your body?
The internal dividers are way too short. Sure you can stick them higher in the bag, but then small lenses and other items aren't contained as they should be.
The brass latches Ona uses to keep the bag closed are kind of a hassle. They slide latched so easily sometimes, but require multiple tries to latch other times. I don't know why... maybe it's because you have to have them lined up perfectly straight? Regardless, anything this finicky has NO place on a camera bag, and they really should have used an alternative.
The adjustable buckles on the closure straps are UP-SIDE DOWN and probably the stupidest fucking design flaw I've seen on any piece of luggage. Ever.
That last bullet requires some explanation...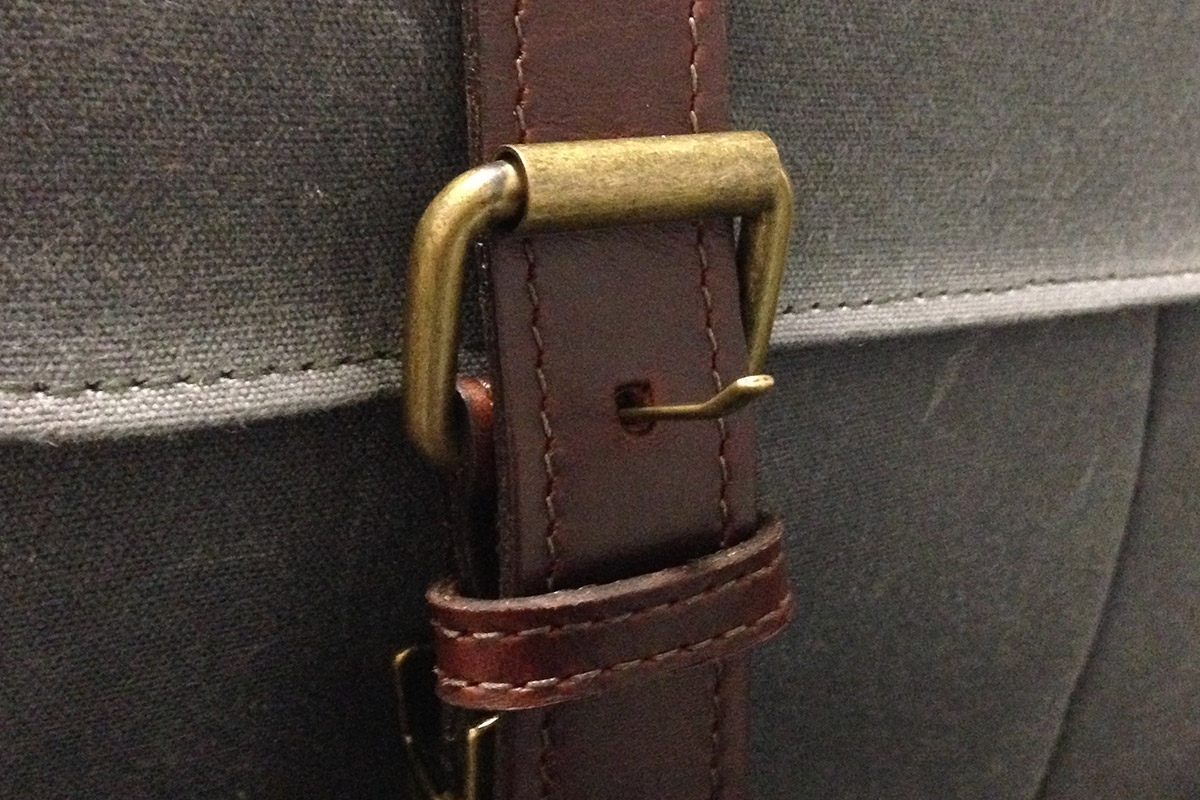 As you can see, instead of pointing down, the buckle prong faces upwards. This means the damn thing is pointing out ALL THE TIME! The first time I noticed this, it was because I squeezed by a $1000 wood filing cabinet only to see that The Brixton left an ugly gash in the finish. The next time I noticed it, I dropped my arm to my side where the bag was resting and got punctured (no blood, but it left a mark and hurt like a m#th@f#c%er).
This is a huge, major, massive design flaw.
BUT IT WAS NOT MENTIONED ONCE IN ANY REVIEW I READ! NOT ONCE! What the fuck?!?
Did I perhaps get a defective product or something? I jumped to Ona's own website to see if I could find out. Sure enough, right there in their own marketing photos, the little buckle prong is sticking out all over the place!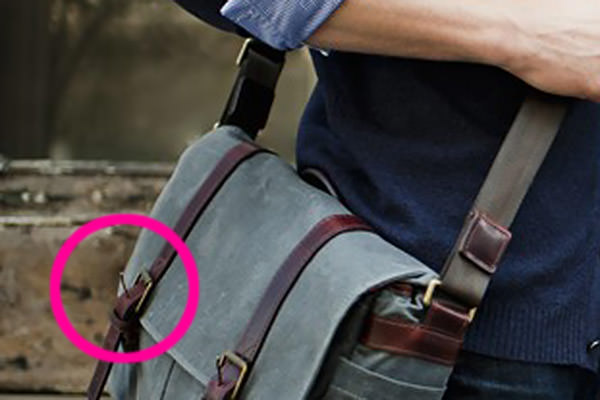 Photo from Ona Bags
Did nobody at any point during product testing notice this problem? Nobody?! I'm the only one who has been poked and left gashes in furniture? Seriously?!
I just don't get it.
There's a lot of things to like about this bag, but it's so deeply flawed that I just can't comprehend the universal praise it's getting. In order to make it work for me, I'm going to have to...
Use some shrink-tubing over the buckles so they're not poking people and fucking up the furniture. This will also (hopefully) dampen the "CLACK! CLACK! CLACK!" you hear when you're walking along with the bag unlatched.
Use some kind of small plastic box with dividers for all the small stuff so there's a way to keep it organized and not just sitting in the bottom of a deep pocket in a lump.
Pull the velcro dividers out of my other camera bags so I have useable-height dividers in the Ona bag.
Wrap anything kept in exterior pockets in plastic bags to keep them clean and dry.
Cut off the shoulder strap and replace it with something that's worth a shit.
Consider adding a rigid piece of plastic with a felt cover to the back of the bag to better protect my MacBook Air from bending.
My regret is not that I have to modify this bag so that I can use it effectively. That's bound to happen with something as varied and subjective as photography gear. It's that I paid TWO HUNDRED AND SEVENTY-NINE DOLLARS for something that didn't have a lot of thought put into it. Or maybe it did, and the designers made bad choices. I dunno. It's just maddening that no reviewer mentioned any of the shortcomings that come with owning Ona's "The Brixton."
Oh well. Eventually, with modification, it should be a good bag for me. I sure like the way it looks. And it could have been worse.
I could have paid $430 for the all-leather version.
I hate shopping.