Today was all about the Pittsburgh Pirates.
But first it was all about tailgating in the parking lot, which seemed to be a great excuse for people to eat a lot of cheese...

I promise there's a burger under there somewhere.
If nothing else, it turned out to be a beautiful day to stand in line for the toilet...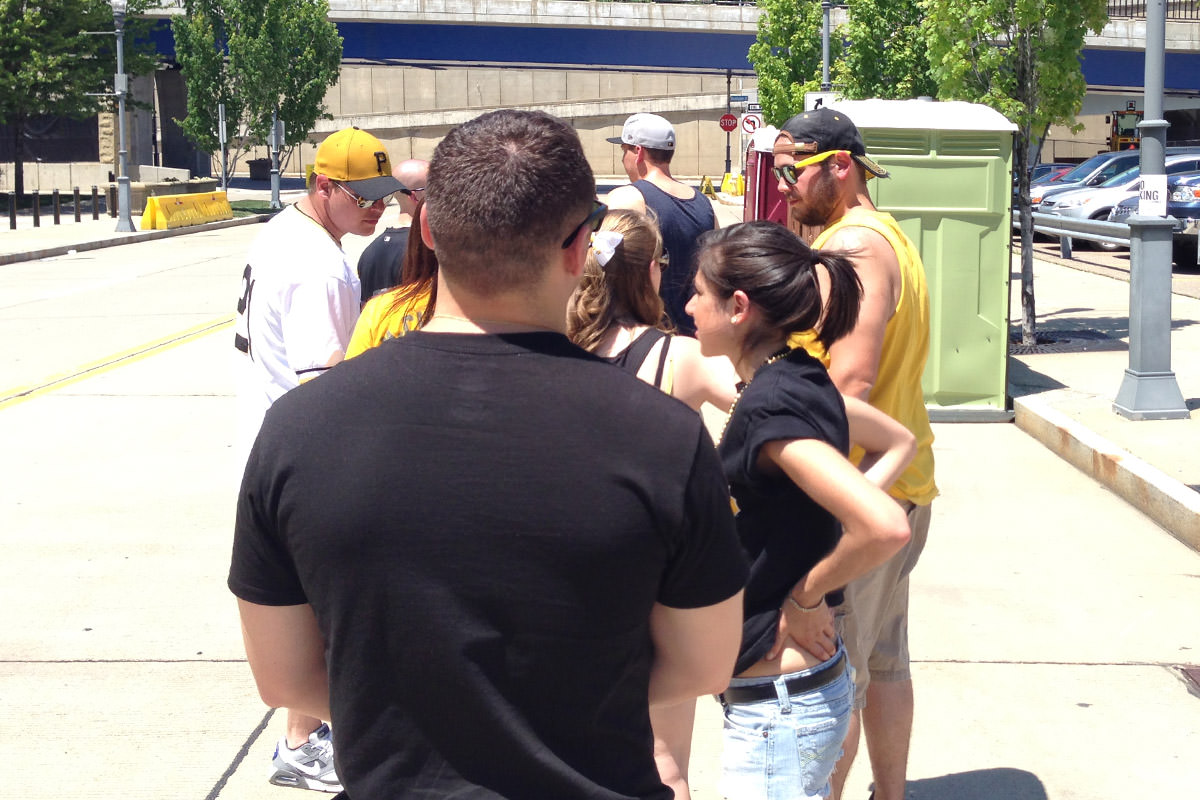 It's only a matter of time before tailgaters start bringing their own toilets.
And then? LET'S GO BUCS!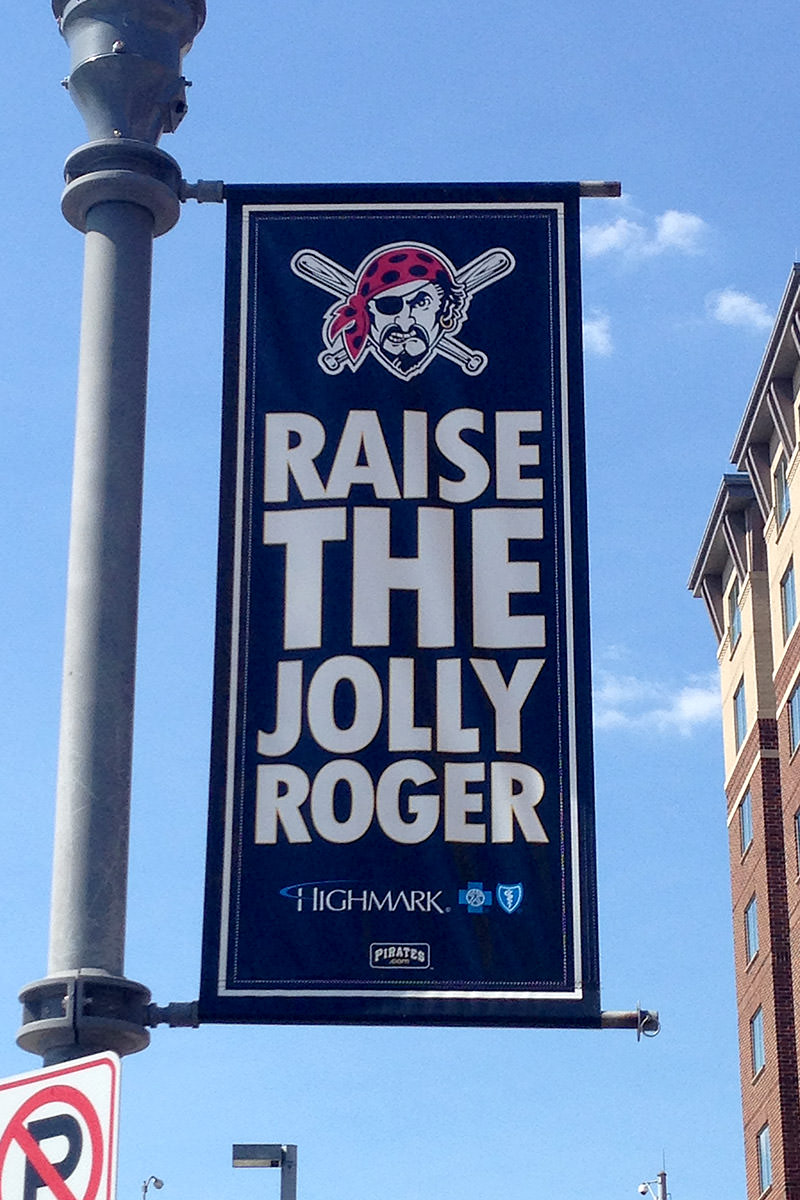 Today I am tattoo appropriate!
The game was against the #goddamnbrewers. Last night the Pirates slaughtered Milwaukee 15 to 5, so everybody knew that the Brewers would be out for blood. And though my heart will forever belong to the Boston Red Sox, there's nothing quite watching a home-game and rooting for the Bucs, because PNC Park is easily one of the most beautiful ballparks in the country with some of the most devoted fans in baseball. I love it here...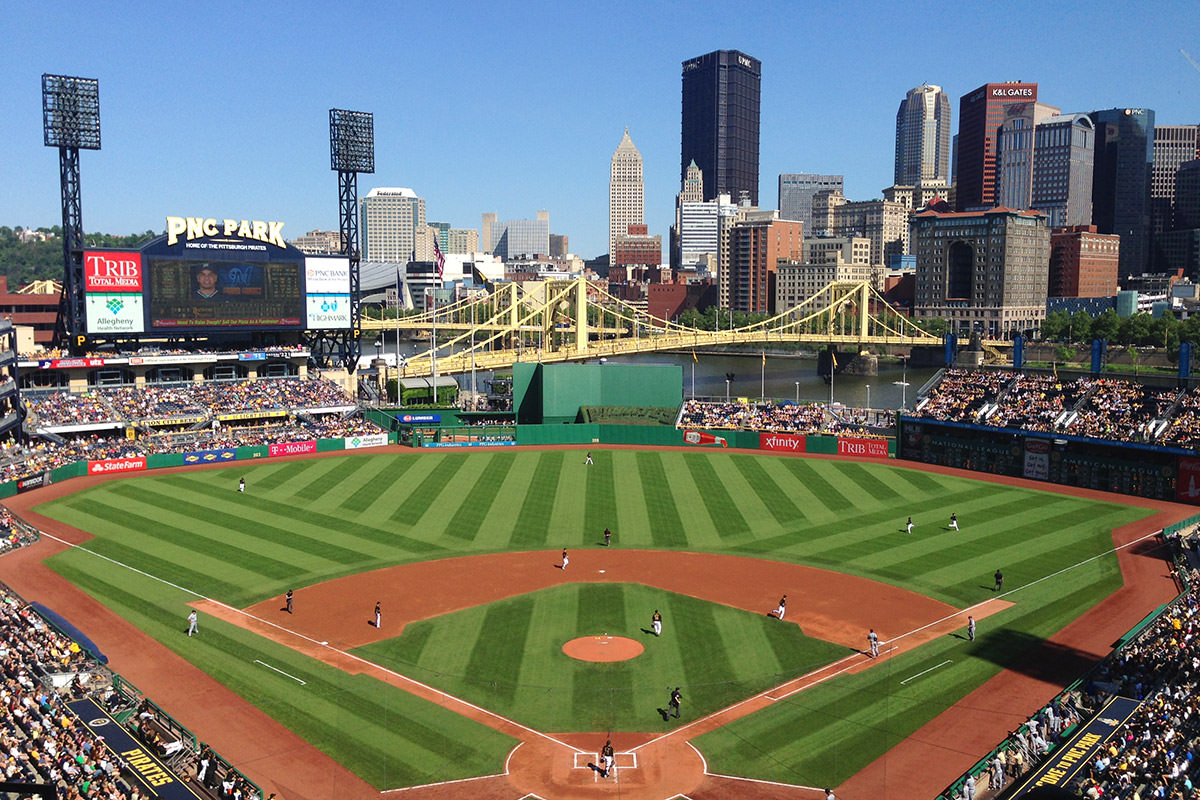 Lovely weather for a bloodbath, I think.
Oh... and if you look up, the moon was out again...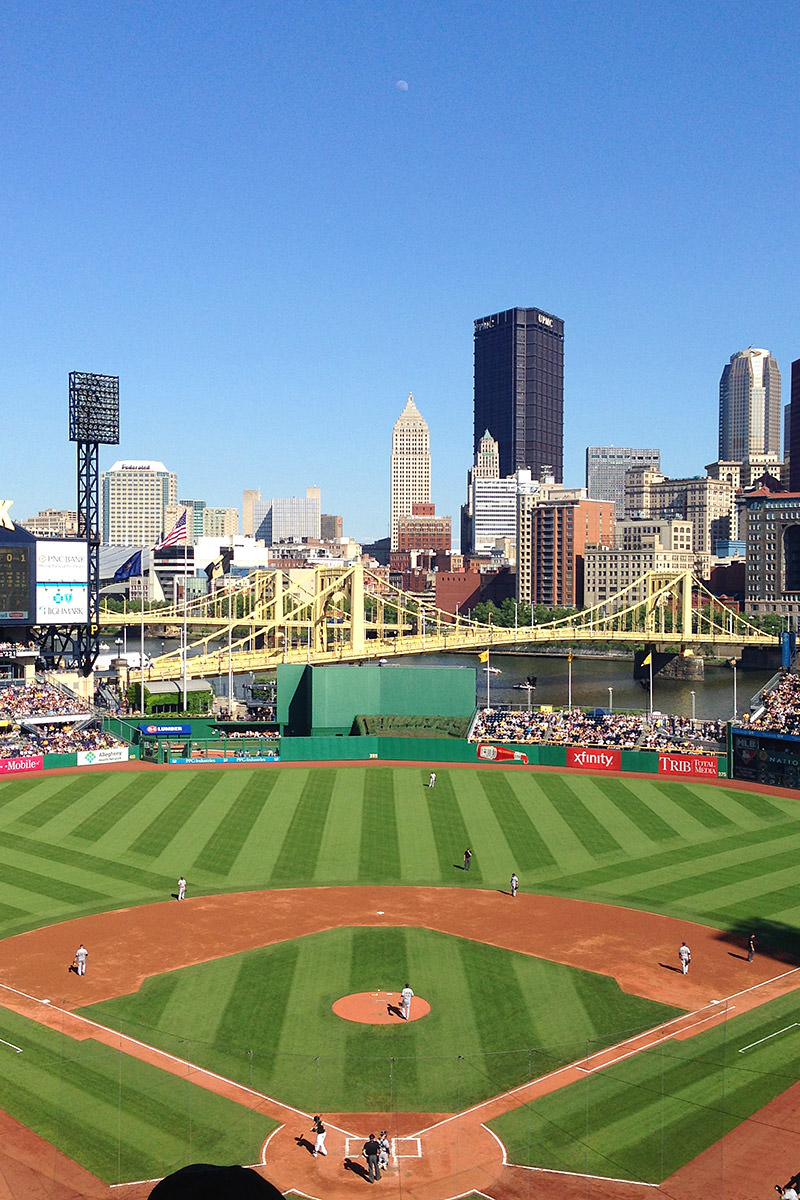 Why is it that the moon always photographs smaller than it looks in Real Life?
And here's the obligatory panorama shot...


Yes, you can totally click on the photo to embiggen the image.
Seats directly behind home plate? Yes please...

Hoping for another run from Neil Walker.
The game may have been a bust for the Bucs since they lost 3 to 9 (I overheard the term "shit the bed" more times in the last hour of the game than I've heard in the past year), but I got to spend time with one of my favorite people on earth, so it was all good...

That's right... bask in our adorableness!
After the game was a concert by the Goo Goo Dolls. I pretty much lost track of them after Dizzy Up The Girl, but they played a lot of their older (i.e. more popular) stuff, so it ended up being a pretty great set...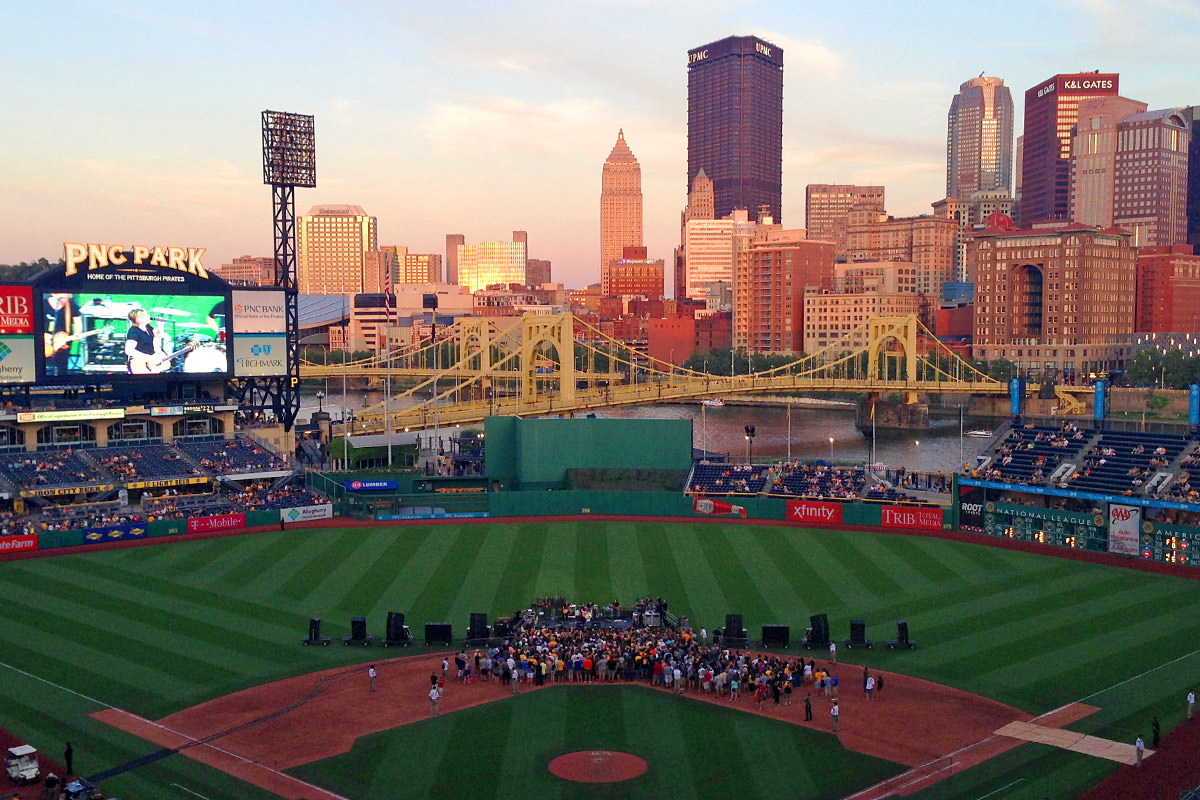 "PLAY IRIS! PLAY IRIS!"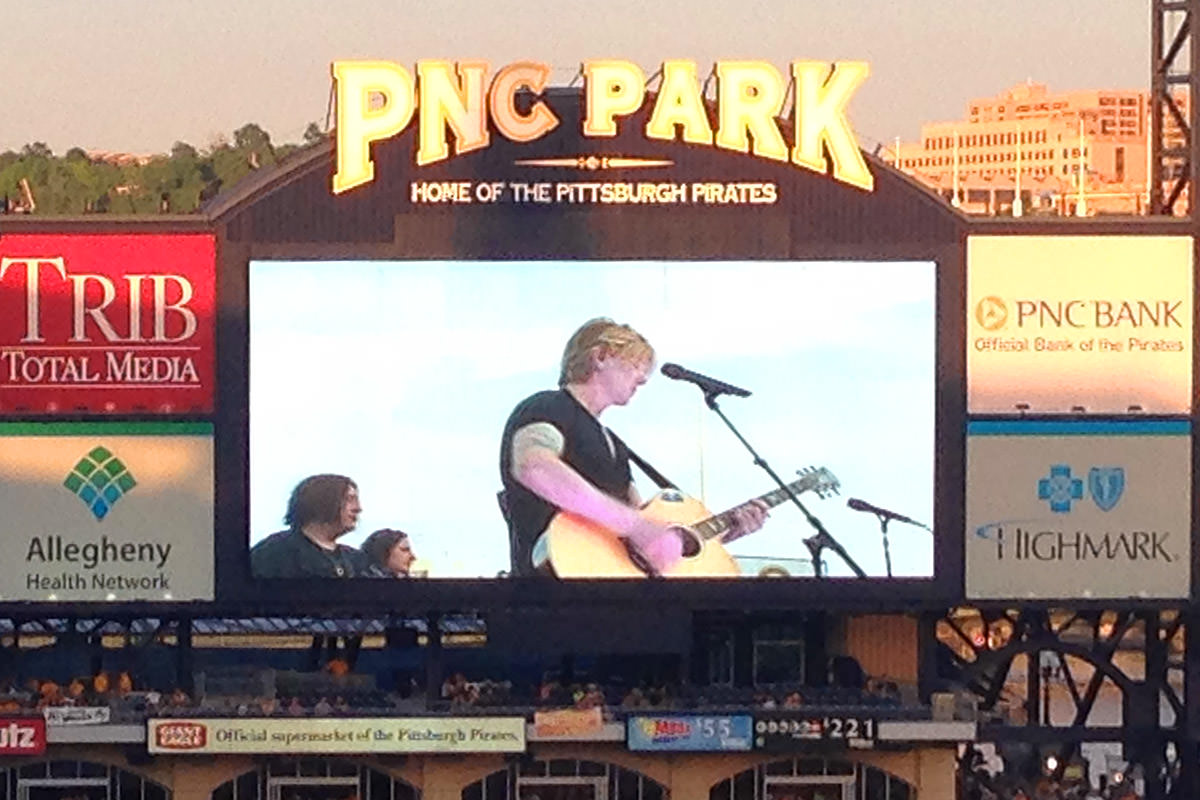 "SERIOUSLY, DUDE, PLAY IRIS! PLAY IRIS! PLAY IRIS! PLAY IRIS!"
After a terrific day at the ballpark, Becky took us to the original Primanti Brothers, which is a Pittsburgh dining institution...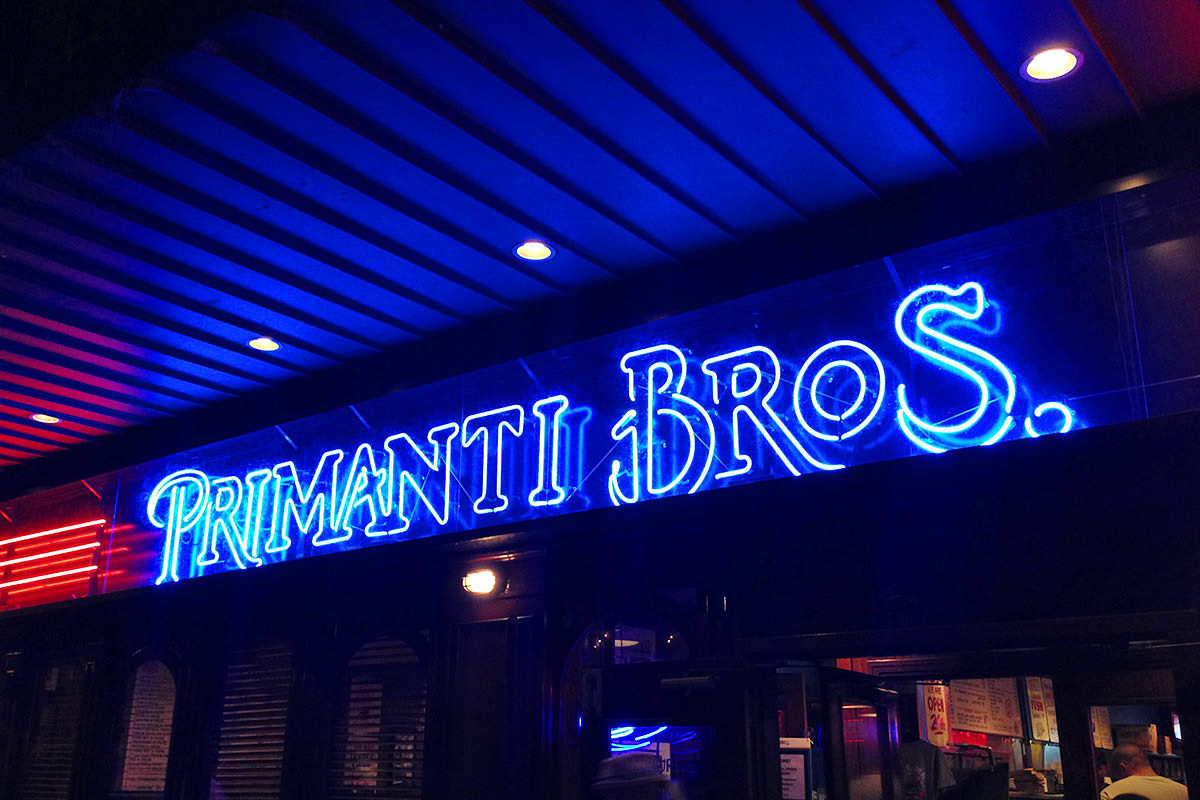 How about a sandwich at Primanti Bros.?

Now THAT'S what a greasy spoon diner looks like!
The eatery has been featured on television several times, mostly due to their unique sandwiches. They use this amazing thick-cut French bread, pile it high with a number of different meat choices, and always top everything with a scoop of coleslaw, French fries, and tomatoes. I had a Double-Egg & Cheese, skip the coleslaw, which was delicious. But it looked a little boring compared to everybody else's sandwiches... like Becky's, which is the kind of thing you're supposed to order here...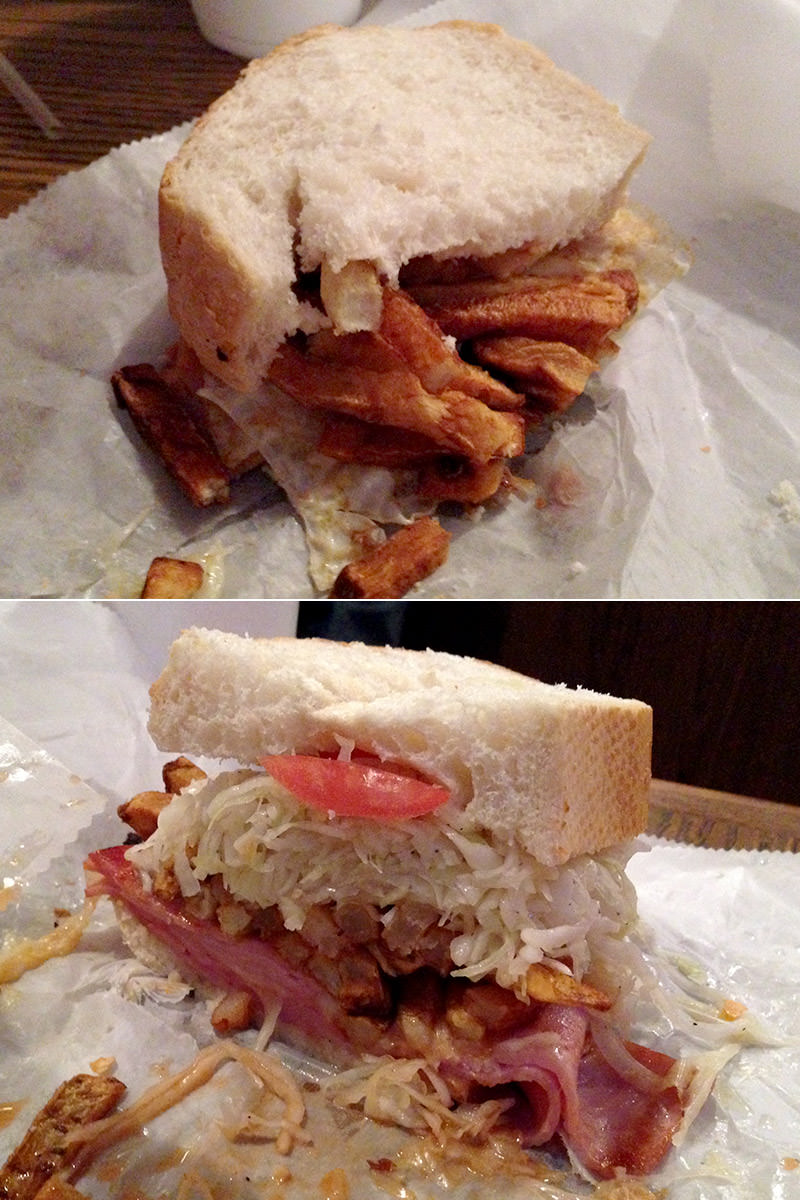 Mine Egg & Cheese Sammy on top. Becky's Monster Sammy on the bottom.
And... that's the end to one fantastic Saturday in Pittsburgh.