When marriage equality was put on the ballot here in Washington State, there was much hand-wringing and doom and gloom speak against it.
Then it passed
. And, for a while, the doom and gloom escalated to a fever pitch. Those who opposed marriage equality forecast utter ruin for Washington, saying that God would punish us for defying His definition of marriage.
And so I braced myself for plagues of locusts, fire raining from the sky, cats and dogs sleeping together, and Seattle sliding into the ocean while the Columbia River dried up... but it never happened.
That was back in 2012.
Now I sit waiting for the nut-jobs to climb out of the woodwork every time a natural disaster happens so they can say "SEE! I TOLD YOU SO!" Which, of course, they do. It seemed that every story on the internet about the recent tragedy at Oso had at least one comment blaming the mudslide on Washington spitting in the face of God by passing marriage equality.
Why God waited so long to show His displeasure is never explained. I mean, if marriage equality becoming law was so offensive to The Almighty, you'd think He would have acted immediately... sending a massive earthquake to rip our state apart (or whatever). But He didn't. Despite being omnipotent, I guess God likes to think these things over and dole out punishment little bits at a time?
And it never works the other way, does it? Thomas Peters spent every waking moment railing against marriage equality... until he had to take a break because of a horrific swimming accident that left him paralyzed. But was this considered God's punishment for Peters' bigotry and homophobia? No. No it was not. That Peters signed up for Obamacare when his National Organization for Marriage employers (assumably) dumped him off their insurance was not seen as ironic either... despite him railing against The Affordable Care Act as well.
Hypocrisy: It's what's for dinner.
Actually, with these people, it's for breakfast and lunch too.
Today the National Organization for Marriage took the money they saved by canceling Thomas Peter's insurance... along with a shit-ton of money from supporters who inexplicably donate despite NOM's non-stop parade of failures... so they could organize their "March for Marriage." An event to condemn marriage equality which was headlined by such luminous visionaries as Mike "The End is Nigh" Huckabee, Rick "Piece of Shit" Santorum, and Brian "We Must Continue the Fight so I Get Rich" Brown.
Chalk up another pathetic embarrassment for NOM...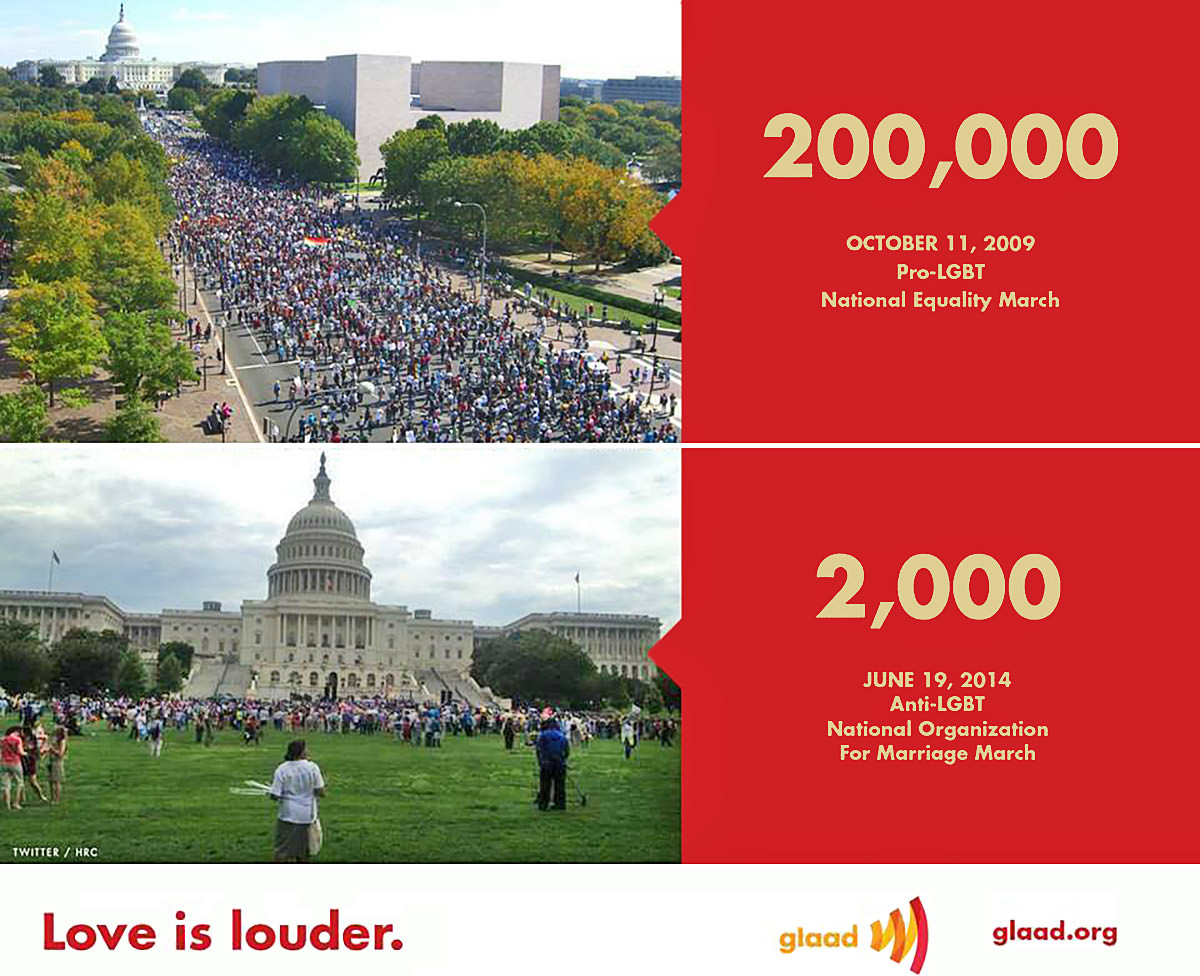 Look, it's over.
Marriage equality is becoming a reality in more and more states. The momentum is undeniable. People are coming to realize that adding marriage for same-sex couples doesn't in any way affect "traditional marriage," so they want their gay friends, co-workers, and family to have the same rights they do. And as the homophobic bigots continue to die out faster than new ones are created, the pool of people willing to deny rights to gay couples is rapidly diminishing.
It's over.
So rather than spending money in a losing battle on the wrong side of history supporting hate, it would be nice if organizations like NOM would put it to better use. Like spending it to feed the hungry and heal the sick. Since most of their money has religious ties, I'm guessing that's what Jesus would want anyway.
Oh... no... according to The Bible, that's exactly what he would want!
Funny how things all work out in the end.