This is my second year trying to put together a list of my favorite comic books, which isn't easy given that I just don't read many comics any more (my reading has taken a dive now that "The New 52" has kind of died down). But I still love comic books, so it's important to me to put some good books out there in the hopes that more people will support them.
As always, I'm doing most of my reading digitally on my Retina Display iPad, because I just don't have room to store any more comics. Comixology makes it so simple... and they regularly have sales that actually make comic books affordable. So here we go...

THE TWELVE BEST...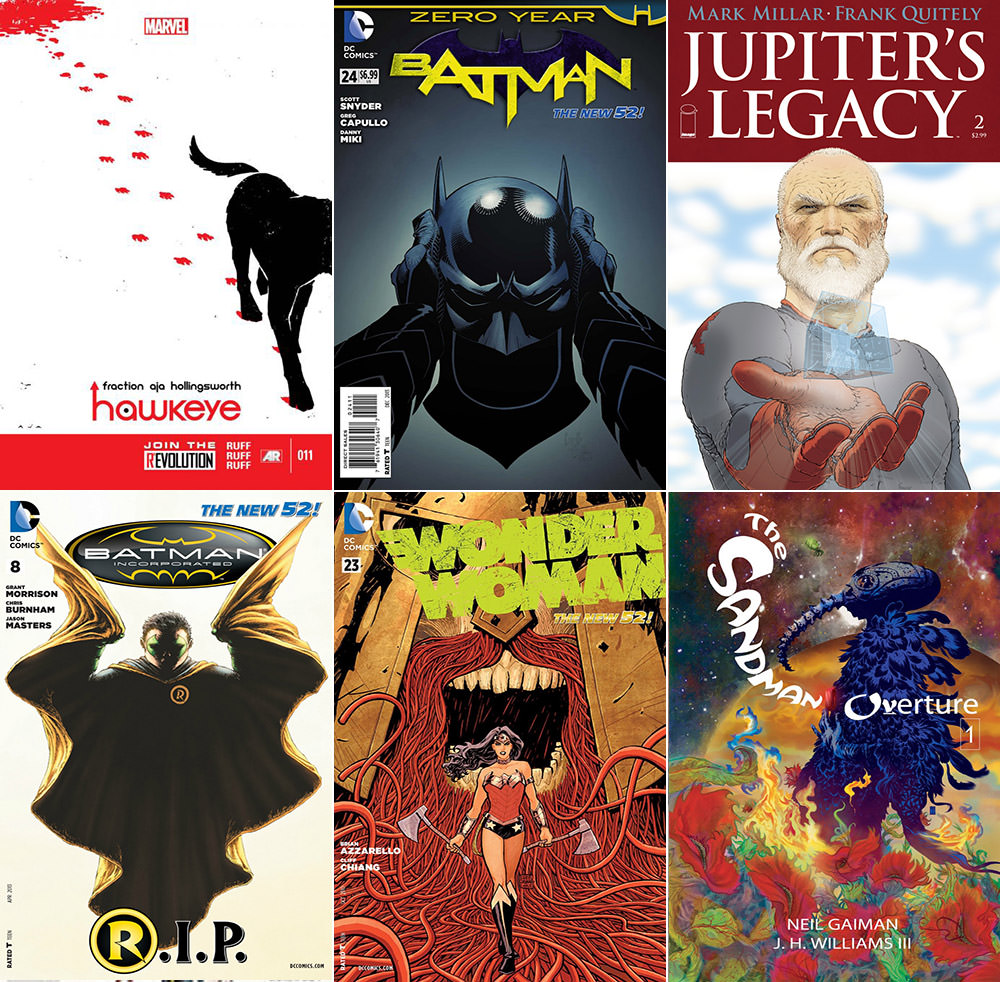 #1 Hawkeye.
How in the heck can a non-Batman book take the top spot in my list of 2013 favorites? When it's this tale of continuing brilliance by Matt Fraction and David Aja. It's just the whole package. Fantastic writing infused with enough action and humor to keep the pages blowing by... paired with some beautiful Giffen-esque art that services the story flawlessly. If I had to point to one thing that pushed this series over the edge for me, it would have to be issue #11. This one issue which... stay with me here... was told entirely from the perspective of Hawkeye's dog, illustrates beautifully just what makes Hawkeye the best book going in 2013.
#2 Batman.
My favorite comic book character of all time continues to chug along with some of the best Batman stories ever in his signature book. While the title has been a bit uneven compared to 2012, Scott Snyder still knows what makes Batman tick, and Greg Capullo still knows how to thrill with his jaw-dropping art. With "Death of the Family" wrapping up at the start of the year, I was wondering what could possibly come next... the answer? A prequel once again retreading Batman's origins? Really? And yet "Zero Year" kept things entertaining for the rest of the year.
#3 Jupiter's Legacy
This book was hyped as "The Comic Event of 2013," which would normally cause me to roll my eyes and move on. But it's by Mark Millar and Frank Quitely, so you couldn't help but take the buzz seriously. Yes, the book is basically a coat of fresh paint slapped on The Authority which has been fused with Watchmen-esque elements and injected with high Americana... but it's a really good paint job. The story is kind of a Greek Titans / Greek Gods situation, where an older generation of super-heroes are having to deal with the emergence of their super-powered offspring. There's only been three issues released, but you can already tell that Millar is building up to something really special.
#4 Batman, Incorporated
My number 4 from last year is my number 4 again this year... even though the title was canceled mid-year at issue #13. The reason is simple... Grant Morrison kept on doing what he was doing right up until the bitter end, and it worked beautifully. Even when he killed Damian Wayne, which was probably my favorite Robin ever. It's still a bit of a shock that there's no Morrison Batman to be had any more.
#5 Wonder Woman
Still love the book. Probably even more than I did last year, even though it was in the No. 5 spot then as well. What Azzarello and Chiang are doing is taking Greek mythology to epic heights which, given how epic Greek myths already are, is pretty frickin' spectacular. Gods, monsters, and surprises permeate Wonder Woman, and with every issue I have to check my disbelief that somebody isn't building a movie franchise for her. Screw the upcoming "Batman/Superman" cameo... everything you need for an amazing film is right here.
#6 The Sandman: Overture
More Gaiman Sandman? Yes please. And while the story for this mini-series isn't up to the lofty standards of the original book, it's absolutely the most beautiful presentation of the character I've ever seen thanks to the jaw-dropping art of J.H. Williams III. And what else is there to say? It's Sandman.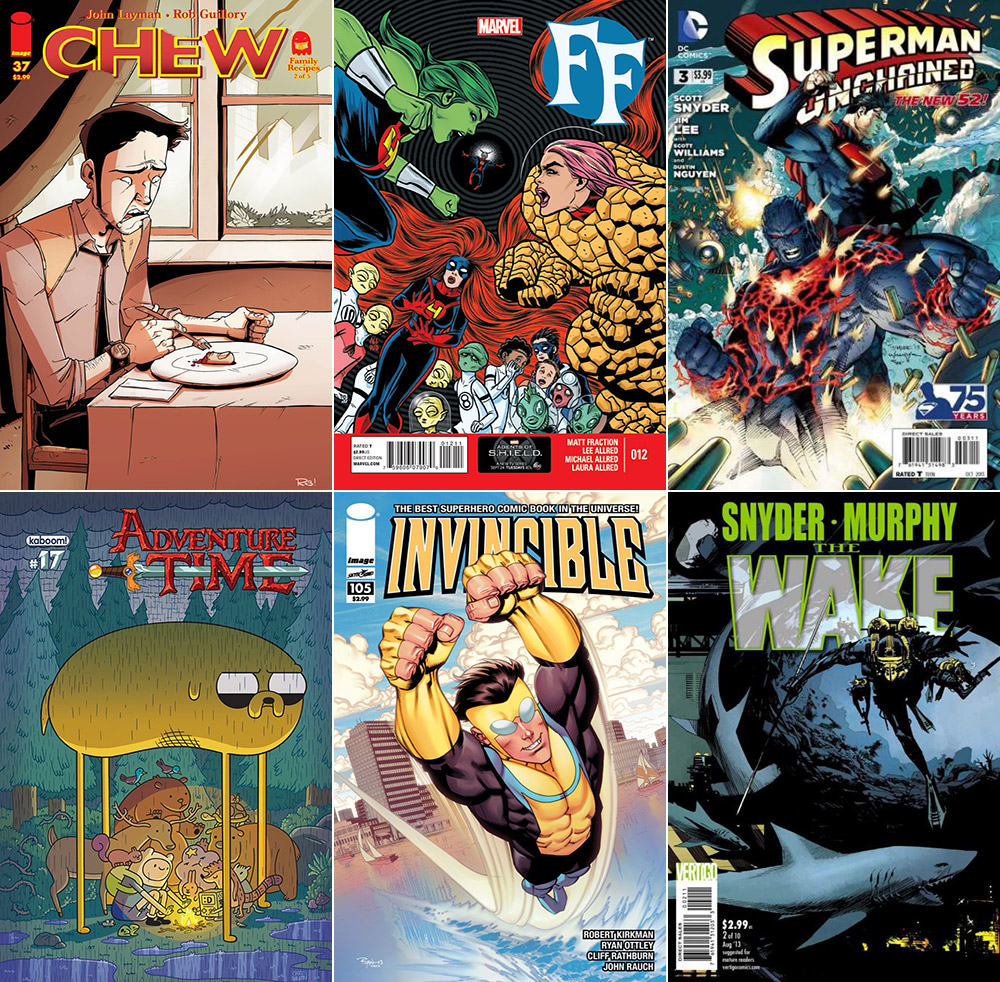 #7 Chew
This is one of those titles I've enjoyed for a while... but it's finally gotten to the point where it's essential reading material. Police detective Tony Chu has the unique ability to get psychic impressions from objects he consumes. Including people. Which means he's got an inside-edge in solving murders... all he has to do is start chowing down on the corpse. But the title is so much more than that, and very much worth your valuable time.
#8 FF.
Okay... okay... even though it was written by Matt Fraction and drawn by the incomparable Mike Allred, the wacky premise behind a substitute Fantastic Four in FF was just too much for me (a woman in a Thing-suit named "Miss Thing? Ugh). Until Marvel gave away the first issue for free and I actually read it. I should have known better. I should have given the creative team a chance. Because Fraction (who writes my #1 book, Hawkeye) is at his most unique right here, and Allred is Allred... churning out his magical art page by page. The sheer surprise of how much I enjoy this book should probably rate it higher on my list, but I've settled in and am "just" loving it now.
#9 Superman Unchained.
What happens when Scott Snyder sneaks away from his awesome Batman book to dip his toe in the Superman universe? Well, some pretty great stuff, as it turns out. And it doesn't hurt that he has Jim Lee onboard to illustrate the thing. In many ways, Unchained, should have been the title that anchored "The New 52" all along... it's just so much more streamlined and entertaining that what we've been getting from the launch titles.
#10 Adventure Time.
Yes. All the things that make the Adventure Time cartoon so awesome are perfectly translated to a comic book series. If you love the wacky insanity that defines every episode of the show, this book is a must-read. And if you don't love the cartoon, then you don't love life. Get onboard, will you?
#11 Invincible
Robert Kirkman continues to pump out issue after issue of the most consistent quality super-hero book there is. And even with all the storyline ups-and-downs of 2013, it was still a book I was anxious to read every month. If you want to rediscover what makes super-hero comics such an enduring genre, this is probably the best place to start.
#12 The Wake
What does Scott Snyder do when he's not crafting some of the best Batman and Superman stories running? Oh... he dabbles in a series that leaves the super-heroics behind with The Wake, a 10-part series that explores the ocean depths... with a survival horror twist that's a mind-bogglingly good read. Half the fun of this series is speculating where it's all leading to... the other half is just grabbing hold and enjoying the ride.

ALSO WORTH LOOKING AT...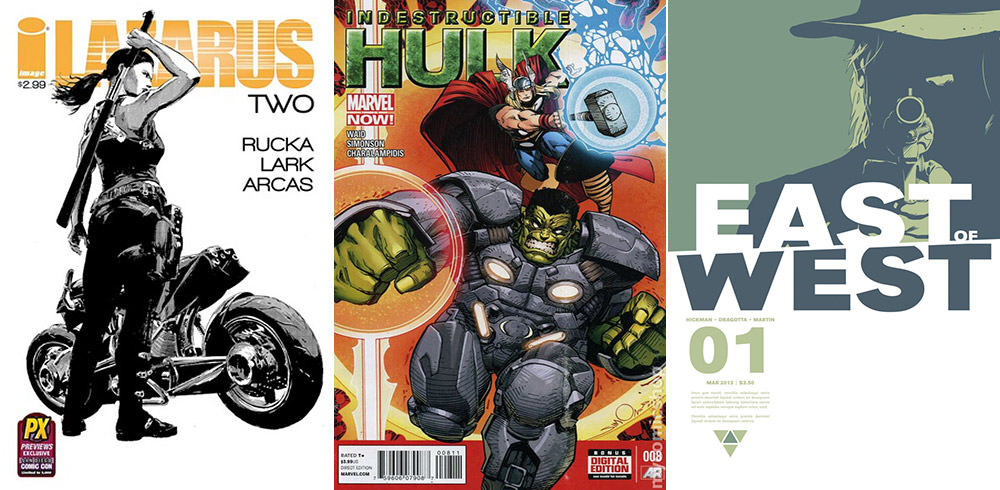 Lazarus
Science fiction cut with politics cut with action... all of which rolls together in a surprisingly fresh way. In this book, the super-wealthy own the world, but the world is not enough, and epic battles between families is only survivable by genetically-engineered protectors.
Indestructible Hulk #6-8
Walt Simonson returns to Thor... in the pages of Indestructible Hulk? Wha-?!? But, yes, it's true. Mr. Simonson takes on the art chores for Mark Waid and blows the doors off, much as you'd expect he would. As if that weren't enough, the storyline was pretty darn entertaining.
East of West
I was late coming to this series because Westerns are not my thing... but then the praise-laden reviews started rolling in, and I was compelled to take a look. More like a "Sci-Fi Western," Jonathan Hickman's East of West is a battle between the Four Horsemen of the Apocalypse at the end of the world... with Death as mankind's only hope. Really good writing in an imaginative work that's worth checking out.