Most every single thing I do for my job is with Adobe Photoshop, Adobe Illustrator, and Adobe InDesign. These are the apps I need to do whatever it is I do, and my work would be very difficult indeed without them.
Not to say that there aren't alternatives... there are plenty... but when it comes to the feature-rich tools I know best, and the ability to work together in the way I need them to, Adobe is the only game in town.
It used to be that Adobe apps were purchased like most any software... you buy them. Well, not "buy" per-se, it's more like a "one-time permanent lease payment"... and once you pay your money you can use them for as long as they work for you. This "Creative Suite" can then be upgraded every year or two when Adobe finishes up a new version.
Last year Adobe introduced a new way of using their products... renting. They call it "Creative Cloud" and for fifty bucks a month, they're all yours to use as much as you want...
The good news is that, so long as you keep paying, your apps are always up-to-date. You always have the latest features, and Adobe rolls them out when they're ready rather than making you wait for the next release. That much is really sweet.
But two days ago Adobe announced that "renting" their "Creative Cloud" is now the only way to go. As of now, they are discontinuing "Creative Suite" (for the most part) with the current version 6.
I had already moved to Creative Cloud last year, so this doesn't really affect me. But what if it does?!?
This could be bad.
Because what if Adobe discontinues an app?
As unlikely as it may be, let's say that Adobe kills off Illustrator in a couple years. You can't rent it any more. It's gone. And since you aren't able to buy it, you can't access any of your files created with it. You can't open them. You can't print them. You can't export them for use with another program. All your years of hard work essentially vanishes overnight. Everything you've created in Adobe Illustrator has to be recreated from scratch in a different program. Unless some other app comes along that reads the format.
But that's not all though. There's all kinds of doomsday scenarios that come to mind. What if Adobe doesn't kill an app... but instead raises the price of using it to $1000 a month? Pretty much the same thing, isn't it? You're trapped. You pay what Adobe wants or else you lose everything. Or maybe they don't raise the price... but all of a sudden your financial situation changes and you can't afford the rent? Again, pretty much the same thing. You're locked out and all your stuff is inaccessible.
So I guess this is bad.
And right now I'm more than a little worried.
Adobe needs to do two things to make me feel a bit better about this New World Order...
ONE
Release free "reader" programs for all their apps that at least let you look at your work. And print it. And possibly convert it to an open format so you could take it elsewhere if something happened that you couldn't use Creative Cloud any more. Knowing that I could at least see my work... and ideally export it somehow... would go a long way towards easing my mind and helping me to accept our Adobe Overlords.
TWO
Create smaller bundles of apps. As I said, I use three apps from Creative Cloud. THREE OUT OF WHAT... THIRTY?!? Give or take (some of these are services, not apps, that I won't use)...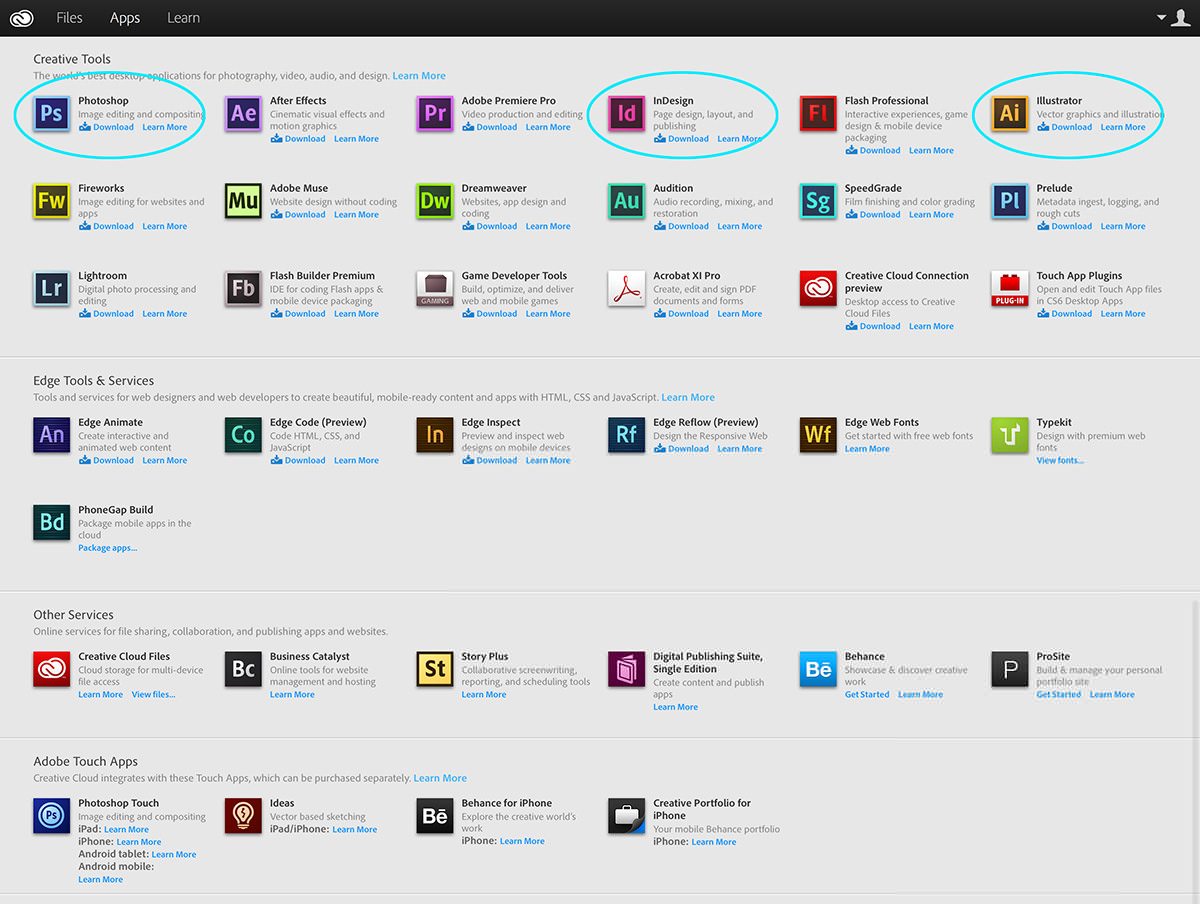 It feels like a complete rip-off that I have to pay for development of huge bunches of crap I will never (or rarely) use. Even if it were to only save me $10 a month... perhaps by renting a "designer bundle" with only the "Big Three" that I need or something... well... I would feel much better about my rent. As it is, I think it's absurd that I am forced to pay for shit like "Flash Builder Premium" that I would sooner light on fire than ever load onto my computer. This is like the cable company all over again, and it's not a good thing.
Realistically, Number Two will probably never happen. But Number One pretty much has to. If it doesn't... if there's a risk that all my work could become inaccessible tomorrow (for whatever reason)... well... is that a risk I can really afford to take?
Perhaps it's time to start exploring some of those other options?