Pledge allegiance to the flag of The United States of America... because a Very Special Washington, D.C. Edition of Bullet Sunday starts now...

• Pret! I headed into the city early for work because I knew that Union Station DC had a Pret shop inside. As I have said many times, my all-time favorite breakfast is a Pret Egg and Fire-Roasted Tomato Sandwich, so missing out was not an option...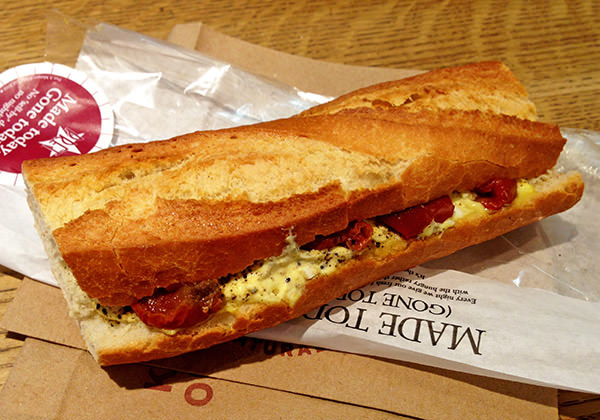 As expected, it was frickin' amazing... and a fantastic start to my day.

• United States Holocaust Memorial Museum! One of the best museums I've ever had the pleasure of visiting is the World War I Museum in Kansas City. The design of the exhibit space is just exceptional, and a commenter told me the same guy (Ralph Applebaum) also designed The United States Holocaust Memorial Museum. So, naturally I was curious. Add to that the fact that my very good blog friend, Mr. Shiny, is married to one of the curators, and I was compelled to pay a visit...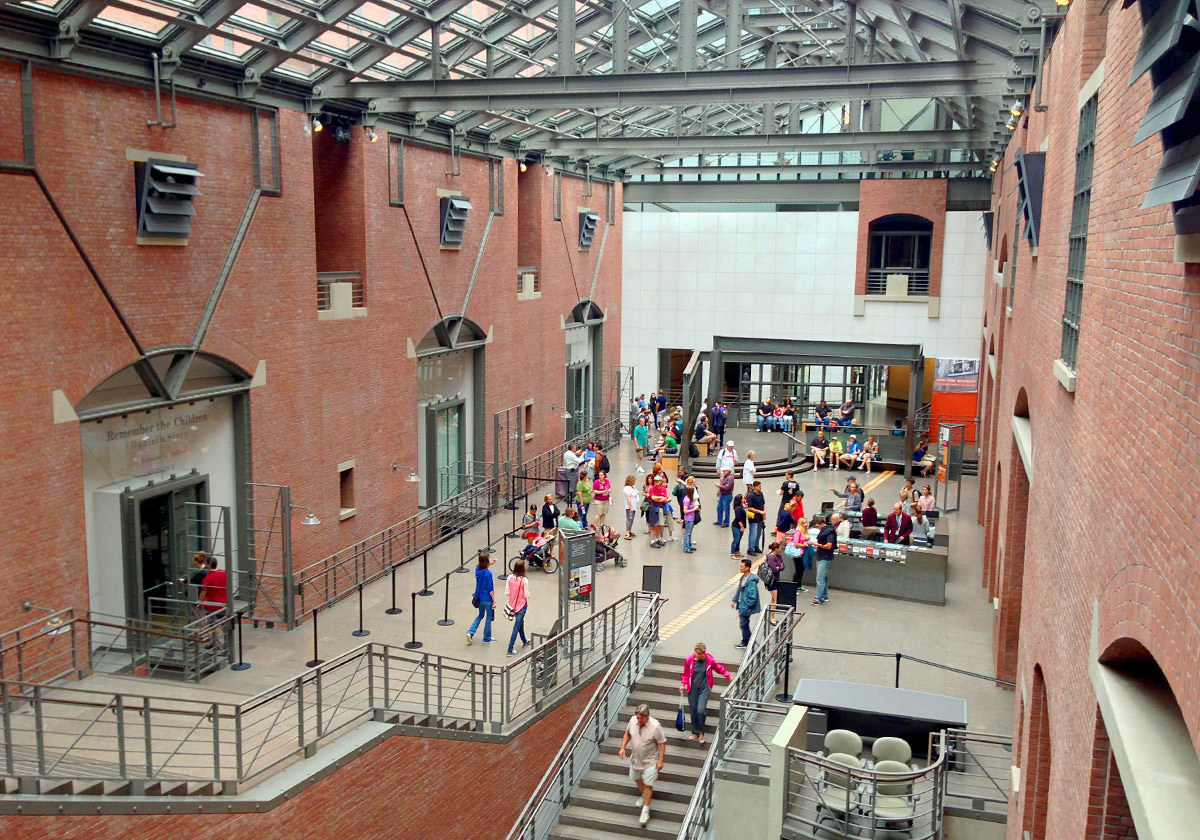 Not surprisingly, the museum is stunning. As expected, the exhibit spaces are wonderfully orchestrated to tell the story of one of this planets' greatest atrocities... and it's done so well that you feel it. I had planned on spending a half-hour wandering around, but was here nearly two hours. Deeply moving and extremely popular (get there early!), the museum gets my highest possible recommendation.

• National Air and Space Museum! This trip to DC, I decided to put aside my usual stops and visit some of the places I haven't been to in a while. Like the Smithsonian's Air and Spaaaaaaace Museum...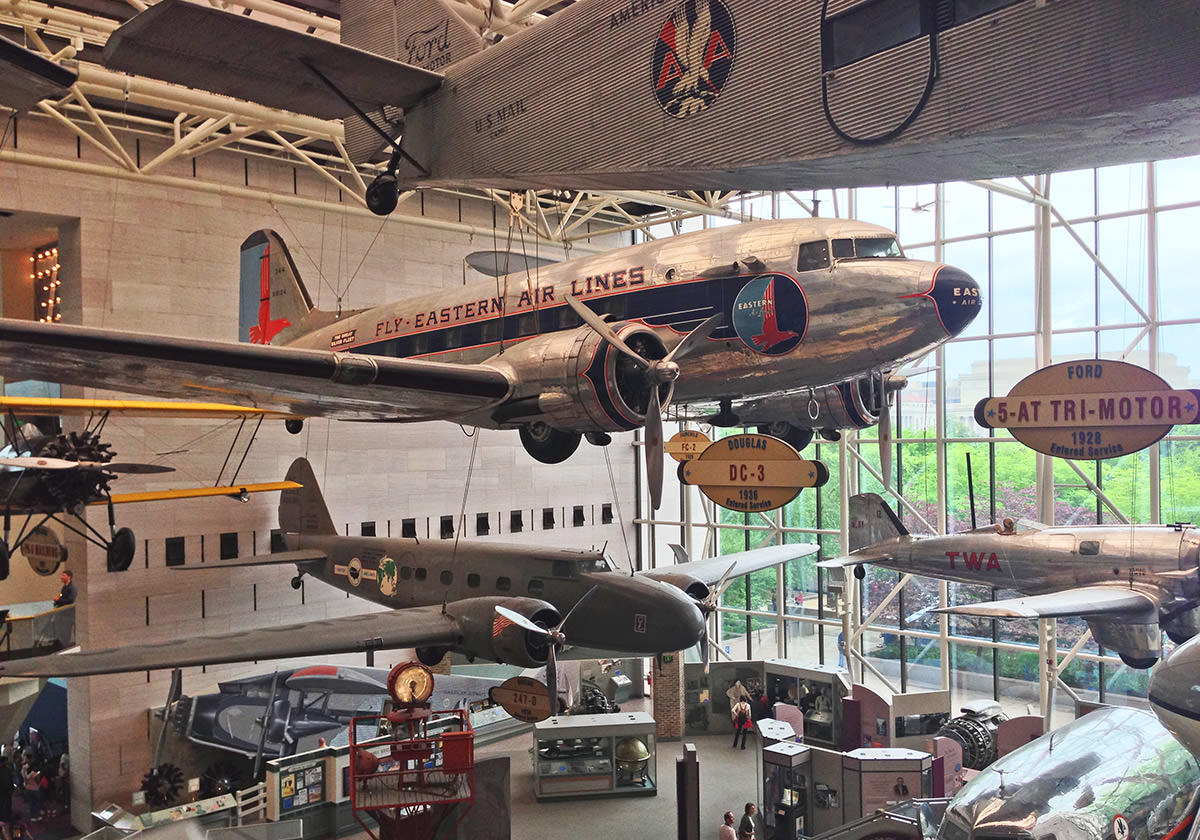 I swear... everything looks the exact same as when I was first there in 1996! They aren't too big on updating the main exhibits, I guess... which is a shame. But, still, some cool stuff...
And I could never get tired of looking at the original USS Enterprise model...

• Crapital! Why oh why do they have to put up garbage in front of beautiful buildings like the US Capital? There's a tent, some kind of screens, and other crap junking up the place, which is just wrong. When visitors walk by, they shouldn't have all the obstructions and distractions...
Because, seriously, if you came all the way to the US Capital, would you want THIS to be the photo you show all your friends when you get back?

• National Gallery of Art! I've been here most every single time I've come to DC... which is why I was going to avoid it this time. But I just couldn't do it. The place is packed with treasures and FREE! So I took a half-hour to wander a bit, which is when I found this beautiful table that I don't remember seeing before...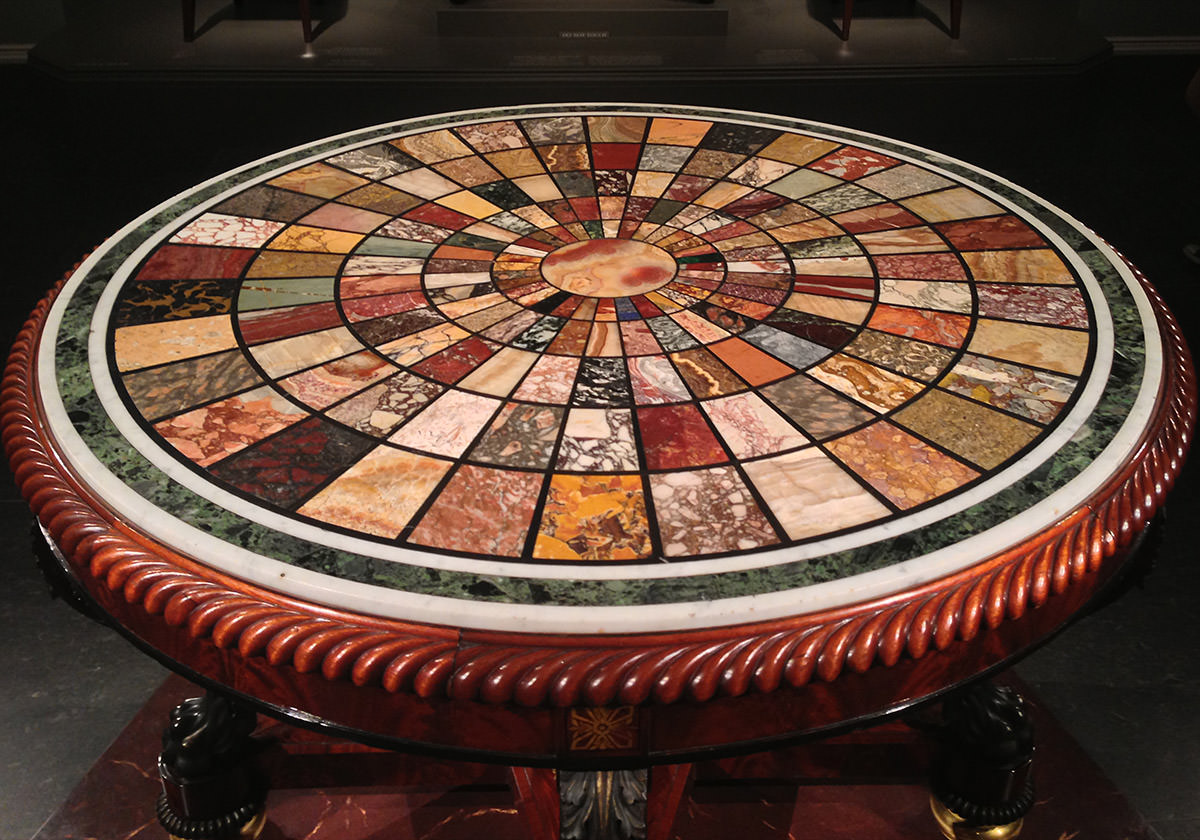 It's just like the chess table on the Millenium Falcon!

• National Archives The line was really short as I walked by, so I decided to drop in to the National Archives and see if we still had a Constitution. Between the Tea Party Right wanting to strip everybody of all individual rights except guns... and the Extreme Left wanting to eliminate individuality entirely, sometimes I have a hard time remembering. Turns out we DO! Though it's badly faded and hard to see. Just like real life... and just like this scan of the Declaration of Independence...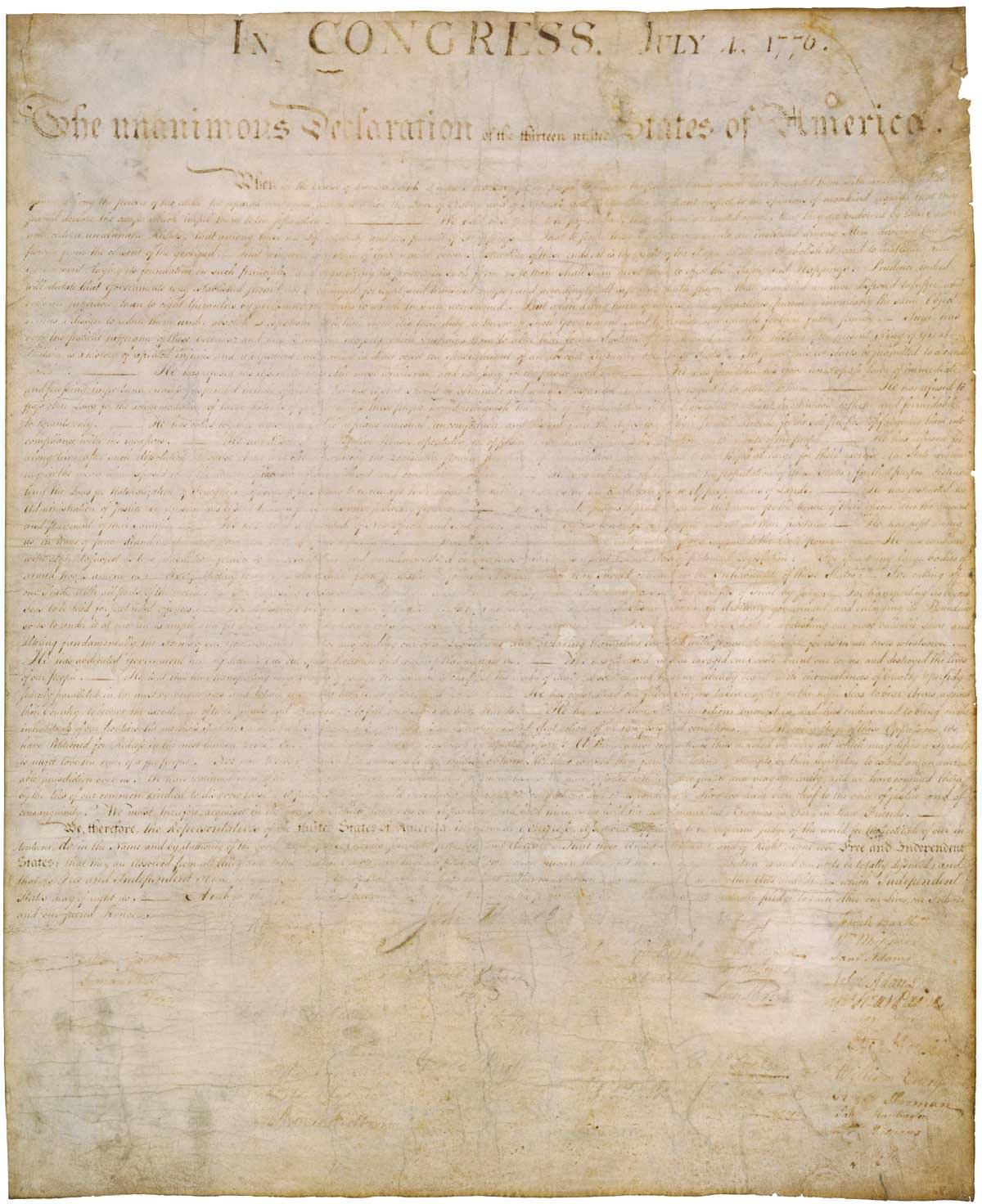 • Vietnam Memorial! By the time I got to The Wall, it was pouring down rain. This made the sculptures for the Vietnam Soldier's Memorial and the Vietnam Women's Memorial look even more beautiful than they usually do...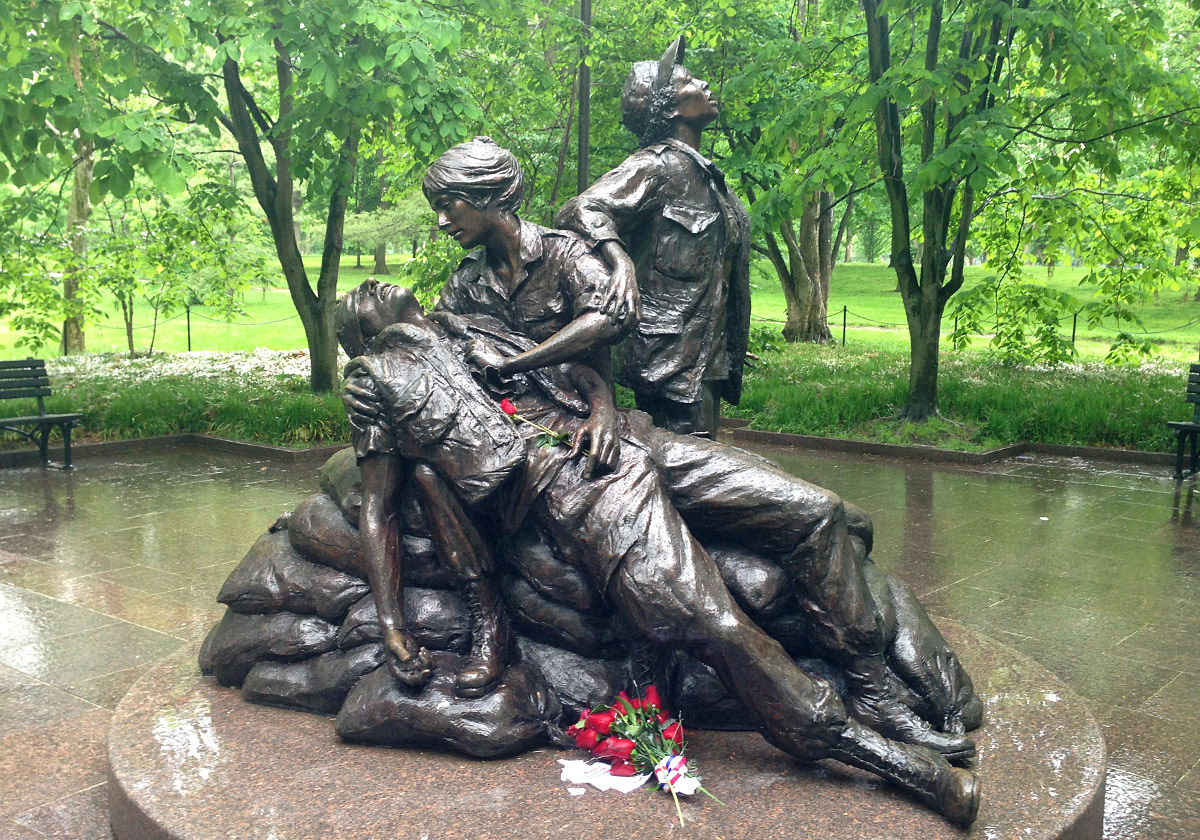 Ever since my first visit to The Wall, I've returned every time I'm in Washington, D.C. to pay my respects to Roderick L. Mayer, a MIA/POW whose memorial bracelet I've been wearing for the past 17 years...
And since every time I post about my dedication to MIA/POW issues I get hate-comments from people telling me that this is all a big myth, I'm just going to post a clickable copy of a letter to Roderick Mayer's parents, then tell any detractors they can go fuck themselves (John McCain and John Kerry included)...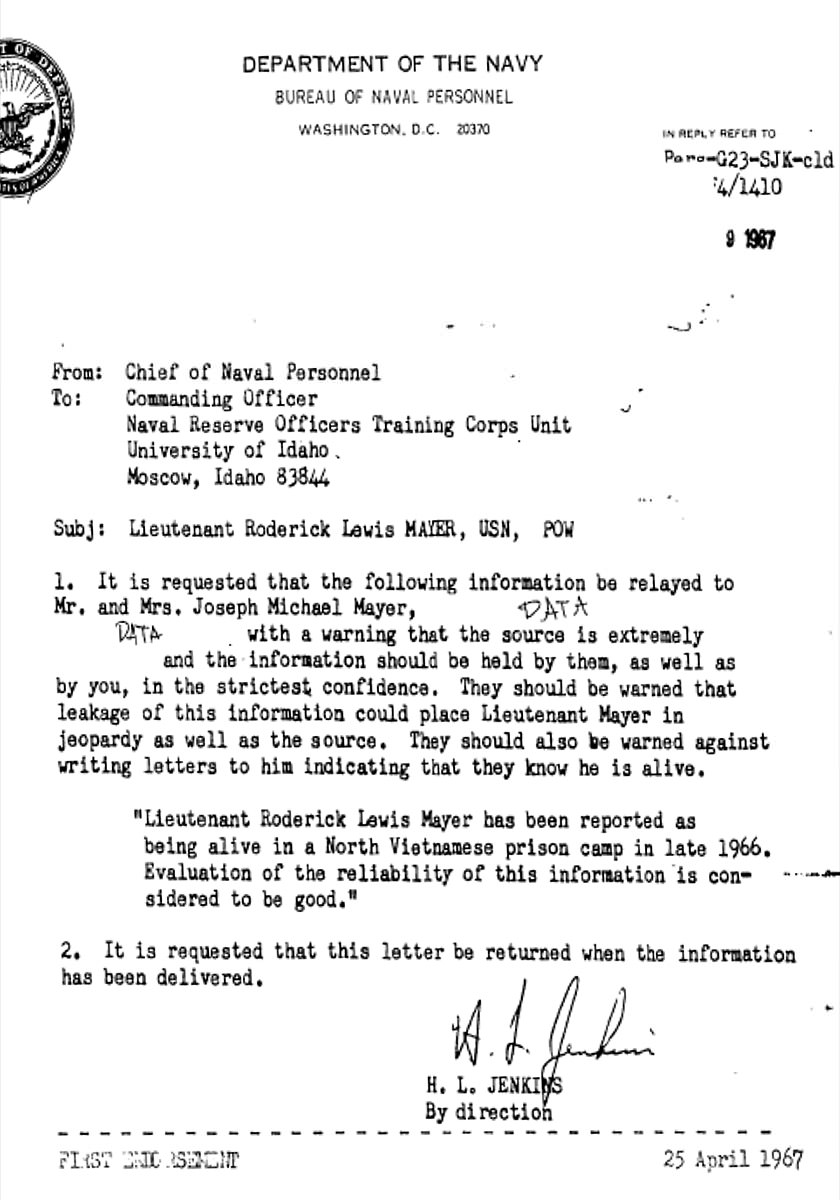 • Korean War Memorial! A hauntingly beautiful memorial, and one of my world favorites. I found this documentary video which explains the thought that went into it...
It really has to be seen in person to get the full experience... and, if you're ever in DC, I highly recommend it.

• Lincoln! Another memorial monument that I absolutely love is Abraham Lincoln's. Visiting is akin to a spiritual experience...
And, of course, the view from the top of the steps is pretty special...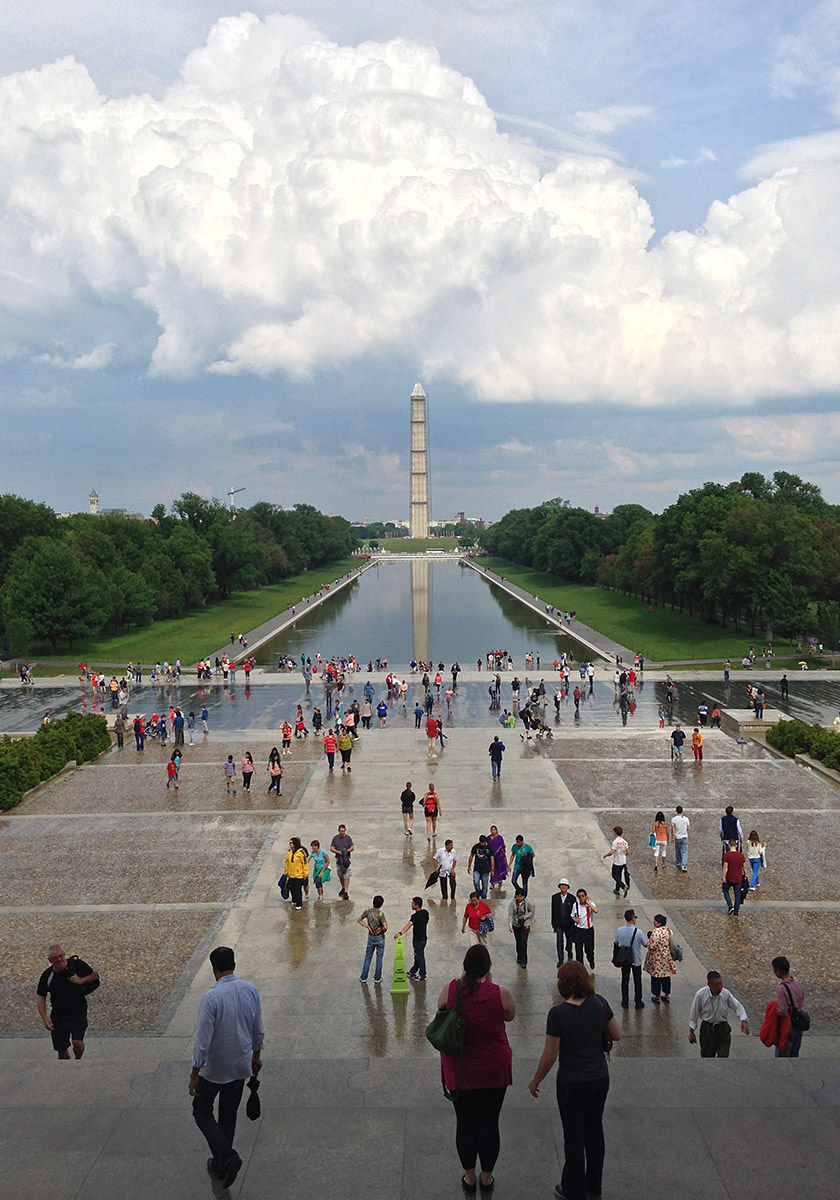 Even if the 2011 earthquake has busted the Washington Monument to shit and it's all covered in scaffolding now...
At some point, you have to ask yourself if it isn't worth knocking the thing down and building a new one from scratch. Yeah... yeah... yell at me all you want, but I'm sick of having busted shit in my photos. Historical conservation aside, it's kind of bullshit to visit a place and have nothing but photos of scaffolding or construction crews (like last time) to show for it. Apparently they're going to finish with the restoration sometime next year. Hopefully the wait will be worth it, and the monument won't fall to pieces again two years later.

• National World War II Memorial! I'm just going to come right out and say it... I have never liked this installation, and wish that they had come up with something more meaningful and thoughtful than this lame excuse for a memorial...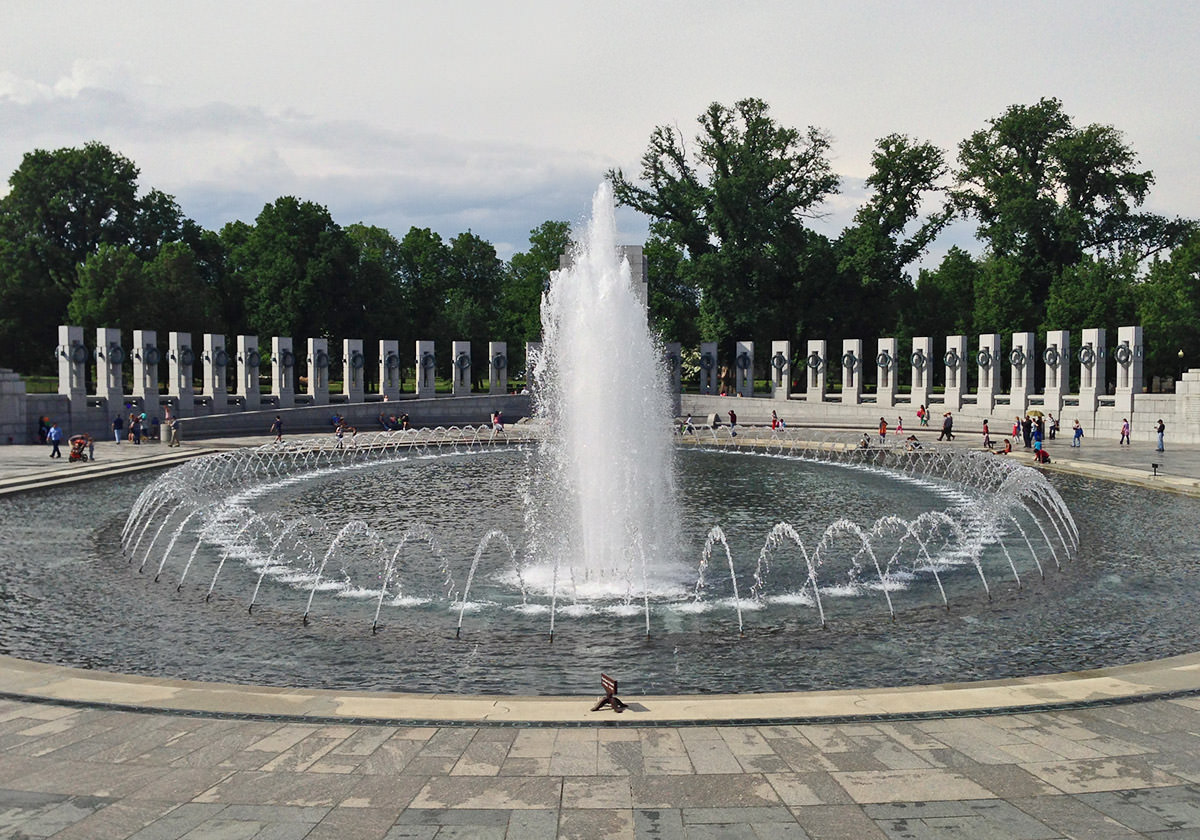 It's just so boring, repetitive and tacky. And I don't "get" how it honors World War II vets... if anything, it looks more like it's some kind of monument to US states and territories...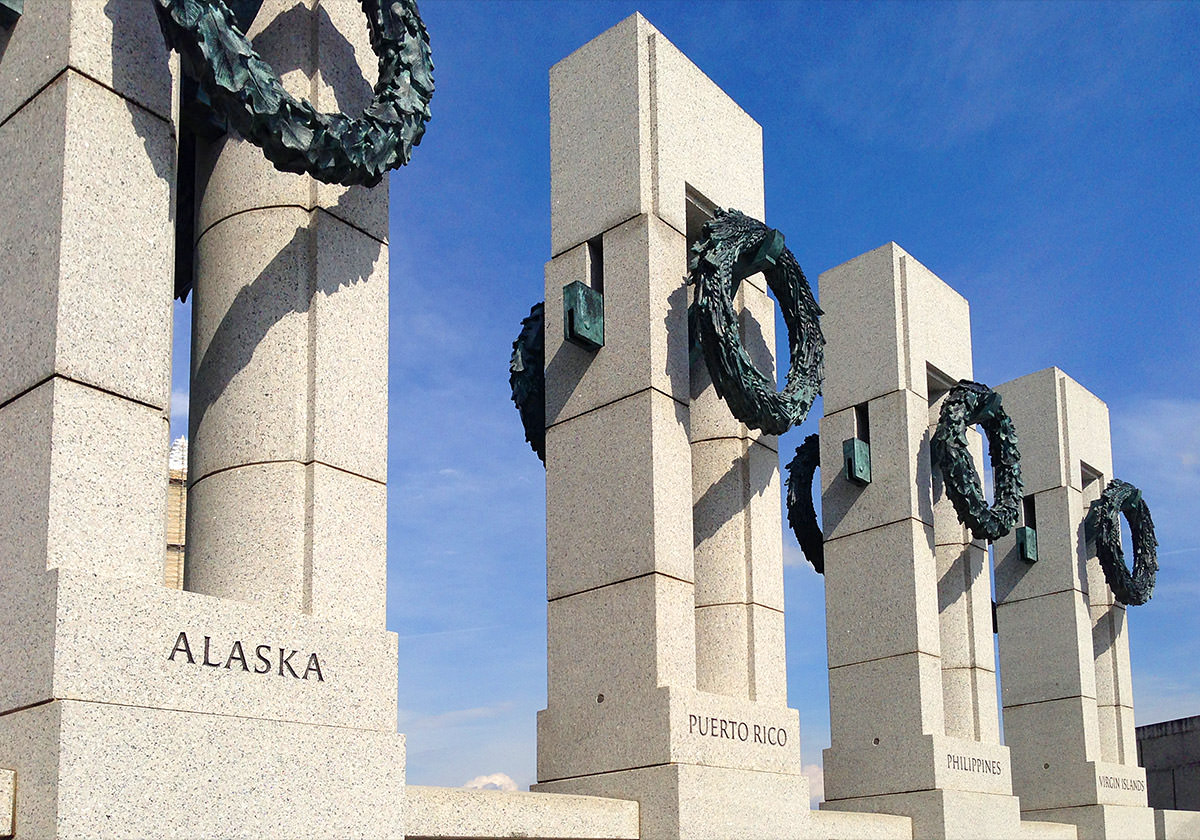 Compare it to the Korean and Vietnam memorials, and it's just so forgettable and unimpressive... even though it's so big. Probably because it's so big? I dunno. All I do know is that those who fought and died in World War II deserve something better than this.

• Shiny! Tired and soaking wet, I was pretty much done with Washington, D.C. when 5:00 rolled around. Fortunately, Mr. Shiny (who you should know from his most excellent co-hosting duties on the Hey! That's My Hummus! podcast) rescued me from my day and whisked me off to dinner with his family. But before we got there, he took me to see the Peeps & Co. Store in National Harbor and a really cool statue called "The Awakening" that's across the street...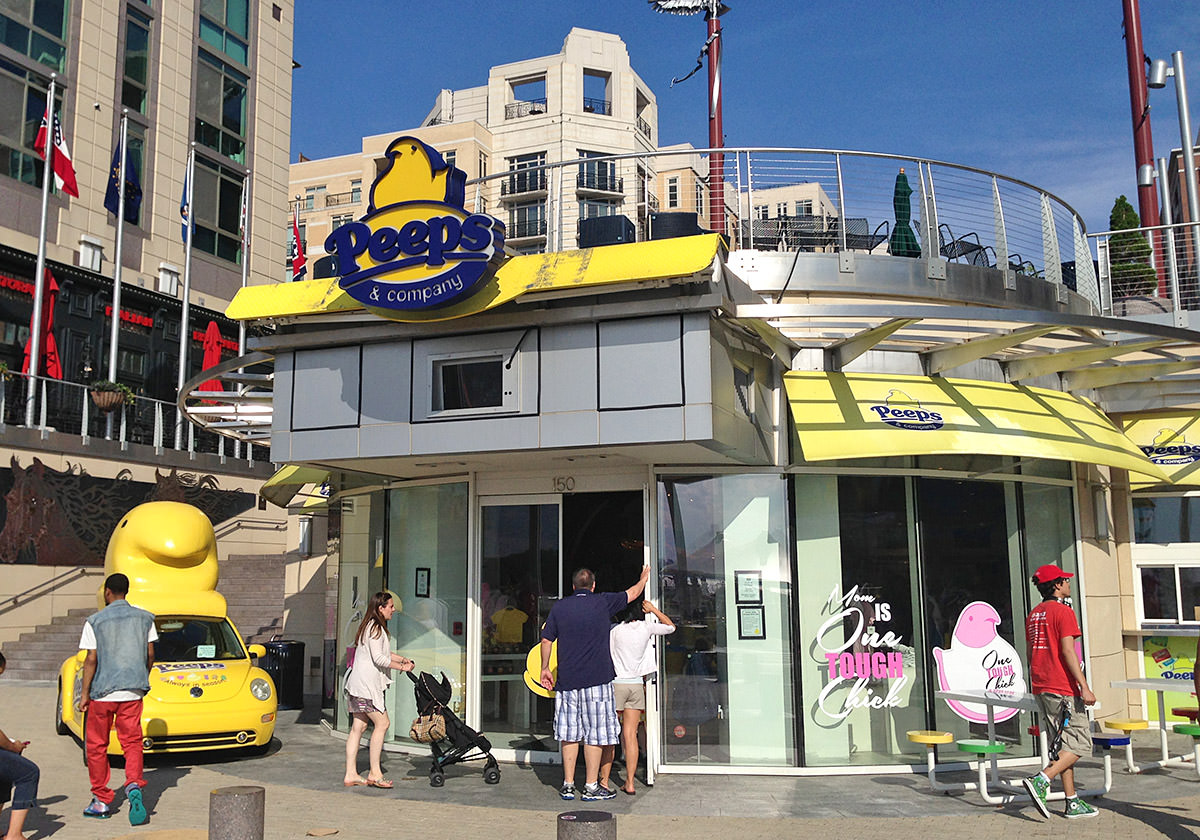 Poor guy looks to me like he's drowning in sand.
Dinner with the Shinies was a lot of fun... until they brought the hummus...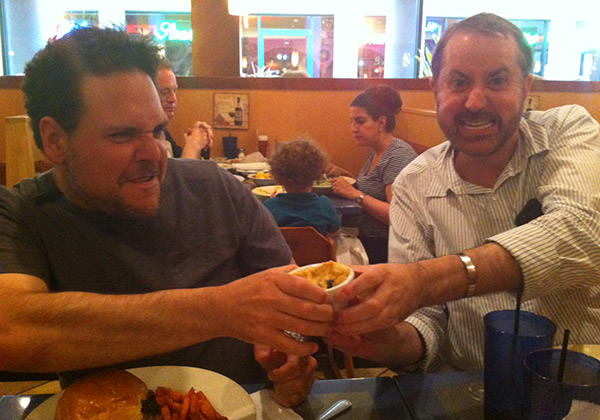 Just because he has a podcast called "Hey! That's My Hummus!" doesn't mean he gets to eat it all. I love hummus! I guess I should be thankful that Faiqa wasn't there, or else I would have had to fight off two people! Fortunately, my delicious black bean burger had hummus on it, so I was totally taken care of in the chickpea department.
And, just like that, my one funtabulous day in Washington, D.C. was over. Hopefully next time I'll get to stay a while.

• WTF?! And jut because I can't end Bullet Sunday on such a happy note... Holy. Fucking. Shit. Not only is Newt Gingrich confounded as to what to call a "smartphone"... he seems genuinely perplexed by multi-functional modern technology. And this is a guy who could have been elected President of the United States of America!
[YouTube Video Removed]
"This pencil also erases. It has an eraser right on the top of it. So it's not a pencil. It's not an eraser. It's something new. A new technology that's only beginning. And we here at Gingrich Productions have spent weeks trying to figure out what to call it..."
I'm horrified that this kind of absurd cluelessness completely defines our country's government. Legislators are making laws about things they don't understand and are too lazy to actually take the time to educate themselves about. This is exactly how idiotic shit like ACTA happens, and we all pay the price for our political leaders being intentionally uninformed morons.

And... it's late. Happy Mother's Day, everybody!