Still in pain. But instead of doping up and laying in bed, I doped up and went to work today. I figure if I'm going to be miserable, I might as well try and be productive.
It didn't go very well. I got some stuff done, but never felt like myself. Sometimes in the middle of a project I'd forget who I was and what I was doing. Then I'd have to start all over again, which is the opposite of productive. Oh well. At least my mind was taken of my brain exploding. Kinda.
In happier news, I bought a new heavy-duty KitchenAid mixer for making bread...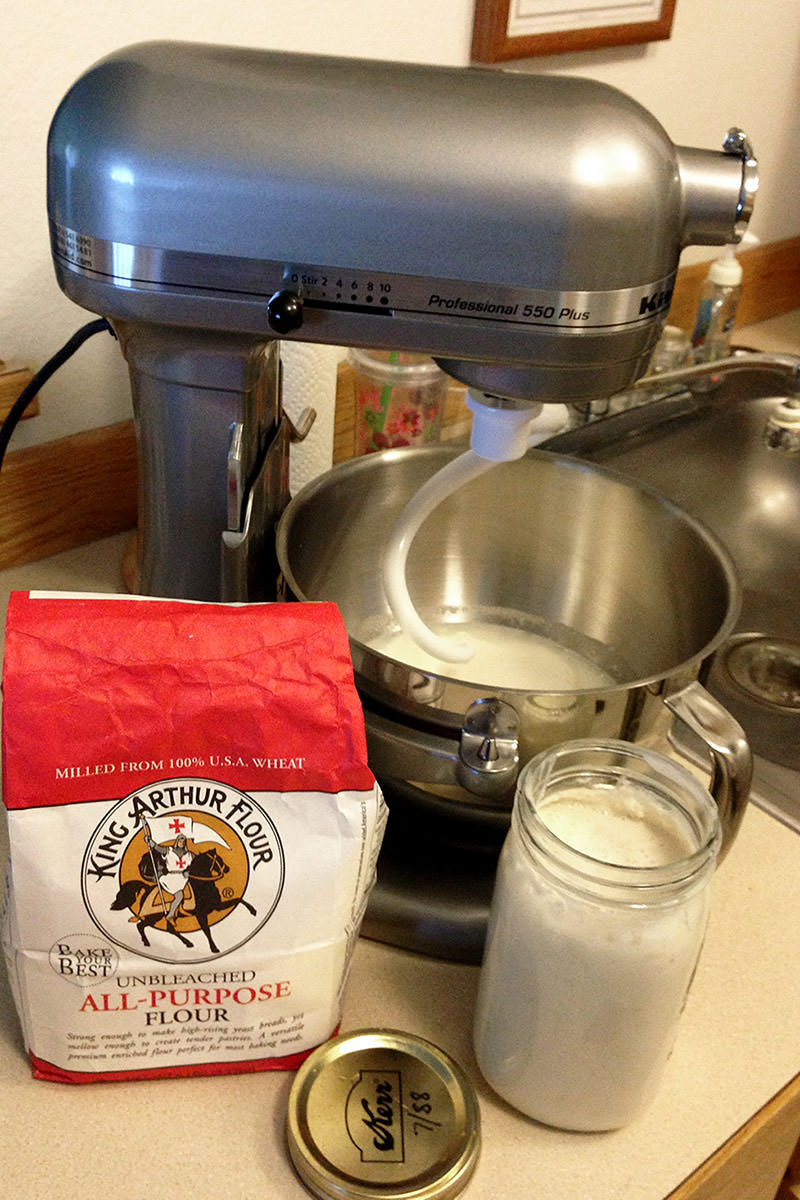 Previous loaves were mixed by hand... but I could never get the recipe-stated 7 cups of flour into the mix. My arms would start to die at 6 cups. But this mixer easily manages to take the 7 cups, which makes for a much nicer, more elastic dough.
And now for my review of the KitchenAid KV25MCX Mixer (which is a model made for Costco).
I have mixed feelings on this product, and really wish I had researched more before making my purchase. The only thing I did know was to make sure I got a "fixed-head" mixer instead of a "tilt-head" mixer. "Fixed-head" mixers are supposed to be more powerful, which is what you want when you are kneading bread. I also heard that KitchenAid was a high-quality, made in the USA brand.
The problem is that this model has a "wide" bowl, which is what you don't want when kneading bread. Apparently, wider bowls allow for too much slop, which makes the bread want to climb up the hook more easily instead of staying in the bowl. The problem is nowhere near as bad as I've read, but it does happen every once in a while during the mix. The good news is that wide bowls are better for just about everything else. Except I'm going to be using it for bread 95% of the time, so I guess I should have looked for a more appropriate model.
In non-bread-making news, the mixer is awesome. The wire whisk aerates like a champ. The flat beater is nicely designed to mix thoroughly, quickly, and with minimal mess. I like the controls. I thought I'd be unhappy not having a tilt-head, but the bowl-raise alternative isn't bad at all, even though it's a bit less convenient.
When it comes to build quality, my initial impression is favorable. It's looks tough and feels solid. KitchenAid claims the gears are metal, which should make for good longevity. The problem is that customer reviews claim that not all the gears are metal, and some people are reporting that their gears are stripping after 4-8 months of use. Needless to say, this would suck ass when I paid $330 for a professional, high-quality mixer. But KitchenAid has a one-year warranty, so hopefully I'm covered.
If I was starting all over again, I would have probably invested the extra $110 and got the Pro Series 600, which apparently excels at bread-making. Oh well. Live and learn, I guess.