I awoke to rain and overcast skies on a cold New Orleans morning.
My motivation to get out of bed and wander out into that dreary morning was effectively zero. But to waste a day in one of my favorite cities on earth would be a terrible sin, so I sucked it up and decided to visit some places I hadn't been before.
I started out with The Pharmacy Museum, which is a little place on Chartres Street I had never even heard of. As far as museums go, it's pretty tame... but it only costs $5 and there's loads of beautiful old bottle labels to explore...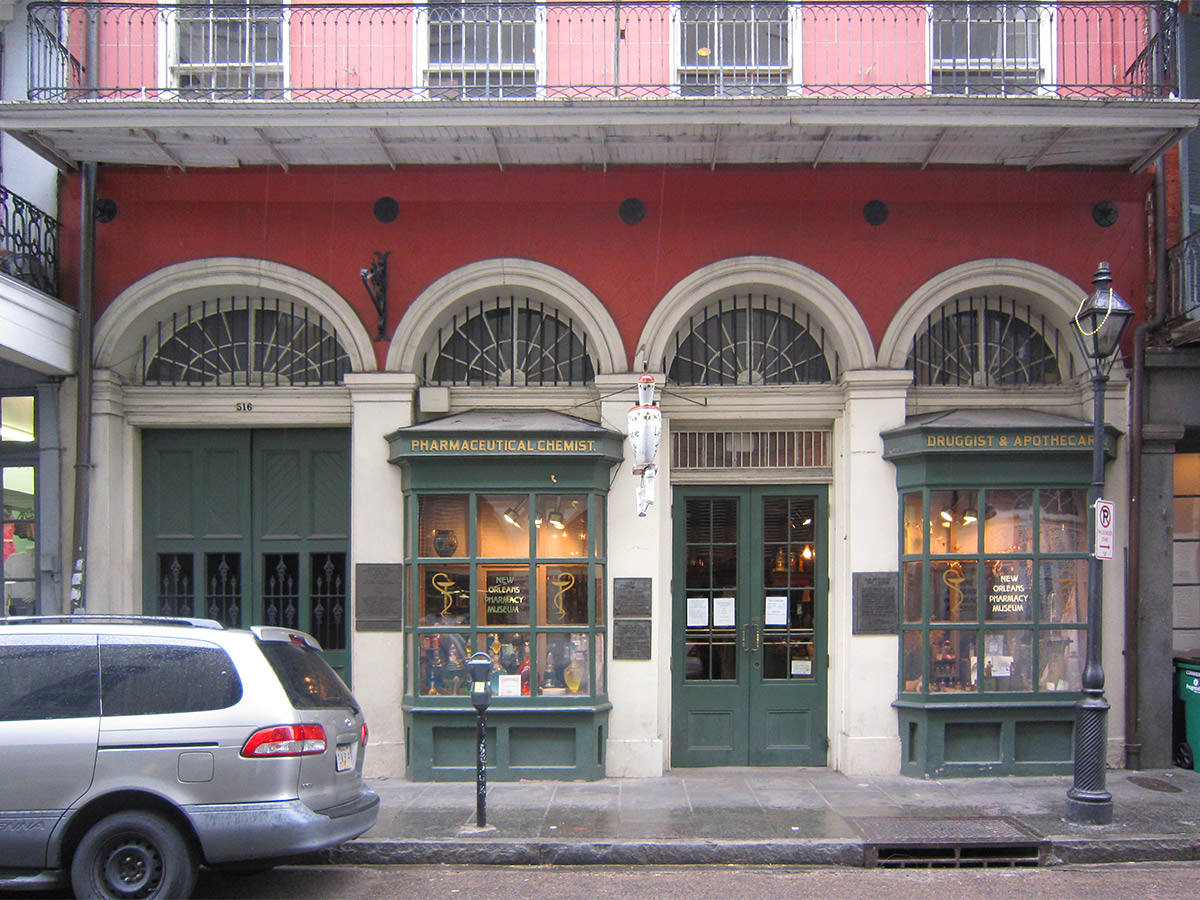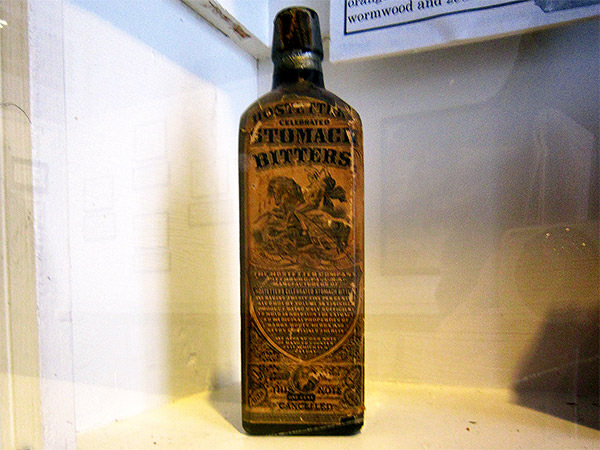 They also have a collection of very old eyeglasses and other cool stuff, but a French tour group had their shit spread out all over the cases and would not fucking leave the exhibit, even though there were people trying to take a look. The worst part? THEY WEREN'T EVEN DISCUSSING THE STUFF IN THE ROOM! They were talking about historical figures or something (I'm guessing they didn't want to take it outside because it was raining). What a bunch of rude assholes thinking only of themselves and ruining the experience for everybody else.
Tired of walking in the cold, I decided to take in a couple of book shops, then grab lunch before heading back to my hotel room. But I kept seeing advertisements for Mardi Gras World that looked interesting. I had never visited there before because it used to be across the river. But now it's moved down by the convention center, so I decided to take the piece of shit Riverfront Streetcar* and take a look.
Mardi Gras World is a working facility where they build most of the floats for the 12 days of Mardi Gras parades that happen here every year. They're rather ornate affairs, and the work that goes into building them is pretty intense. So intense that as soon as one Mardi Gras ends (as 2013's just did in February) they immediately start work on next year's 500 floats...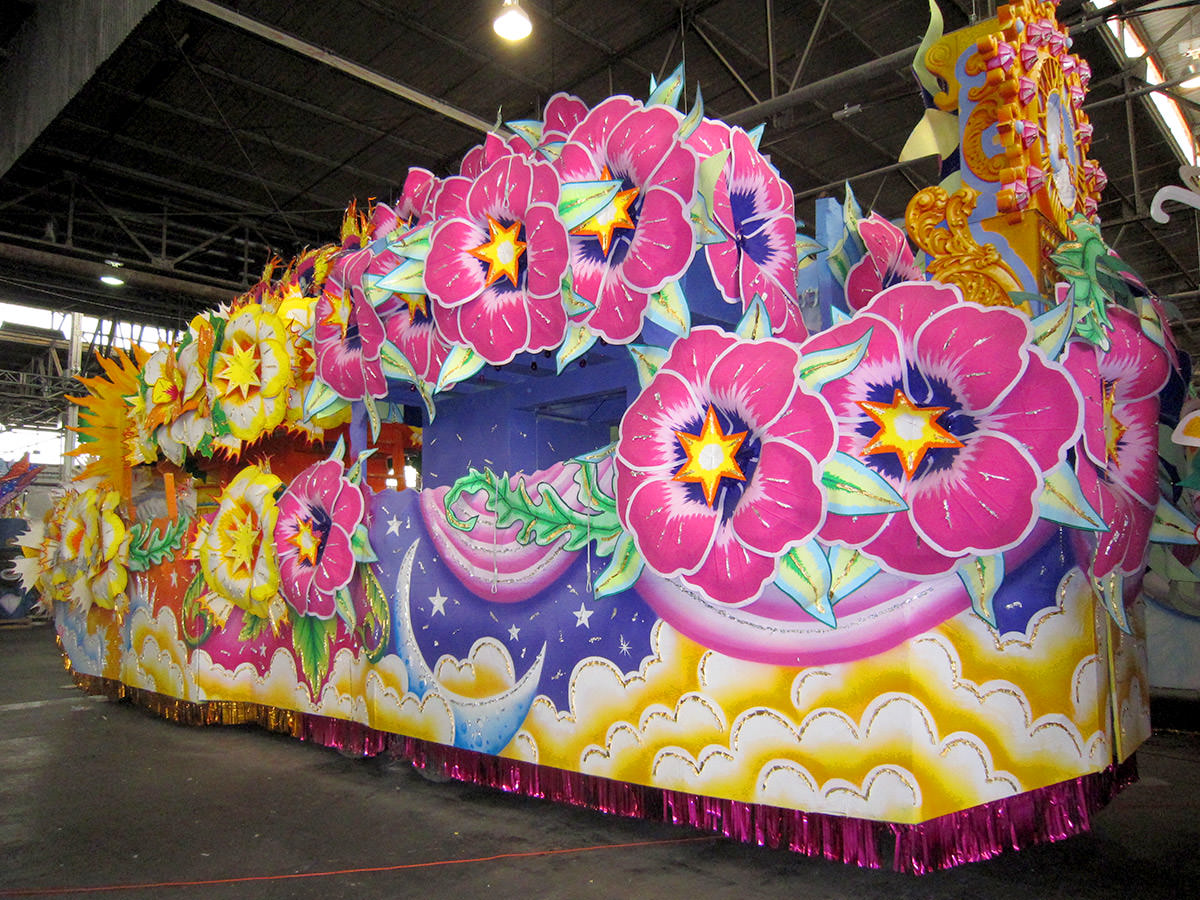 There are dozens of huge warehouses packed with floats and the equipment needed to pull them through the streets of New Orleans. The factory tour only runs through half of one warehouse, but it's still a lot to see...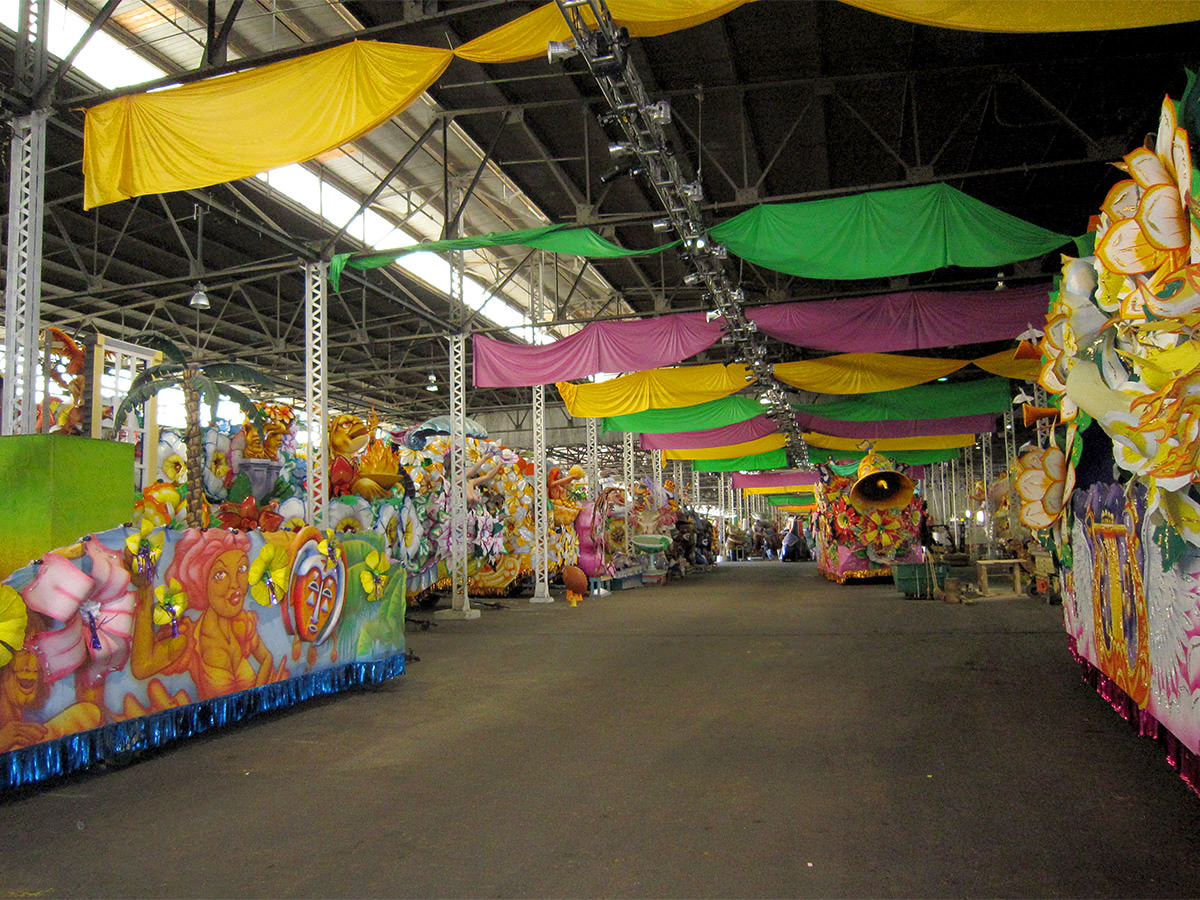 Every year, each of the "krewes" responsible for the various parades come up with a new theme. Since the theme is always changing, they have to start from scratch every year. This means building or remodeling all the various big props that are stuck on the floats...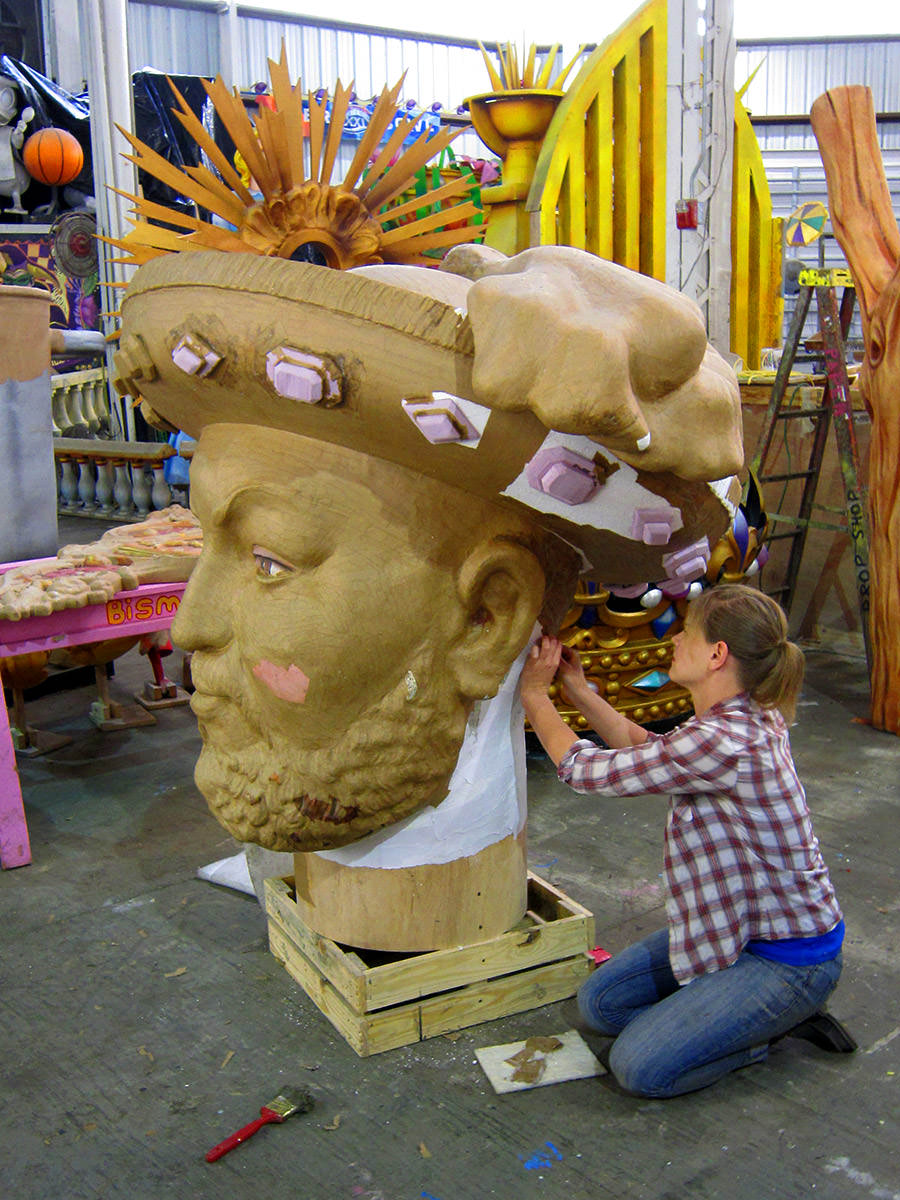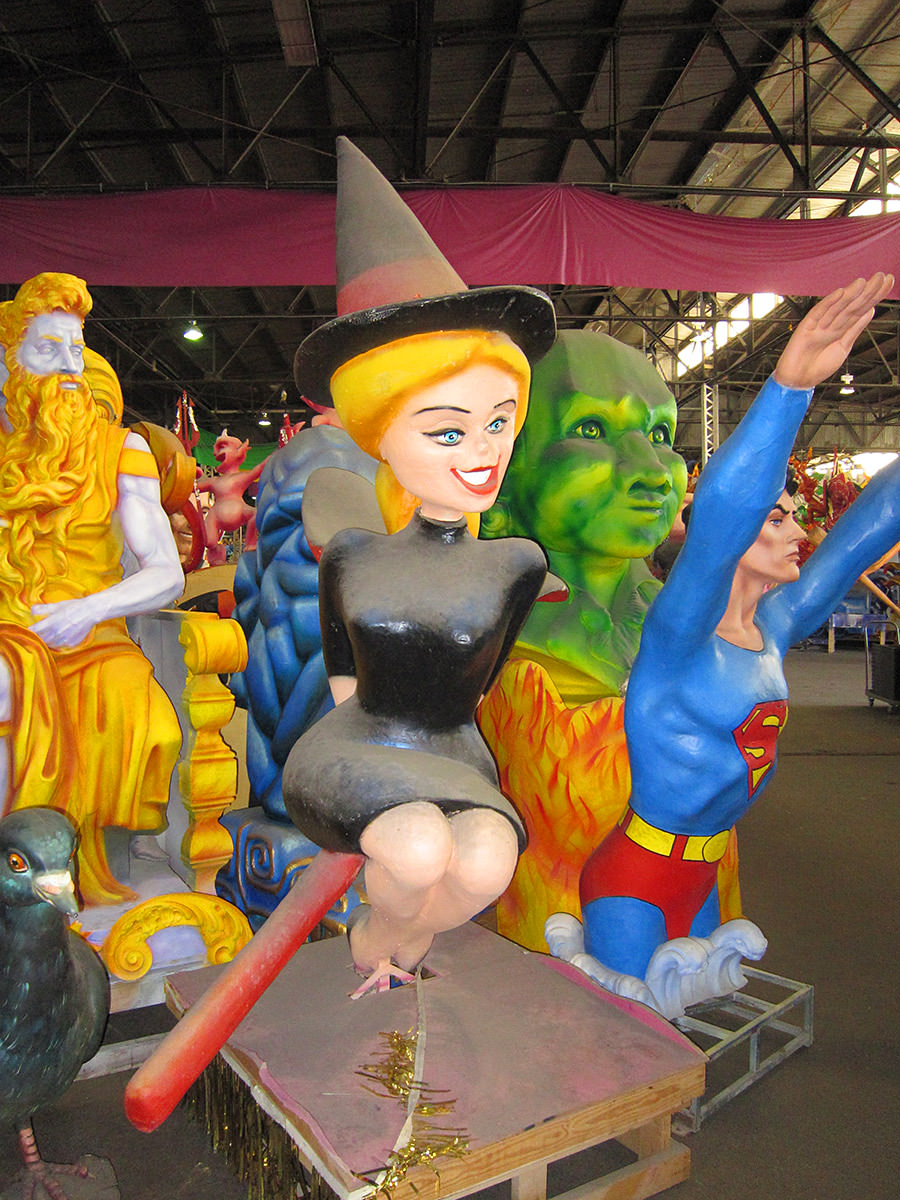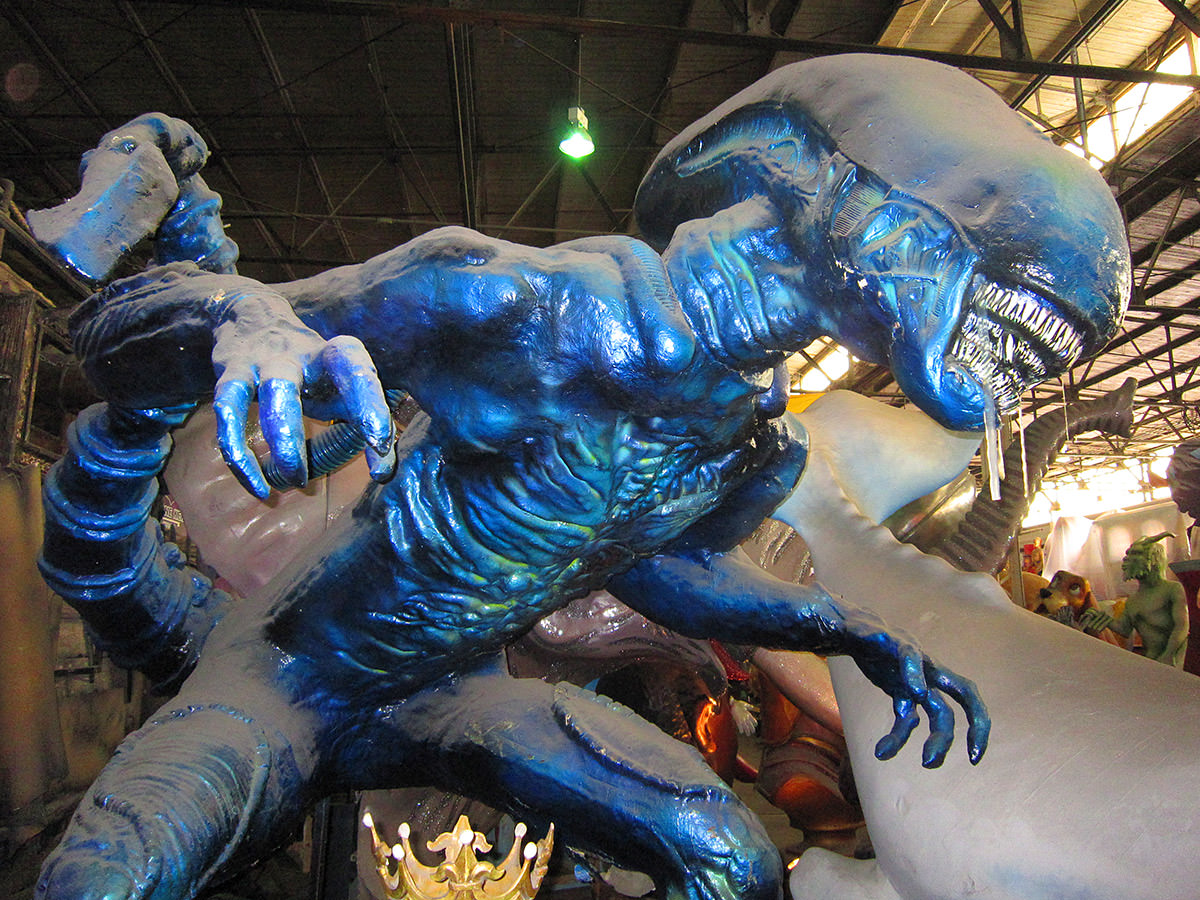 The tour lasts about an hour and, much to my surprise, the clouds and rain had completely disappeared by the time I was finished, and it was all sunshine and blue skies...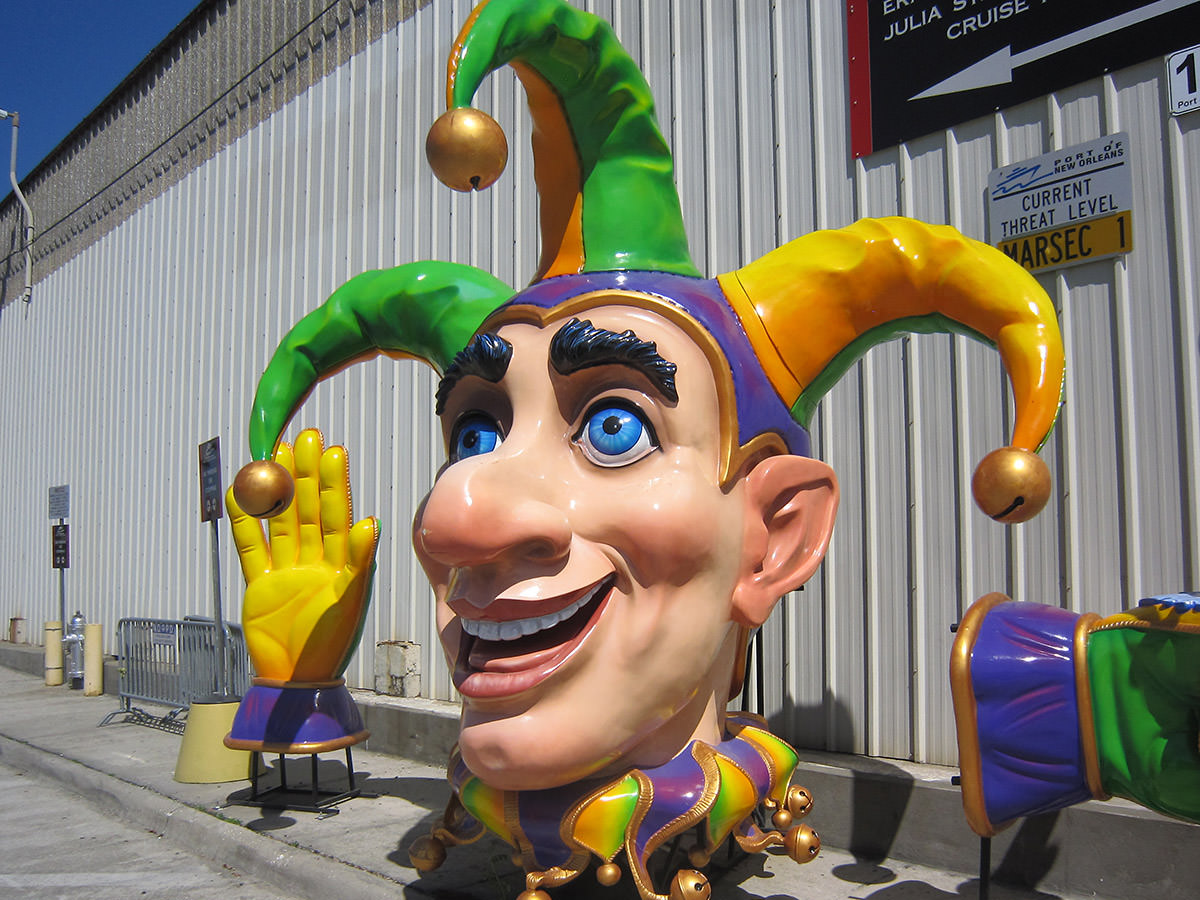 Now that I wouldn't be slogging around in the cold and rain, I decided to use the free ticket I got from my hotel to visit the Ogden Museum of Southern Art...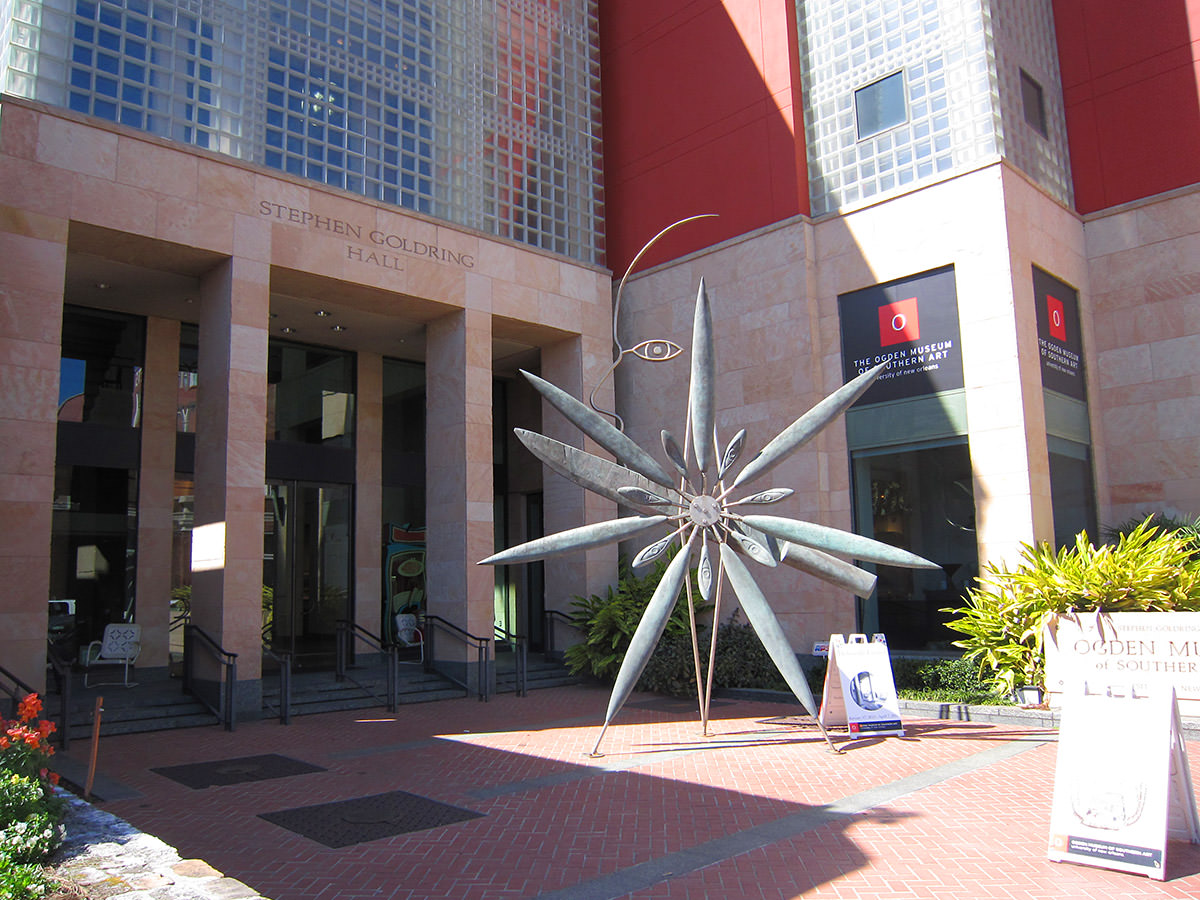 From their roof terrace, you get a great view of the massive expansion efforts going on at the World War II Museum I visited yesterday...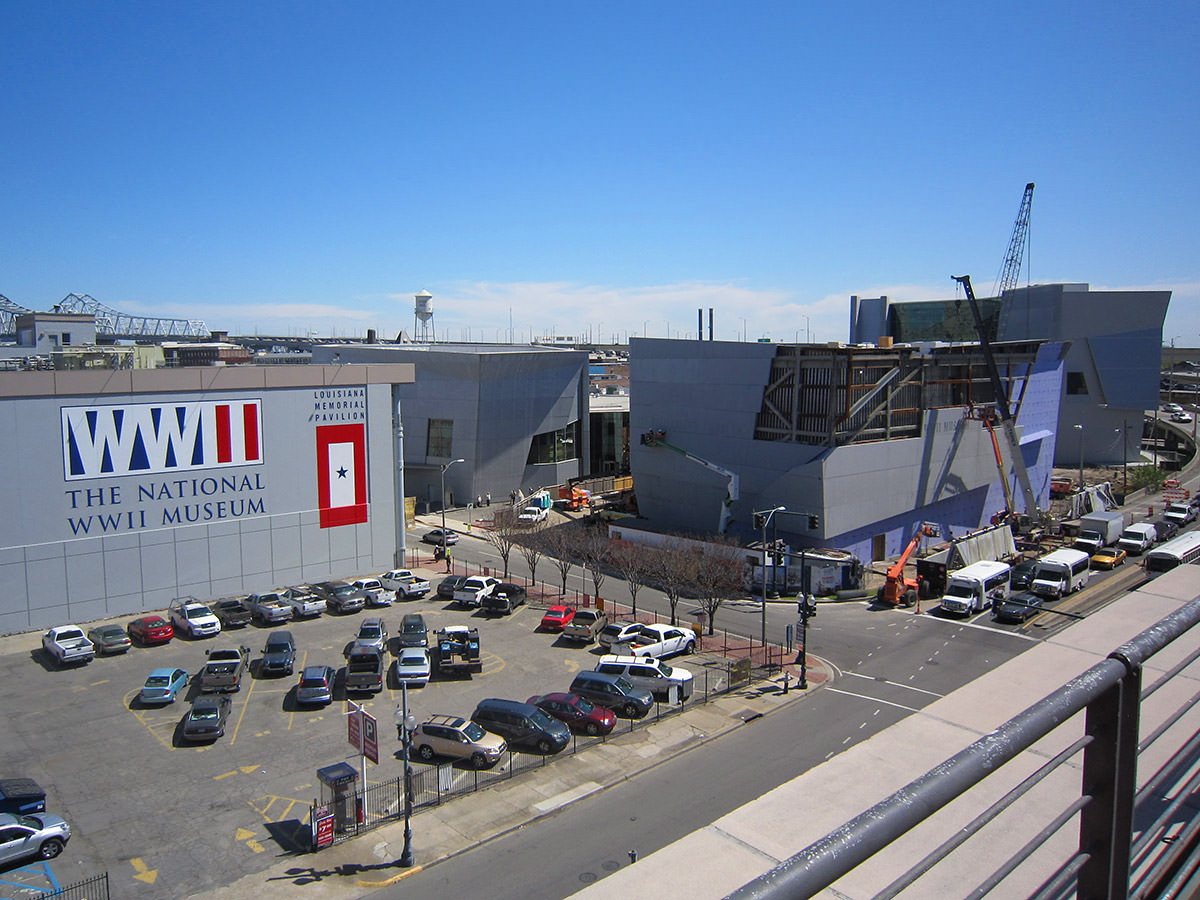 On the top floor of the museum there's an exhibit dedicated to the elaborate Indian costumes used during Mardi Gras...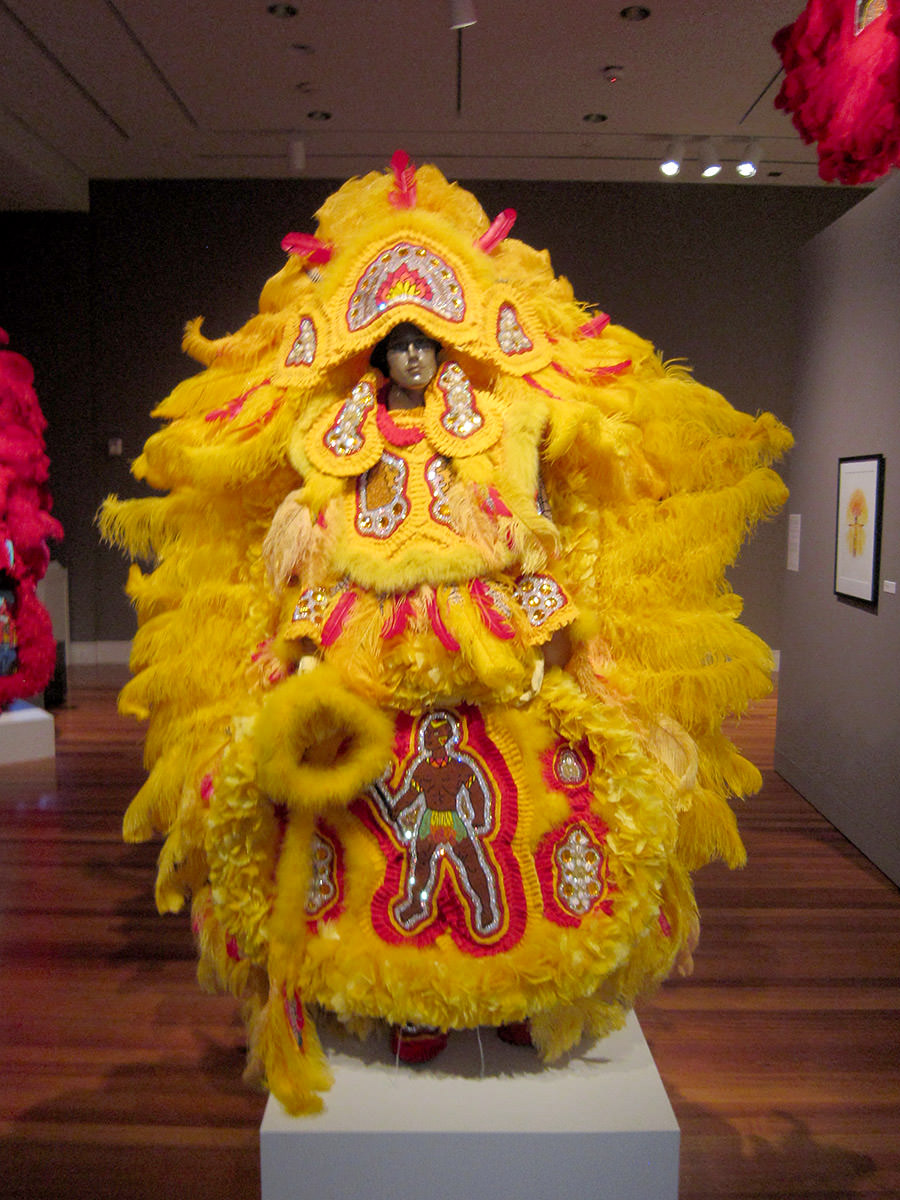 And, of course, paintings and photos and sculpture featuring Southern life... including this painting of the levies...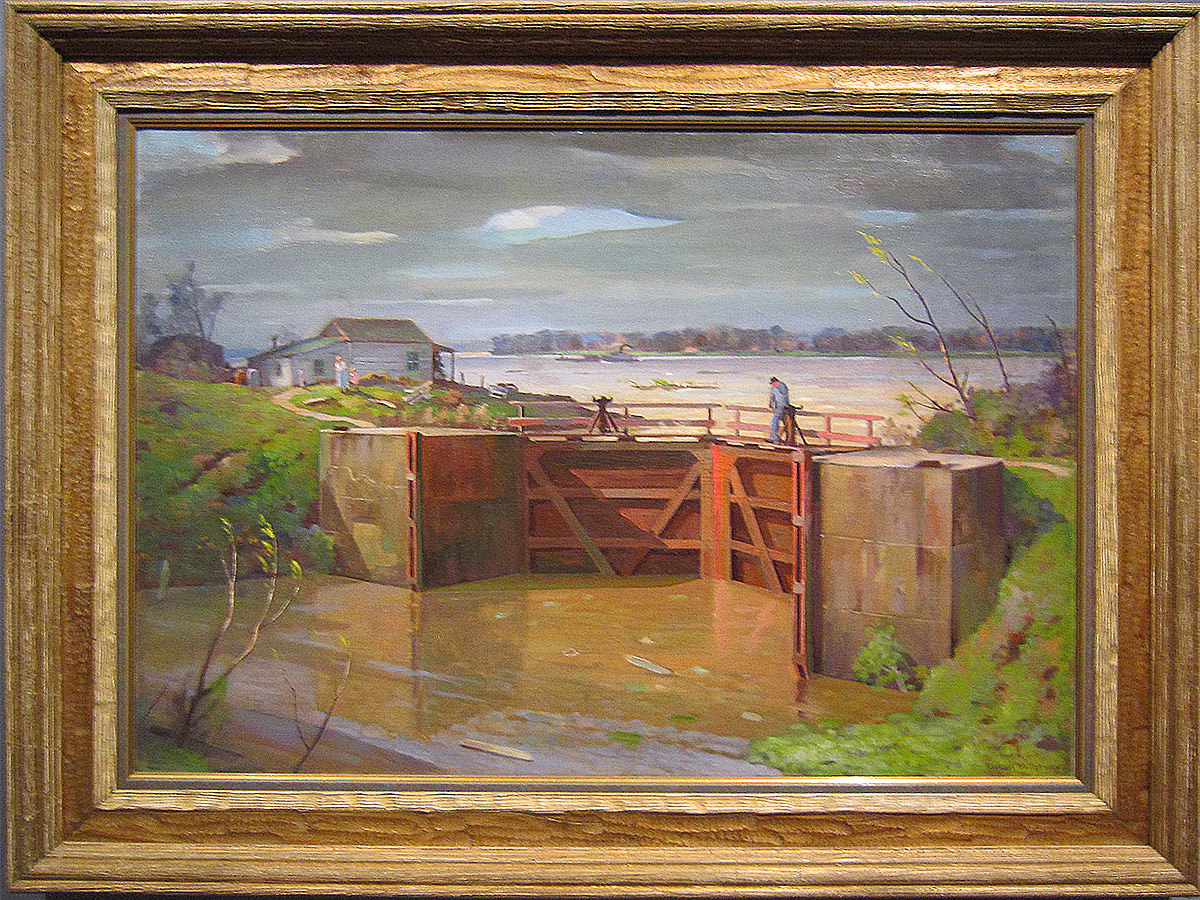 Next door to the Ogden Museum is the Civil War Museum at Confederate Memorial Hall. It's a very nice place, and has quite a few very old artifacts from the war...
Unfortunately, there's no photography allowed... but the guy manning the ticket desk said it was okay if I took a long shot of the beautiful building interior...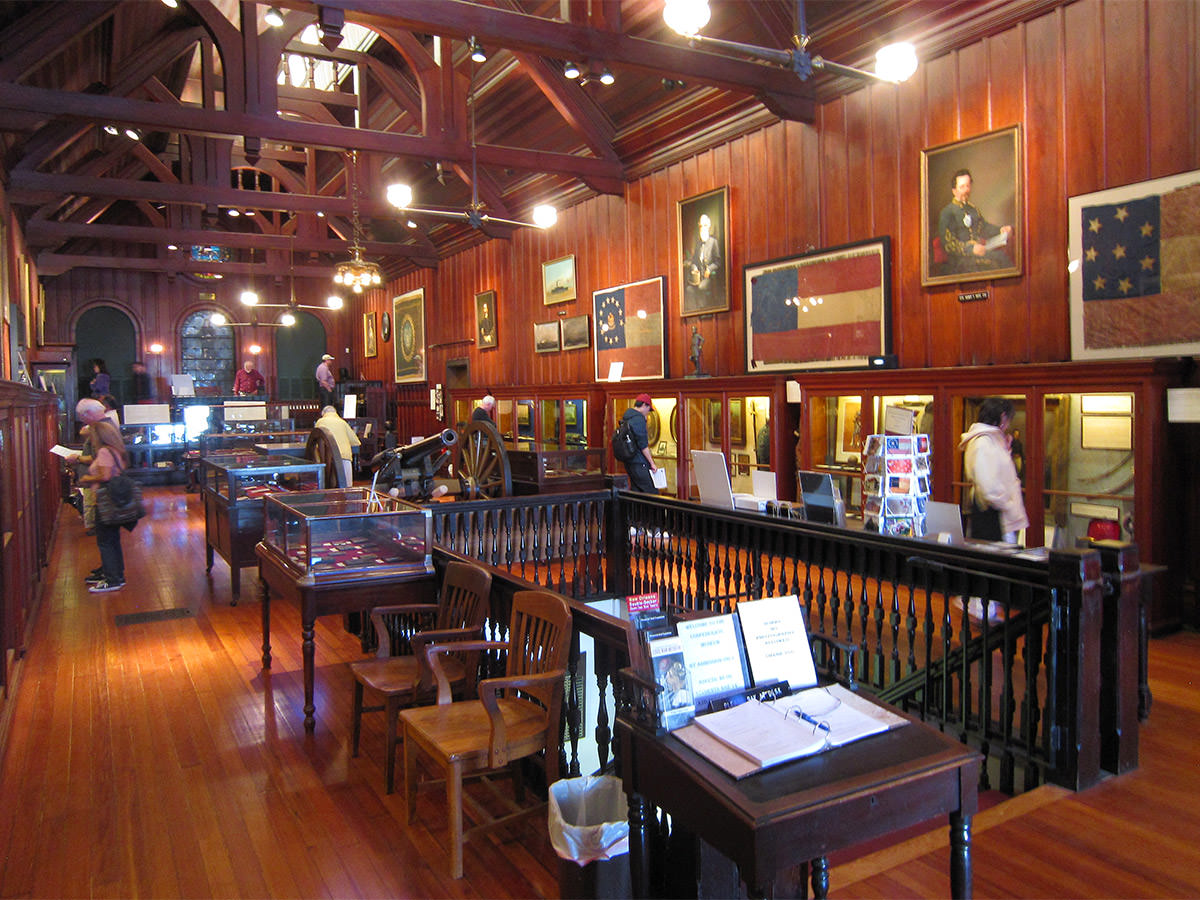 After going back to the hotel and working for a few hours, I decided to go hunt down a falafel wrap for dinner...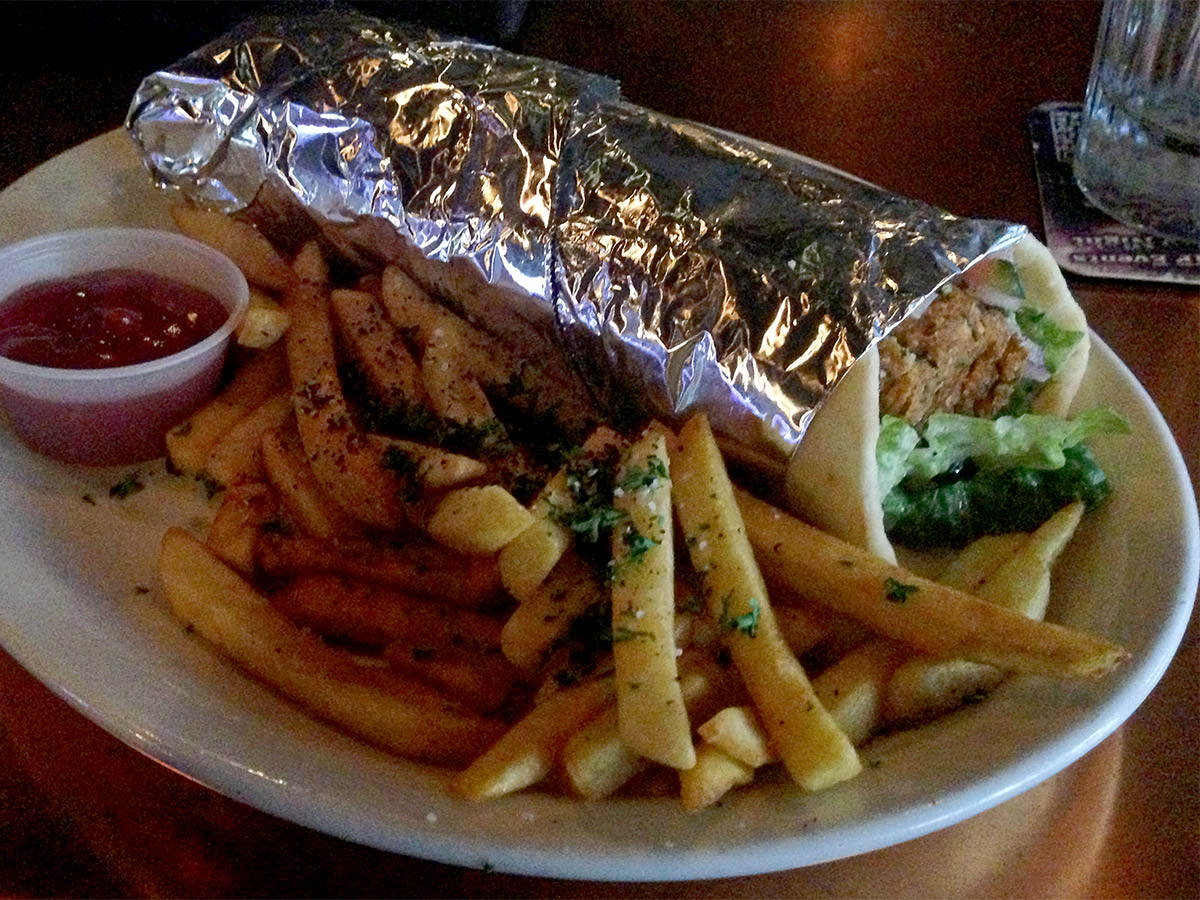 Dessert was at Cafe Du Monde again, of course...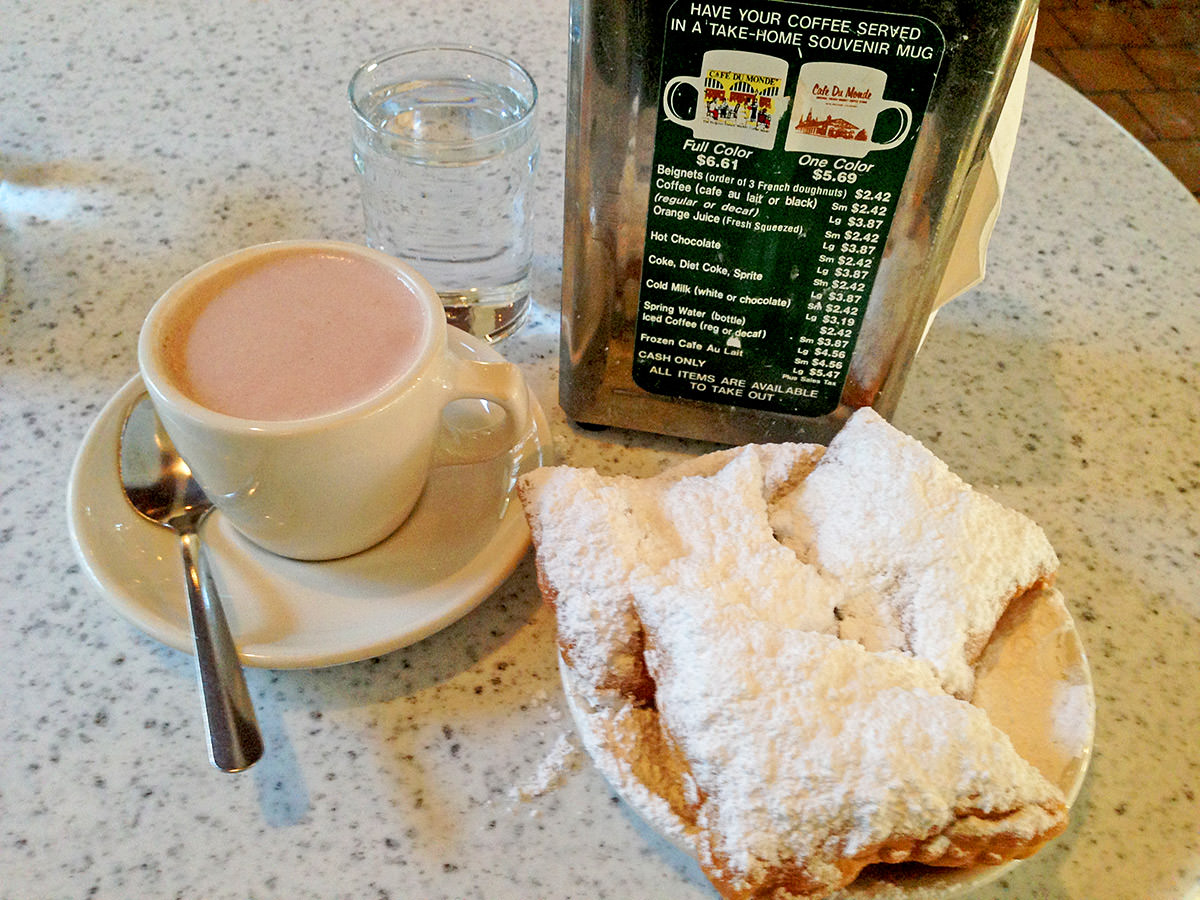 And thus ends my second (and last) day in The Crescent City. Hopefully it won't be another ten long years before I can visit again... and hopefully that visit will be longer than two days!

*Streetcars in New Orleans are always late, never seem to run on schedule, and will skip a stop at random with absolutely no warning. I started at the Ursulines Street stop where the streetcar was 12 minutes late. The stop for Mardi Gras World was the end of the line (John Churchill Chase stop), but the operator decided that he'd randomly eliminate it, forcing me to get off at the Julia Street stop. No warning. No Explanation. No notice of any kind at any station or on the website. Nothing. Just get the fuck out and walk 20 minutes around the convention center because he felt like it, I guess. So, yeah, the streetcars may be a charming New Orleans throwback, but they are complete bullshit for actual transportation needs