Left for Seattle-Tacoma International Airport on-time for once.
Finally had my first problem with Apple Maps giving me crap directions.*
Discovered that the WiFi didn't work on my flight to Atlanta.
Grabbed my phone after landing to get the gate for my connecting flight, only to find out that my connecting flight had been canceled. Apparently there was a hail-storm in Atlanta, which caused cancelations and delays across the board.
Delta re-booked me on a new connecting flight... which just happened to be on the exact same plane with broken WiFi that I just climbed out of.
Finally made it to my destination.
Now trying to write a blog entry at my airport hotel with a melted brain.
It's been one of those days.
*I've been using Apple Maps exclusively since the last iOS update. I have had -zero- problems, and vastly prefer the Apple Maps over Google Maps for a half-dozen reasons I won't bore you with here. And every time I read a story about errors with Apple Maps, I ignore it because it's never happened to me no matter where I've traveled.
Until today.
Here is where Apple Maps thinks my off-site Airport Parking is located...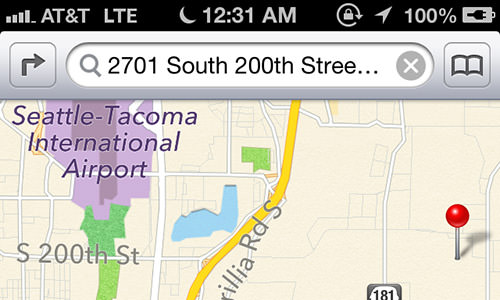 I didn't even look at where the pin dropped, because I assumed it would be correct. I just started up turn-by-turn directions and was on my way. But, as I got closer, I started to feel that something was wrong. I had never been through this area any of the dozens of other times I've used the off-site parking. That's because the location is actually here...
Yes... all the way across a river and the highway. Which is not a simple course correction. It is, in fact, 15-20 minutes away (depending on traffic)...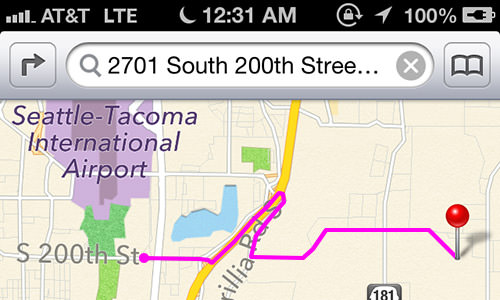 Lucky for me, I had plenty of time to get to the airport. But had I been running late? I would have been totally screwed by Apple Maps because the data they're using in this case is completely wrong.
Apple makes it easy to report an error, and asked me to drag the pin to the correct location, which I did...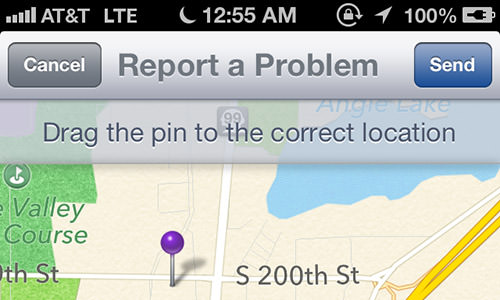 Apparently Apple purchased their map data from TomTom. This was probably a mistake, because an error like this is pretty obvious.
Oh well. I guess they had to start somewhere. Given time, I'm sure Apple will get it all sorted out. But, in the meanwhile, I guess I'm going to have to double-check the routes I am given every damn time I use the product.
Otherwise there's no telling where I might end up.