I never got to see the latest James Bond film, Skyfall, in theaters. I had to watch it on a plane the first time I saw it. But that tiny seat-back screen made it impossible to see the beautiful cinematography that made the movie so compelling, so I watched it again tonight (iTunes has it available in HD a week before the DVD/Blu-Ray hits on the 12th... just $14.99!).
I really liked this film, even though I thought the story was kind of small for a James Bond flick. The villain isn't out to conquer the world or cause mass destruction or steal tons of money... he just wants to kill M. It makes for a more personal movie, I guess, but kind of one-note...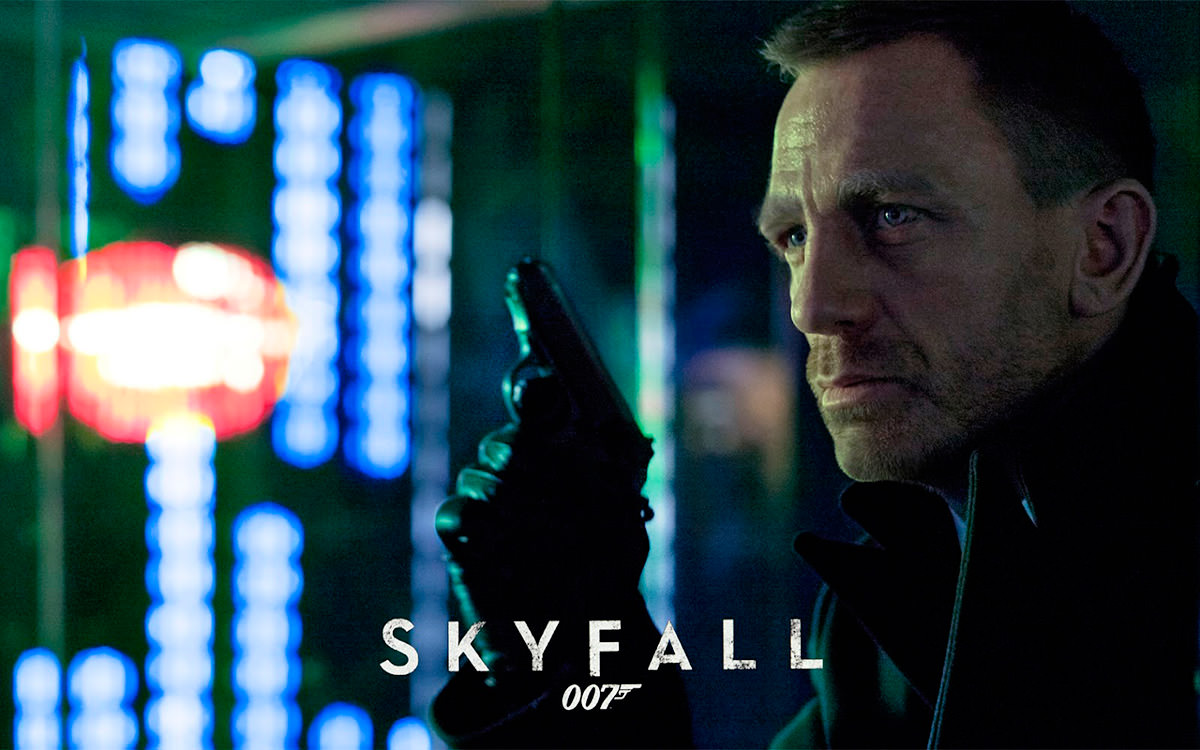 And now a few SPOILER-FILLED notes from this long-time James Bond fan...
While I love Adele the person, I am not a fan of her music. Can't stand it, to be honest (and I fucking hate... hate her big hit Rolling in the Deep). But her theme song for Skyfall is spot-on. It has a very James Bond retro feel, but is thoroughly modern in its approach. It is so good that it makes me want to give her music another chance. Maybe
That being said, I found the opening credits a bit convoluted and overdone. They started out promising (and very Bond), but ultimately end up a big-ol'-toss-in-the-kitchen-sink mess.
As I mentioned, this film is absolutely gorgeous. The cinematography is stunning at every turn, and the film truly is a work of art in that respect. The assassination scene in Shanghai is the most eye-popping bit of film I've seen in quite a while.
Daniel Craig so totally owns the role of James Bond in this film that it makes me almost forget that Sean Connery, Roger Moore, Timothy Dalton, Pierce Brosnan, and George Lazenby ever inhabited it. He's damaged and broken in a way that you'd really expect James Bond to be in order to act like he acts and do what he does.
When I saw the movie on the airplane the first time, I was really annoyed by Javier Bardem's baddie character, Raoul Silva. He seemed so flighty and non-threatening. Now that I've seen it on a screen considerably larger than 6-inches (with a sound system that actually works), I was blown away at just how chilling and subtle his performance was. Different for a Bond villain, but not in a bad way.
SPOILER! As good as Ralph Fiennes is as an actor, I am finding it inconceivable that the next Bond film won't have Dame Judi Dench as M in it. She was absolutely magnificent in the role, and made it her own in a way that few actors could. From a story standpoint, I know why they did what they did... but I still think it was a very stupid move that will ultimately hurt the franchise.
SPOILER! The post-end-game twist of making field agent "Eve" actually be "Eve Moneypenny" was a clever one. But here's the thing... they made such a big deal over the idea that "being an agent in the field isn't for everyone" as a foreshadowing to Eve leaving the field to sit behind a desk... but, holy shit, Moneypenny was fucking awesome in the field! She kicked ass in the opening, and was balls-out fearless in following her orders. What a shame.
SPOILER! It didn't help that they made Moneypenny so brutally hot. She made for one smokin' secret agent!
SPOILER! First they made M a woman in GoldenEye. Then they made Felix Lighter black in Casino Royale. Now they've made Ms. Moneypenny black as well. And while I applaud the franchise's efforts to embrace diversity, I have to question whether flipping genders and races of established characters is the most compelling way to do this. Why not create memorable, fascinating, original characters for women and persons of color? Like Halle Berry's awesome "Jinx" from Die Another Day? Why not give us a baddie who's a black woman, for example? Because, seriously, how amazing would Angela Bassett be as a Bond villain? Just so long as you don't make her Blofeld.
SPOILER! When I first saw that the new Q was a young kid, it made perfect sense. Boy genius on the cutting edge of tech? Sign me up? But how fucking stupid did he turn out to be? Not only did he NOT confiscate M's laptop so he could scrub the virus and try to track it back to its source, he plugged in an unsecured laptop into MI6's local network?!? No IT tech guy smart enough to be running Q Branch could possibly be this idiotic.
SPOILER! I am conflicted over the big reveal of Bond's back-story. On one hand, it completely screws the character when a key piece of his composition... his "mysterious past"... is no longer mysterious. On the other hand, Bond seems a little more "real" now. I can't decide if it was worth it.
All things considered, this is one of the best Bond films in the series. If there's anything coming up short, it's shoehorning the whole "politics of MI6" into the story. The courtroom drama was neither interesting or necessary. In fact, I'd argue it actually worked against the story.
When it comes to the next film in the franchise, I sincerely hope that we're going to get a globe-spanning criminal mastermind that pushes the stakes to a new level for the new James Bond. Daniel Craig hasn't really had that yet, and he deserves it. Well, either that... or the return of Jaws!

And, on that note, I guess it's 007 out.