One of my all-time favorite books from when I was a kid was Curious George Goes to the Hospital.
Recently I was needing to add a cheap item to my order to push my order total above the FREE SHIPPING threshold. For some reason I remembered this Curious George book, so I ordered a copy.
I am happy to say that it totally holds up, even after all this time. If, for no other reason, than to see Curious George get high on ether fumes (turns out this is from an earlier George book, sorry!).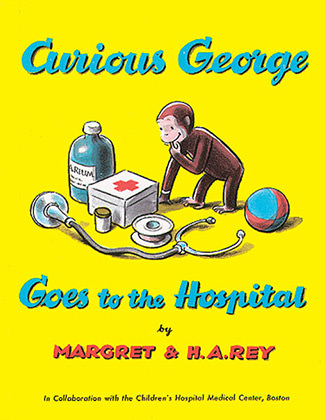 My review on GoodReads...
★★★★★
After re-reading Curious George Goes to the Hospital I am convinced that it is the peak of literary perfection, unmatched by any other human accomplishment. The entire spectrum of drama is fully represented in a tale so filled with wonder and delight as to make all other books redundant. The fact that the story's wealth of knowledge and inspiration is so remarkably accessible to persons of most any age is surely a testament to the unarguable brilliance of Margret & H.A. Rey. I loathe to attribute something as mundane as a "Star Rating" to such a transcendentally significant work which redefines the boundaries of human/primate existence, and so eloquently conveys the folly and ultimate triumph of monkeykind... but if forced to do so under the GoodReads review standard, I offer TWENTY-SIX STARS (of which only five are be visible for some reason). You owe it to yourself... nay, you owe it to ALL HUMANITY... to read this literary masterwork and thrill to the sublime illustrated artistic triumphs which accompany it. Curious George Goes to the Hospital is, quite simply, the most profoundly perfect book ever created, and shall undoubtedly remain so until the end of time.
Obviously, I give the book my highest possible recommendation. If you haven't read it yet, I'd get on that.