Meh.
I called the presidential election the minute Mitt Romney emerged as the Republican candidate.

Unless President Obama strangled a puppy while kicking Betty White in the face after wiping his ass with the American flag during an episode of Dancing with the Stars, the election was his to lose. Sure it was a little closer than I had first imagined... but I just couldn't come up with a scenario where Romney got 270 votes out of the electoral college. My best-guess as of yesterday was this...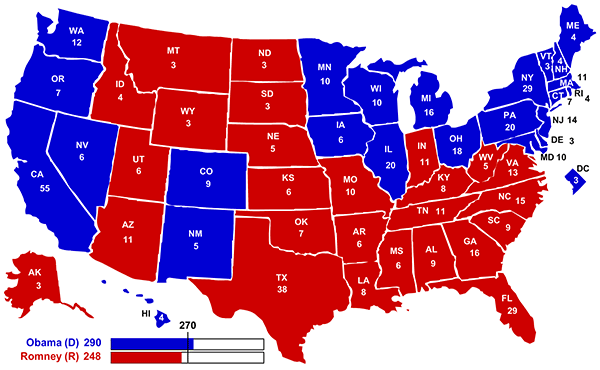 I started with the 2008 election map and took Indiana, Virginia, North Carolina, and Florida from President Obama. I waffled on Colorado, but ultimately gave it to him.
In the end, the President managed to keep Virginia. That surprised me. He may even (eventually) keep Florida. I wasn't counting on that. It also looks like he may win the Popular Vote, which was something else I wasn't sure he'd do. So... a bigger victory than I projected... but not the runaway success he enjoyed for his first term.
And so...
It will be an interesting four years. Again.
But what I am really waiting for is news on Washington State's Referendum 74 for marriage equality. It is currently winning approval at 52% vs. 48% with just half of the votes counted. Whether this trend continues and puts my home state on the right side of history... or whether we continue to rail against the inevitable... is unknown.
Oh well. We just legalized marijuana, so I guess anything is possible.