I hardly ever just plop down somebody else's stuff on my blog... but after I saw a photo on Facebook this morning, it has been all I can think about all day long.
So many times I find myself thinking that the job our police think they have is to "Harass and Humiliate" rather than "Serve and Protect" as their motto claims. Getting bullshit tickets... or seeing people in peaceful protest getting pepper-sprayed... or watching yet another "excessive force" dash-cam video on the news... it all contributes to this ongoing terrible image we form in our heads when the word "POLICE" is uttered.
But we know that's not true. Not for some police. Undoubtedly not for most police. I'm betting the vast majority of police officers truly want to help serve and protect the community they work in. They must, because it's a fairly thankless job. And yes, there are some rotten apples in the barrel, but that shouldn't define police officers as a whole.
Especially when wonderful things like this come to light...
Jennifer Foster of Florence, AZ was visiting Times Square with her husband Nov. 14 when they saw a shoeless man asking for change. She writes, "Right when I was about to approach, one of your officers came up behind him. The officer said, 'I have these size 12 boots for you, they are all-weather. Let's put them on and take care of you.' The officer squatted down on the ground and proceeded to put socks and the new boots on this man. The officer expected NOTHING in return and did not know I was watching*. I have been in law enforcement for 17 years. I was never so impressed in my life. I did not get the officer's name. It is important, I think, for all of us to remember the real reason we are in this line of work. The reminder this officer gave to our profession in his presentation of human kindness has not been lost on myself or any of the Arizona law enforcement officials with whom this story has been shared."
*image cropped from the distance at which it was taken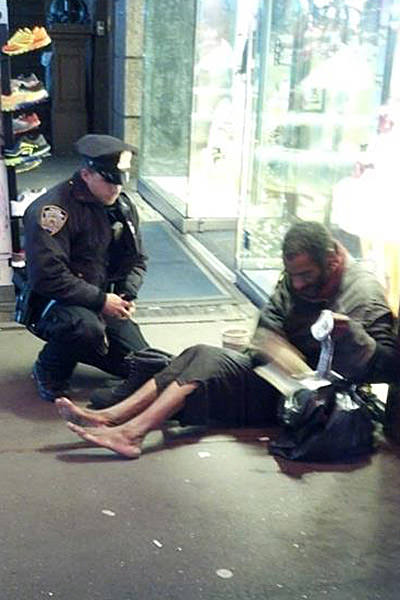 I cannot adequately express what this story means to me.
Because moments like this mean everything to me.
This police officer and kind-hearted people like him are a gift to all humanity. And acts of compassion like this inspire others to open their own hearts and make this world a better place. This is how we survive as a species.
And we need it so badly right now.

So thank you, officer, for giving shoes to someone in need.
And by "shoes" I mean "hope" and by "someone" I mean "everyone."