Don't click that back button on your browser yet... because Bullet Sunday starts now...

• Hagman. I was never a Dallas fan. Every time I attempted to tune in because all my friends were watching, I was bored to death (Dynasty wasn't much better, but at least Joan Collins kept me from falling asleep those rare times I tuned in). Because of my loathing of all things Dallas, Larry Hagman has almost no relation to his most popular character "J.R. Ewing" in my head. No... when I think of Larry Hagman, I think of three things...
I Dream of Jeannie. Granted, my main interest in the show was Barbara Eden in that revealing outfit, but the series was pretty darn funny. And a lot of that came from Hagman's impeccable timing in playing the Major Nelson straight-man to all the outlandish situations Jeannie would get him into.
Nip/Tuck. The show was pretty crazy from the first episode, but by the time we get to Hagman's portrayal of Burt Landau in season four, it's full-on psychotic. The role was not a big one, but the lasting effect he had on the show makes it a true standout.
Primary Colors. Any doubt anybody had in Hagman's acting ability could be washed away by watching this one film. He had a minor role, but it was so pivotal to the story that the entire movie could have fallen apart with a less-capable actor.
Rest in peace, Mr. Hagman, and thanks for entertaining us for so long.

• Vengeance? Remember when the television show Revenge was starting out? Remember how Emily Thorne would pick a new target each week and then systematically orchestrate an elaborate revenge scenario that crushed her enemies in the most delicious way possible?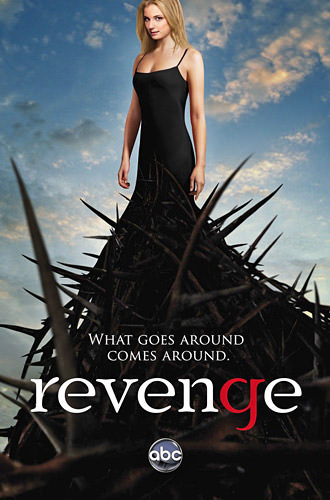 Yeah. What the fuck happened to that show?
I suppose it was impossible to maintain such quality for very long... but never did I think Revenge would degenerate so quickly. Now, instead of a show featuring delicious revenge, it's all about boring business manipulations and nonsensical damage control as characters fumble on each other's plans. Yawn. Somebody better shake things up in a big way soon, or something tells me the second season will be the last for Revenge.
Oh... and helpful hint to the writers... if you are having a flashback episode, any attempt to create a sense of danger for a character who is alive and kicking in the present-day of your series is doomed to fail. WE KNOW THEY SURVIVE, so trying to imply otherwise is just lazy.

• Friday. Reading about people getting into fist-fights over a phone or shooting each other over a sparking space or getting choked to death by a security guard on Black Friday makes me glad I have -zero- interest in shopping.
I do, however, have a huge interest in watching society degenerate into Anarchy. In that respect, Black Friday is a win-win for me.

• Godliness. Back in the day, "Populous" was one of my favorite computer games ever. A few years ago, they came out with a version for the Nintendo DS, and I was surprised to see that it kind of holds up. Now the original creators of the game are trying to get the funding to create a modern version. I would LOVE for this to get funded! If you like a good "god game," here's your chance to support Godus over at Kickstarter...
Ah to play god with all humanity... and if you pledge £30 or more, you get your own in-game pet!

And now I suppose I should get to bed. After working all day Saturday and Sunday, I need to recover from my weekend so I can go back to work tomorrow. Bleh.