ROBERT: "Bottom line it for me, dude."
DAVE2: "Well, if you have an iPhone 4S, I'd probably skip the iPhone 5 and wait for the inevitable 5S. But if you own anything earlier than that and you've got a chunk of cash sitting around and your cellular contract is up... then, yeah. You'll definitely want to get an iPhone 5."
Having owned or used every model Apple's made, I can say that the iPhone 5 is the finest iPhone Apple has ever made. It is stunningly beautiful... looking more like it was carved from a solid piece of space metal instead of something built from different components. It kinda reminds me of the Monolith from 2001: A Space Odyssey...

And with that out of the way, here we go...

• Design. iPhone 5 is crafted out of aluminum and glass. I picked the black version, but a part of me now regrets that decision. The dark anodized aluminum looks like it's going to scratch quite easily. I don't think this will be a problem with the white iPhone 5, because the aluminum was left uncolored. Hopefully I'll find a cool case for it that will help me keep it looking pretty. The iPhone itself feels really solid despite being thinner than earlier models. It's also noticeably taller than other models, but still very comfortable in my grip. But the biggest change I notice is this... it is so frickin' LIGHT! It feels almost weightless and ethereal. Even when compared to my previous iPhone, which was already pretty light-weight. I'd give he design an A+ if it weren't for my fear of scratches.

• Cellular. Much to my shock and delight, my small rural city has 4G coverage. Note that I did not say 4G LTE coverage (the fast 4G)... only a few cities have that... but "Faux G," which is actually "HSPA+" in tech-speak. Now, I haven't had time to do a lot of testing here, but calls sound much better. Data is substantially faster. I have no idea how this will translate in other cities, but I am much encouraged here at Blogography Central. I can only hope that my iPhone will be useable now in places like Chicago and Las Vegas where my old iPhone was worthless. Granted, a lot of this in on AT&T, not Apple, but iPhone seems to have great quality for both voice and data from what I can tell so far. I am really looking forward to trying LTE when I get to a city that supports it.

• Speed. Everything on iPhone 5 is fast. Very fast. The ultimate test of speed comes from goofing around with Maps Flyover, and it screams...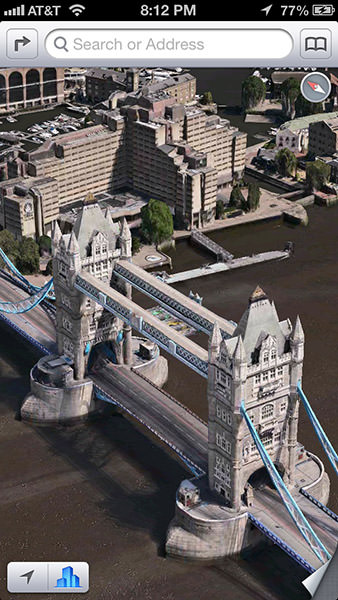 Everything feels snappier and more responsive. It's the most awesome iOS experience I've had.

• Display. Gorgeous. It's a Retina Display, so it's tack-sharp. It's got one less layer of material, so it's lush, saturated, and has less glare. And now it also has a larger 16x9 HD ratio, which makes modern television programs and movies bigger since there's no letterboxing. This extra space also allows for an extra row of app icons on the home screen, which is nice. I admit that at first I was worried I wouldn't like the taller screen (the old one felt perfect), but it's grown on me and I love it. Thankfully they didn't go wider so I can still operate the thing one-handed.

• Camera. I've pretty much ditched my pocket cameras. The iPhone cameras just keep getting better and better so there's really no point carrying two pieces of hardware. The new camera on the iPhone 5 is remarkable for a number of reasons. The light sensitivity is much improved. The video quality (1080p at 30fps!) is amazing. And the built-in panorama mode, which previously required a third-party app, is incredible. Not just because it works so amazingly well and is dead-simple to use, but because the resulting image is fantastic...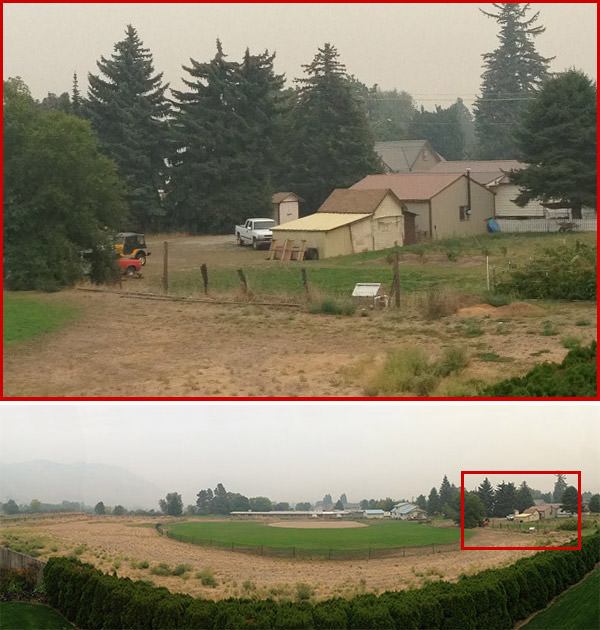 Given how smokey it is here, that's pretty darn good. But what if I told you that pano photo shown there is only part of the full picture I captured?

The full width of the image is 5400 pixels, all with terrific detail. I can't wait to try this somewhere with great scenery... and no smoke.

• Sound. The built-in speakers are urprisingly good for a frickin' phone. Louder and clearer than you'd think. Enough to fill a small room, really. And now Apple has new "EarPods" headphones that they're bundling with all their new gadgets...
The big selling point on these is that they've been designed to fit the widest possible variety of ears while still sounding great. Well, they got half of that right. They do sound pretty good... better than the previous Apple earbuds. But they don't fit my ear very well at all. The weight of the cord is enough to eventually dislodge them if you start moving even a little bit. If I were to dance around with them, they'd fall out immediately. This either means that I have mutant ears... or Apple is full of shit. Oh well. I didn't plan on giving up my in-ear headphones anyway. I guess my EarPods will make a good backup or something.

• Lightning. There's quite an uproar over Apple's decision to ditch the bulky and antiquated iPhone "dock connector" for their new, smaller "Lightning connector" which comes with digital goodness baked in. Needless to say, everybody who is sitting on a load of iPhone peripherals that require the dock connector are now sitting on obsolete technology. Apple has a "dock converter" which can help (in most cases) but that adds big bulk and big bucks ($29). Personally, this isn't a problem for me. The only dock connector peripheral I have (my car charger) also has a USB port. No big whoop. All that being said, I love the new Lighting port. It's tiny, but fits securely. What I don't understand is why Apple didn't design this to be a "MagSafe" type connector which attaches by magnet like a MacBook. Seems like a no-brainer if you ask me. Well, it is what it is. Since the only reason to plug in my iPhone is to charge it, I guess it's not a big deal. Wireless charging would have been nice, but I'm sure this would have added size and weight to the phone, so I'm okay that Apple didn't go that route. And I really don't give a crap that they didn't go with stupid "micro USB" either, because I don't have anything else that uses it.

• Battery. I've been using iPhone heavily all day... whether it be goofing around with it non-stop... or waiting for it to download all my apps and photos and crap. Still have 17% battery left. Given how much thinner the thing is, this is kind of surprising. If I can get away with using it all day and only plugging it in each night, I'll be very happy. With my previous iPhones, I've had to buy an external battery.

• Una Problema. As I've written about more than once, using your Apple ID for all your iCloud-based services is a handy feature that's implemented badly. If Apple is going to force you down this road, they really need to be on the fucking ball, but they aren't. Not by a longshot. Just as I get one problem with Apple ID fixed, another takes its place. And, sure enough, upgrading my iPhone caused my Apple ID to get all fucked up. Again. Now my iMac isn't registering for Messages again. AGAIN! I have no idea why Apple can't get this shit so it works reliably, but it's pissing me the hell off. So now my Macs aren't registering all my Messages conversations like they should. Random Messages are missing on my MacBook. They're gone completely on my iMac. No idea why this is happening when they were working flawlessly before I upgraded my phone. Guess I'll be calling AppleCare again. AGAIN!

• The End. No bones about it. I love the iPhone 5. Everything about it screams quality. Apple sweated the small stuff and it shows. I have my pick of any mobile on the market, and this is the one I'd pick every day of the week and twice on Sunday. None of the current competitors I've seen or worked with come close. Yes, there are a few features on other phones I wouldn't mind having... but I would be sacrificing too much on the features I use every day that Apple gets so perfectly. And that pretty much sums thing up... for me at least, iPhone 5 is perfect.