Here in the wilds of Redneckistan in Eastern Washington, nice surprises do happen.
Though, in the political arena, this is quite rare. We are the Red half of the state by a wide margin, and Conservative politics dominate the region. Heck, I usually end up voting Republican locally, because it's nice to have some representation in the state I live in. Otherwise, we would be completely forgotten as the Democratic-dominated politicians over on "The Coast" pander to their mostly-liberal voters...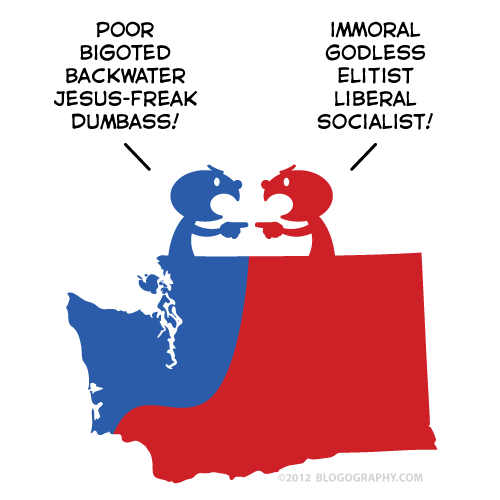 My biggest problem with political representatives in this country is that a good chunk of them don't actually represent all all the people they are supposed to represent. They choose to represent only those people who think and believe the same as they do. A lot of the time, that's what got them elected, that's what is going to get them re-elected, and they don't really give a crap about anybody else. You can't really blame them for their attitude since it keeps them alive politically... except I most definitely do because that's NOT the way it should be.
And yet, as I said, there are surprises.
Like when Representative Maureen Walsh, a Republican from Walla Walla in Washington's very Conservative 16th District, made a rather touching speech in support of our state voting to legalize marriage equality...
Unsurprisingly, her support (fueled largely by her daughter, I'm sure), put her on a political hit-list here in Redneckistan. She's now running against an opponent whose opposition to marriage equality is the cornerstone of their campaign.
And then something interesting happened. Rep. Walsh started getting contributions to her campaign from gay donors that were not only out of her district, but out of the state. This has sparked strong criticism from her opponent, Ruth Edwards, who says taking money from out-of-staters shows that Walsh is out of touch with her district. A district who reelected Walsh after she supported extending benefits to domestic partners in 2009, even though the measure itself failed miserably in that same district. Surprise!
I guess we'll see if Edwards stands on the same principles if an organization like the equality-haters from "National Organization for Marriage" decide to dump money on her campaign.
In any event, even though I don't agree with all her politics, I just made a contribution to Walsh's re-election bid. She seems to be one of those rare politicians who makes representing the rights of all the people in her district a priority... even if supporting their right to equality may not be politically in her best interest. Because, with all due respect to Ruth Edwards, it's not just people out-of-state that want to see Washington on the right side of history.