I've been so busy that I haven't had time to play with the new iPad (third generation) much. That's a darn shame, because it's kind of expensive to just have sitting around on my nightstand. I had to get one for the apps I help develop, so what can I do but sink even more money into Apple's ample coffers? The latest iPad has an all-new hi-res screen, and I have to be sure that stuff I design looks good on it. Otherwise, the iPad3 didn't look to bee much different than the iPad2, so I probably wouldn't have bought one otherwise.
Except, now that I've had a chance to read my comic books on it, I would totally have spent the money on it. I've read a few reviews in the press bitching about how iPad3 wasn't enough of an improvement over iPad2 for Apple to have bothered... which I now know is a huge load of bullshit. If you do any reading on iPad, this is a complete game-changer. Four-times the pixels make for a hundred times better screen, and I am loving it more than I ever thought possible.
The screen is so crisp and clear that I can now read ComiXology "CMX-HD enhanced" pages full-screen without having to zoom in on the individual panels...
Now, when looked at on a "regular resolution" computer screen, the change may appear subtle. But when reduced four-fold, the "SD" panel on the bottom becomes a blurry mess that's a bit difficult to read. The "CMX-HD" panel on the top, however, is razor sharp on iPad3.
So now the iPad is a real option for reading comics. Yes, the screen size is smaller than a "regular" comic book, but it's bigger than a digest, which is perfectly acceptable. And, unlike a digest, you can zoom in and see details if you want without having to find a magnifying glass.
So, my hat is once again off to Apple for once again making an awesome product even more amazing. iPad2 was already leagues above any of the competing "tablets" I've had a chance to play with, but this is entering a whole new dimension, as this snapshot from Apple's website demonstrates...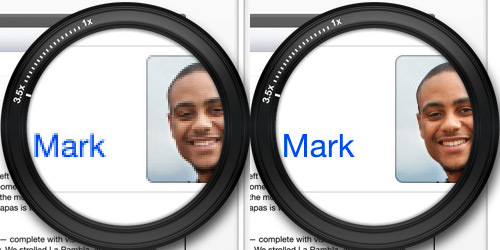 A few things...
I may have major criticism of Apple's iCloud when it comes to streaming music and using email, but for setting up a new iPad, it's glorious. Just sync with the cloud, and everything will be set up exactly like your previous iPad was... right down to the position of your apps.
There have been reports of the new iPad having trouble staying connected to wireless networks and having poorer reception. I haven't experienced any of this.
If you are a ComiXology customer for comic books and switching to an iPad3, be sure you login with your ComiXology account when restoring your purchases... not your Apple ID. Otherwise, any purchase you made on the ComiXology website won't show up. You'll then have to delete the app and start all over.
The dictation feature is superb, and rarely makes mistakes... even when I use wacky words. Still think it's stupid that Siri wasn't included though... hopefully it will be added with a future update.
The rear camera is ridiculously good. Not that I plan on taking a lot of photos with my iPad, but it's nice to know I'll get good results if I do. I was a little bummed that the FaceTime camera wasn't upgraded, however. I guess they gotta save something for iPad4? But that's pretty lame.
The display, while stunning, seems to run darker than my previous iPad2. I have the brightness cranked way up, which is undoubtedly chewing up my battery faster. The good news is that even at a higher brightness setting, the screen doesn't have that hideous technicolor glow that plagues Samsung tablets I've seen.
It's not just comic book reading that benefits from the iPad3's new screen... some other apps I use that have been upgraded for the "Retina Display" are now eye-popping as well. Most notably... "Numbers," Apple's spreadsheet app. Previously, I had to zoom in so far to read the numbers that I couldn't fit many cells on the screen. This was hugely frustrating as I had to scroll back and forth to work. But now I can zoom way out and have a much easier time of it. Productivity and work apps are usable now.
As for the battery... it seems to run about the same length of time with a full charge as my last iPad. It does, however, seem to take longer to charge. But I've read something about the battery display not indicating a full charge properly, so maybe that's not the case. In any event, you'll want to use the wall charger that came with iPad to charge the thing... plugging into the USB port on my MacBook barely charges iPad3 at all.
I didn't notice the slightly thicker size of iPad3 vs. iPad2 until I read about it. Now that I know about it, I admit that it is noticeable... if only a little bit. The faster chip and better display have to get their extra power from somewhere, so I guess they needed that tiny height/weight bump for more battery.
There's been a big brouhaha over the iPad3 running a lot hotter than iPad2. I haven't noticed it. But, then again, I use my SmartCover to prop it up when using it, so I'm never coming into contact with it to feel anything. I purposely ran some processor-intensive apps for an hour, but still didn't notice it running hotter than before when I put my hand directly on the back, so I dunno what the problem is other people are having.
Lastly... I usually buy the lowest-memory configuration on iPads and iPhones (16 GB) because I just don't store a lot of stuff. If I'm not using an app, I delete it. If I'm not reading a book, I delete it. Since I can always re-load purchases at a later time, I don't waste memory keeping them if I'm not using them. But this time I went for the 32 GB model thinking that the new higher-res comics and movies might take more space. I'm glad I did, because indeed they do. The CMX-HD comics are around double the size. Also, the apps are bigger since they have the larger graphics in them. Apple really should think about increasing the memory in their lineup next time around to help out, because 16 GB is quickly getting too small.
Otherwise, for the most part, iPad3 is pretty much the same as iPad2. Which is not a bad thing at all, because iPad2 was so kick-ass. Indeed, when it comes to comparing it with all the tablets I've seen, Apple has the only game in town. Sure iPad is a bit pricey, but you get what you pay for, and what you get is pretty darn amazing.
It's products like iPad3 that make it so dang easy to be an Apple Whore.