The drive over Stevens Pass was blissfully without incident. No snow on the roads. No accidents. No crazy-ass people. Just a few drivers who couldn't seem to go the speed limit to damage my calm... but road rage was kept to a minimum, which is always nice.
Just before I left, the final pieces for the latest issue of THRICE Fiction fell into place, so I managed to get it uploaded for your reading pleasure. As always, it's totally FREE to download at the THRICE Fiction website!...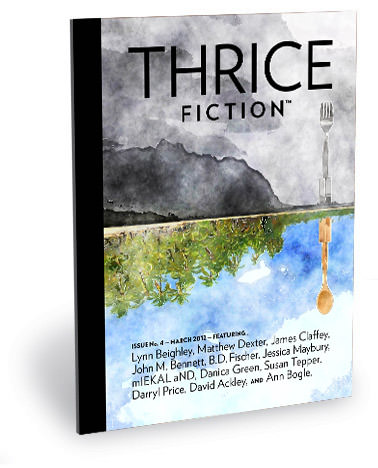 This issue is packed with great stuff, so be sure to check it out (did I mention that it's FREE?).
30 DAYS DRAWING CHALLENGE: Draw Something You Need...
What I need... NEED... is to get drunk off my ass on Jägermeister for my birthday tomorrow. Fortunately, that will be happening a day early in 3... 2... 1...