Continuing my adventures with the Whipstitch Essential Sewing E-Course...
TOTE BAG! TOTE BAG, YO!
Last week my sewing class moved past learning what you need to know to sew... to actually sewing stuff. Our first project was a napkin. Mine turned out okay, but it was pretty boring because my grandmother's machine doesn't have any fancy decorative stitches on it. Not content to eat using a boring napkin, I decided to practice sewing in a straight line all over it. After that, the napkin wasn't boring... but it was a little scary, so I threw it away.
The second project we got to tackle was a tote bag.
At first I thought Deborah was insane for expecting her students to go from a napkin to a frickin' tote bag... but her video made it look easy so I was excited to try it.
My first tote bag was made from a light stripey denim-like material with a blue flannel interior. Our instructor can whip out a tote bag in eight minutes... this one took me nearly two hours. Mostly because I had stupidly used stripy fabric which took quite a bit of time to line up perfectly so that everything looked right. Despite how long it took to make, I have to say that it turned out pretty darn sweet. It looks great and is comfortable to carry stuff in, just like a tote bag should be...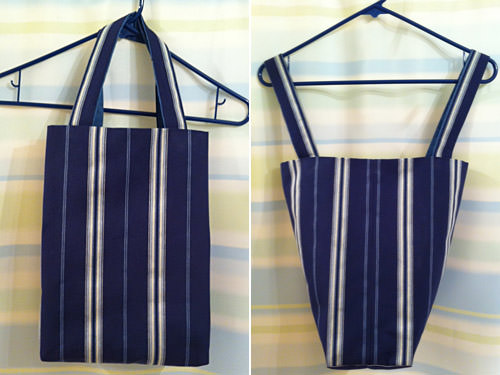 Last night I decided to make another tote bag out of "Duck Canvas." At first I was worried that the sewing machine wouldn't be able to punch through the stuff, but it was no problem at all. This time it took me only a half-hour to finish. The outside is pretty plain... but when you look inside? FANCY!!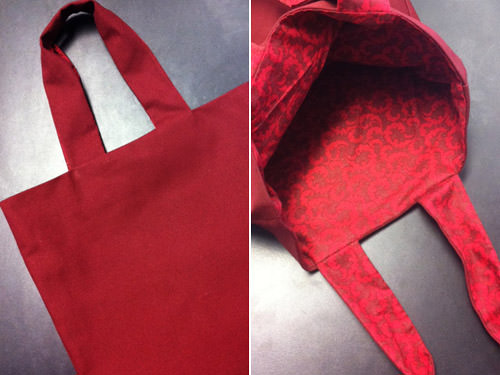 I think it turned out even more awesome than the first one.
And now we're learning all kinds of stuff about fabric which I never knew... stuff I never knew that I needed to know. Things like "grain" and "bias" that I've previously ignored.
What's kind of cool is that I'm learning not only how to make sure future sewing projects will be successful... but why my past projects have failed. I was doing everything all wrong and didn't even realize it.
Who knew?
Now, if you'll excuse me... I've got to make some CONTINUOUS BIAS TAPE! And yes, I actually know what that is now.