"Holy crap it's dark out tonight!" I said to myself as I strained against the darkness. This was surprising because I left work only a half-hour later than usual. I wanted to see if the moon was obstructed, but didn't want to take my eyes off the road, so I gave up. I've driven the route home hundreds of time so there wasn't a problem, but it was still kind of freaking me out. Do I have glaucoma? Am I night-blind now?
Nope. When I got home I noticed I had my sunglasses on for some reason and didn't realize it.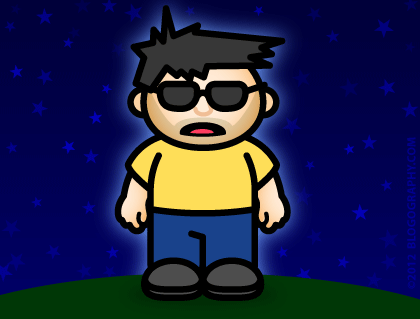 I wear my sunglasses at night. So I can... so I can... see the light that's right before my eyes!

And speaking of stumbling around in the dark...
Who still listens to this disgusting fraud?
I don't know what's more surprising... the fact that Pat Robertson can command "God" to show him stuff... or that he seems to feel that the crazy shit he says doesn't contribute to the "internal stress that's tearing this country apart." And, of course, "God" says it's all President Obama's fault, so there's that. Seems kind of silly. I mean, Robertson says that "God" causes earthquakes because He doesn't like the gays... why can't He just put a tornado on The White House front lawn? Robertson's "God" sure sounds wishy-washy. But fictional delusions can be that way.
I'd say when it comes to the wholesale blasphemy of putting words in God's mouth, it looks like Pat Robertson has the market cornered. What a hateful piece of shit.
He can't roast in hell fast enough.