ZOMFG! I have a cold y'all!
I'm fairly lucky in that I rarely get hit with colds or the flu. After going back through my blog, I see that the last time I had a cold was in February of 2009... or three years ago. Not surprisingly, everything I'm feeling now was pretty much summed up when I wrote about it then. LOL! LMFAO! ROTFL!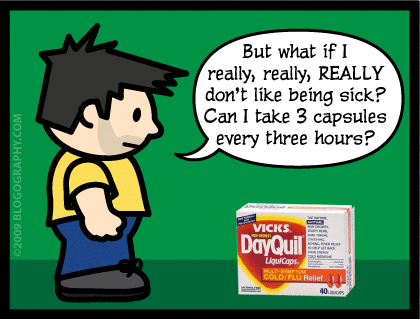 I say "not surprisingly" because my "cold routine" is always the same...
DAY ONE!
SYMPTOMS: Sinus tickle... beginnings of a sore throat.
DIAGNOSIS: Dude! You're coming down with a cold!
PRESCRIPTION: Overdose on Vitamin C, Spirulina, and Excederin PM for sleep.
DAY TWO!
SYMPTOMS: Runny nose, congestion, sore throat.
DIAGNOSIS: Dude! You totally have a cold now!
PRESCRIPTION: Overdose on Vitamin C and Spirulina. Take DayQuil to survive the work day. Take NyQuil to go comatose at night. Go on a Pine-Orange-Banana juice fast. Zinc lozenges throughout the day.
DAY THREE!
SYMPTOMS: Congestion so bad your head will explode, very runny nose, sore throat.
DIAGNOSIS: Dude! You are dying!
PRESCRIPTION: Same as day two... PLUS chocolate pudding.
DAY FOUR!
SYMPTOMS: Minor residual symptoms... little bit of a runny nose left.
DIAGNOSIS: Dude! You're gonna live!
PRESCRIPTION: Regular doses of Vitamin C and Spirulina. NO cold medications.
Now... if I'm lucky, Day Four is the end of it. I wake up on Day Five and am pretty much cured. But every once in a while, I get "The Cold Cure Fake-Out" which means your cold comes back stronger and harder than ever on Day Five. In which case I'm screwed. Colds like that can hang on for weeks.
Right now I am at the end of Day Three. I can already feel my cold breaking, and have stopped taking all cold medication (I find it's good to stop as soon as possible, because cold meds seem to prolong a cold if taken too long). Which means tomorrow I'll start recovering. That's awesome, because two days of misery is more than enough.
But then there's Day Five. Where I'm either cured or screwed.
Now there's a Saturday to look forward to.