Time for my annual wrap-up of my favorite TV shows this year.
THE TWELVE BEST...
I am a total television whore. Anybody who has read this blog for any length of time already knows this. But this year was particularly bad. I watched more television than ever before, and have no idea where I found the time to do it. Though I'm usually working while it's on, and a lot of time I save it for when I'm traveling (thank you, iPad!), so that's something I guess. I sincerely hope that 2012 has a lot more crappy television so I can spend my time on more worthwhile pursuits (though I don't know what those might be yet).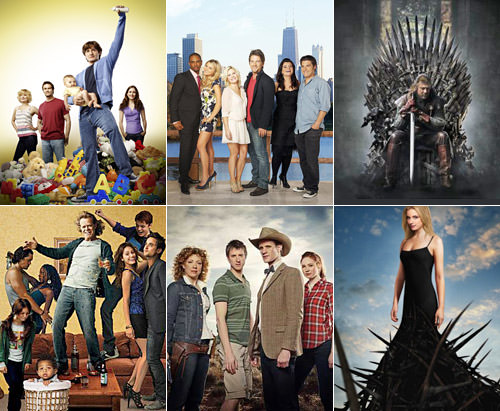 #1 Raising Hope. I simply cannot express how much I love this show. It is flawlessly cast and the stories are always winners. Jimmy's family still has their hands full with baby Hope (who's starting to grow up!) and the outlandish situations just get more imaginative with each new episode.
#2 Happy Endings. This was hands-down my favorite show this past year. Now that we're in the second season... something is missing, and I can't put my finger on it. Yet it's still a fantastic series that's laugh-out-loud funny.
#3 A Game of Thrones. Peter Jackson's brilliant film adaptation of Lord of the Rings proved that adapting richly complex fantasy novels is not impossible. So I had a little hope when I heard that the Song of Ice and Fire novels were being brought to television. Then I found out it wasn't TV, it was HBO, and I was really hopeful. The result? George R. R. Martin's epic was faithfully brought to the small screen with a series that was literally too good to be true. Not to say that I don't have my worries for the future of the series, but I can't wait to see what they do next.
#4 Shameless. Well, wow. Nothing I can say about this show will do it justice. It's based on a British series I've never seen, and stars William H. Macy as a non-functional poverty-stricken alcoholic who has a family of six kids that have to raise themselves. The show is sometimes shocking... always interesting... and captivating in a way that I never expected.
#5 Dr. Who. Matt Smith didn't "sell" me as The Doctor until the absolutely flawless episode called "Vincent and the Doctor" (which I lovingly review at length here). It opened my eyes to the show in an all-new way, and the magic sucked me back into the wonderful adventures of our favorite Time Lord. I've since re-watched the last couple series and am now a bigger fan of the show as I've ever been. Really great television.
#6 Revenge. Yeah, it's a guilty pleasure... no question about it. But it's such a good guilty pleasure. When girl-done-wrong comes back to town in a new identity and decides to take down the people who contributed to the death of her father, delicious revenge ensues. And it is delicious. I admit that I'm not a fan of how the "vengeance of the week" awesomeness has died down, but the overall story is just too good to resist.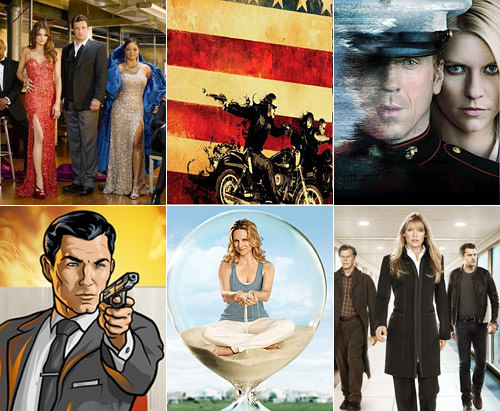 #7 Castle. Nathan Fillion and über-hot Stana Katic have chemistry that never diminishes. Sure this is basically Murder She Wrote for a new generation, but it's done really well. Even better, the supporting cast isn't just comic relief or incompetent foil for the leads... they are fully-functional and three-dimensional characters who contribute to the story in a meaningful way. And it just works.
#8 Sons of Anarchy. This brilliant biker gang drama did not get off to the greatest of starts this season. Indeed, I was worried that it had jumped the shark in the worst possible way. But then... something happened. The show took a turn for the better in a really good way. We were rewarded for our patience with some of the very best episodes ever to air on television, largely thanks to... Katey Sagal? (PEG BUNDY? SERIOUSLY?!?) As a fan of the show, I am glad to see that it is actually heading somewhere. As a fan of television I'm positively thrilled.
#9 Homeland. Damian Lewis, who I loved in Life, was the only reason I checked out this "homeland security" CIA love-fest. Surprise, it's an amazing show. It's just such a deep and rewarding investment of my time that I can't help but love it.
#10 Archer. This deeply disturbed cartoon series about the most self-centered (but capable!) spy in the world is so wrong. But it's addictive in a way that most shows only dream of.
#11 The Big C. A show where the lead character is dying from inoperable cancer. Hilarious, right? Oddly enough... yes. I still can't believe that this show manages to bring a smile to my face every episode.
#12 Fringe. This series is just not firing on all cylinders right now, but its past greatness has me holding on. In any event, it's still great television and well worth my time. I just hope that the show-runners have some ideas up their sleeves that will return the show to greatness. We need it so badly.
ALL THE REST...
And here's all the other noteworthy shows I am watching in some capacity or another. Sad, I know.
Rules of Engagement. I can't give up this show because I've grown overly-attached to the characters. The only problem is that the prolonged engagement between Adam and Jen that was meant to show the before/after contrast with Jeff and Audrey is growing increasingly unrealistic. They need to finally get married so the show can go to wherever it's heading after Jeff and Audrey's baby is born.
Community. As I've said every year since the show began, this is the most consistently funny comedy on television.
Breaking Bad. Easily the most messed-up show on television, it's also one of the most engrossing. You just can't wait to see what happens next. And it's usually even more messed up than what happened before.
30 Rock. I love... love... Tina Fey. And Alec Baldwin plays his role like nobody else ever could.
Louie. Surprisingly funny look into the life of a stand-up comedian (played by the brilliant Louie C.K.) that actually has some depth to it.
Justified. This show fascinates me with just how great it works given the "Lawman of Redneckistan" premise. The acting talent alone makes this a must-watch.
Parks & Recreation. I thought the shake-up this season would be the death-knell for the show. But adding Rob Lowe and Adam Scott was a ploy that actually worked.
Futurama. I like this show a magnitude better than The Simpsons because it never seems to get old. Probably because the setting allows for a lot more imaginative stories than just keep getting better.
Suits. Now this was a pleasant surprise. A new lawyer show that's actually a NEW lawyer show! I enjoyed the series quite a lot, though it's getting a little predictable near the end there.
The Big Bang Theory. Speaking of predictable... but they added Amy Farrah Fowler (played by Mayim Bialik) to the mix, which is good for all kinds of laughs. Th brilliant Wil Wheaton guest spots don't hurt either.
Boardwalk Empire. Remarkable show, but I'm losing my enthusiasm for it as time goes on.
2 Broke Girls. This show is really uneven in laughs, but it has its fair share so I keep watching.
Grey's Anatomy. Do not know how they keep this show fresh as long as they have. The problem is that they are running out of interesting medical problems, so they're focusing more on the drama, which is bad.
How I Met Your Mother. Still not tired of this show even though I should be because the premise has been worn paper-thin. A part of me really hopes that they'll just reveal the damn mother and end the show already. It's really time. But damn if I don't keep hanging on in the hopes of another Robin Sparkles episode!
Psych. The episodes kind of all blend together for my now, but every once in a while they do something that makes me love the show all over again.
Hot in Cleveland. Betty. White. What else can I say?
Modern Family. Not as fresh as it was. Growing really sick and tired of the "Stupid-Ass Phil Dunphy Dumbass Act of the Week."
Fairly Legal. I was really mixed on this show at the beginning, but grew to love it when I re-watched all the episodes in reruns. Really looking forward to a new season to see if they can keep it fresh.
White Collar. I may be growing a little tired of this one now, but they continue to come up with interesting cases, so I keep watching.
Episodes. Matt LeBlanc came back from the (career) dead in order to parody himself in an unexpected but very funny way. Two highly successful British television writers are seduced by the lure of Hollywood and a remake of their popular series for American audiences. AS one would expect, disaster (and LeBlanc!) ensues.
Burn Notice. This show wore out its welcome a couple years ago. But I love Fiona (played by Gabrielle Anwar) so hard that I cannot give up the show. In all honesty, I wish that they would spin her off in something new.
Dexter. Losing its charm with each new year. If next season doesn't have anything interesting to grab me, it's over.
Whitney. And not for Whitney Cummings, who is a little too annoying... it's the rest of the cast that makes this show worth watching.
The Walking Dead. One of my favorite shows of last year was completely trashed this year. SO not the series I fell in love with now. But the comic book is such an awesome source material that I can't stop watching.
Top Chef/Project Runway/Survivor/Cupcake Wars. The four "reality television" shows I can tolerate. Note that the "reality" is a competition and/or creativity, which is why I can enjoy them.
AND THE SIX WORST...
The biggest disappointments this past year.
#1 New Girl. How in the hell they managed to make one of the hottest, most remarkable women on the planet (Zooey Deschanel) become unbearably annoying is beyond me. And the secondary cast is even worse. This show is like nails on a chalkboard to me, despite how much everybody else seems to love it.
#2 Harry's Law. They jettisoned everything I like about this show... then kept all the things I hated. It's just more of the same now.
#3 Terra Nova. How in the hell can a show that has both time travel and dinosaurs be this bad? There is not a single character on this crapfest that I don't want dead. Horrible, horrible television.
#4 House of Lies. This show has Don Cheadle, Josh Lawson, and KRISTEN FRICKIN' BELL... WHAT HAPPENED? It is mind-numbingly boring between the good bits, and never seems to end... that's what. Yes, the good bits are really good, but it's SO not worth the shit you have to sit through to get there. The "time-freeze" moments which allow Don Cheadle to interrupt the show to explain terms and back-story DO NOT WORK. They are an interruption that actually interrupts the show in a horrible fashion. EPIC FAIL!
#5 X-Factor/American Idol/TheVoice. I have yet to hear anybody on any of these shows that I would want to listen to in real life.
#6 The Bachelor/The Kardashians/Jersey Shore/Whores Love Money For the love of God, please get all this "whores will do any stupid shit for money" crap off my television.