A week and a day late with a Bullet Sunday... on Monday!

• Toys! The LEGO DC Superheroes site is finally live. Not a lot there yet, but it's a start. The good news is that some of the sets are starting to leak out... including an awesome Superman & Wonder Woman vs. Battle Suit Lex Luthor. Kind of lame how Superman and Wonder Woman look scary-mean though...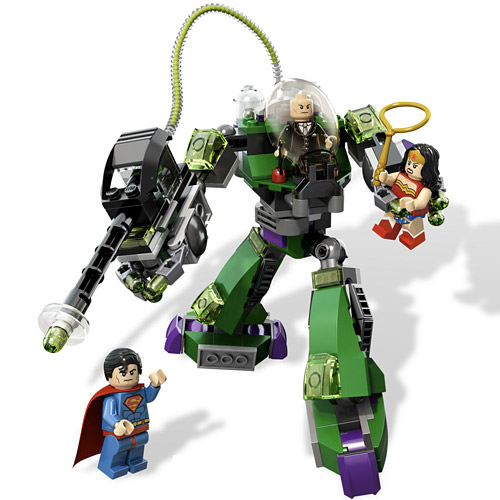 All I can think of when I look at this set is how much I want a LEGO video game with these characters in it. I swear, the LEGO Star Wars, Batman, Harry Potter, Indiana Jones, and Pirates of the Caribbean games are the most fun I've had with a video game.

• Who? The Dr. Who Christmas Special was really done this year, as usual, even if it did drag in the middle with the silly trees and stuff. All things considered, the ending was surprisingly touching...
It's been confirmed that The Doctor's companions, Amy and Rory, will be leaving the series next season. Given that they're the most entertaining thing on the show right now, this is kind of depressing. Even worse, show runner Steven Moffit has said that their relationship reaches a tragic end. I'm sad already.

• Fabulous! I don't know why, but the new AbFab Special is available in its entirety on Vimeo...
Not surprisingly, it's pretty darn funny. If you're a fan, it's worth checking out now since it doesn't "officially" air on BBC America until the New Year.

• Pano! When I went to Australia, I started taking panorama photos in HDR. The results have been pretty amazing. The HDR equalizes out the tones so that the individual photos blend a lot better...

The above pano took 33 photos to assemble at full-resolution, but I think it was worth the trouble. Now I'm kinda psyched about finding new panoramic scenery to shoot!

• Scrivener. My favorite writing app, Scrivener, was updated to version 2.0 a year ago, but I never remembered to install it until this past weekend. I wouldn't have thought it possible, but it's an even more valuable tool than ever before. The upgrade to the notecard cork-board alone was worth the small upgrade fee. If you do any writing at all, you owe it to yourself to take a look at this amazing program. You can download a free demo for Mac or Windows at the Literature and a Latte website.
As if that wasn't awesome enough... an iPad version of Scrivener is being developed for release in 2012.

Annnnnd... back to work. This is going to be a crazy week.