I'm in Atlanta 3-5 times a year now, so I stopped doing the whole "Davelanta" blogger meet-up thing. I was getting paranoid thinking about everybody going "Shit! Dave's going to be here AGAIN? Wasn't he just here a couple weeks ago?!?" So instead I just Blog/Tweet/Facebook when I'm going to be in town and let people "opt-in" if they feel like meeting up... or "opt-out" by pretending they never saw it.
Except I found out that some people never saw it for reals and got left out, so I feel bad. Maybe if I sent out an email telling people when I'm here and asked them NOT to come, they wouldn't feel obligated to show up, but would come anyway if they really wanted? I dunno. Miss Manners doesn't offer any advice for this kind of stuff.
Anyway... I did end up having a terrific evening with
The Muskrat
,
Whipstitch
, and
Coal Miner's Granddaughter
tonight. We did the usual catching up and talking about what's going on in our lives, but this time there was an entirely NEW activity... reading aloud your favorited
tweets
. That ended up being good for all kinds of laughs because, apparently, the tweets that most people mark as a favorite are the funny ones. Good times.
Muskrat, that magnificent bastard, showed up sporting his Movember mustache. This means it must be time for an update as to how Lil' Dave is doing...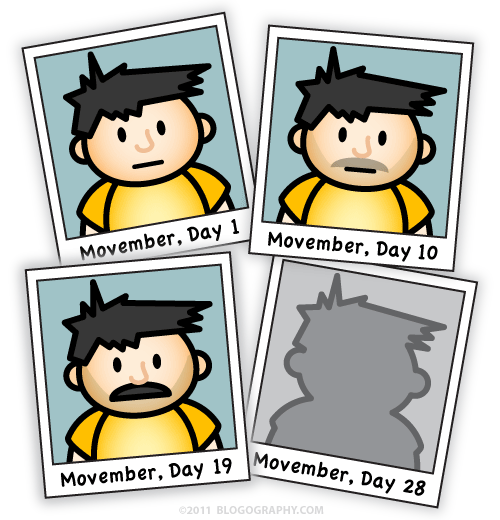 As always, if you can donate a few bucks to a very worthwhile cause, please visit The Muskrat's Movember Donation Page. Every little bit helps!

And now, I get to revel in the joy of doing nothing, because my work has been moved from Sunday morning to Monday night. Sweet! Doing nothing is one of my most favorite things to do!
Though I think everybody knows the odds of me actually doing nothing are fairly slim.
Sometimes I hate being me.
Except when I get to have dinner with awesome blogger friends like tonight. Then it's pretty awesome being me.