It's Bullet Sunday on Monday from the great state of Georgia!

• Hurt! After arriving at the gate of Atlanta's Hartsfield-Jackson International Airport, I was pulling my backpack from the overhead bin when some guy decided he simply couldn't wait for me to get out of the way... and pulled down his pack right into my face. He had some kind of wooden easel or tripod attached, which ended up scraping across my eyelid. So now I've got a good cut there that's nice and swollen. His excuse to being such a dick? "Sorry, I've got a tight connection." And if my eye would have been poked out? Well, he's got a tight connection, so sorry about that. I swear that manners and courtesy go right out the window when people get on an airplane. The really terrible part? This is not the first time somebody has nailed me while retrieving their crap.

• Dino! Since my work was pushed back until late Monday, this left me all day Sunday to goof off in Atlanta. I started out by visiting The Fernbank Museum of Natural History, as suggested by Coal Miner's Granddaughter and The Muskrat...
It's a very cool museum... though a bit expensive at $17.50. As a holiday bonus, a group of young girls were dancing Christmas-themed ballet amongst the dinosaur skeletons in the main atrium. I wish I could say that was the oddest thing I've seen in a museum but, alas, no.

• Shop! From the museum I went to the Lenox Square Mall so I could go to The Apple Store. Along the way, I passed the shameless PC-based copy that is The Microsoft Store. Inside there were a handful of customers and a small group of employees. Once I got to The Apple Store, however... madness. Dozens of employees were helping wall-to-wall customers. The place was packed. And while there were a lot of people just looking, a good chunk of them were buying, as customers were leaving the store with Macintosh computer boxes and Apple-logo bags at a steady clip.
This is kind of an odd turn of events given the sorry state Apple was in just fourteen years ago. I remember a time when there was a very real possibility that Apple was going to fail...
Microsoft isn't going to lose their massive PC market share over Apple any time soon, but it's nice to see how well Apple is doing now-a-days after being an underdog for so long.

• Pig! In previous years coming to Atlanta during the holiday season, I was introduced to Priscilla The Pink Pig. It's a train ride for kids that is put on by Macy's each year. As you might imagine, it's a very big deal. And, if you must know, I'm kind of obsessed with The Pink Pig...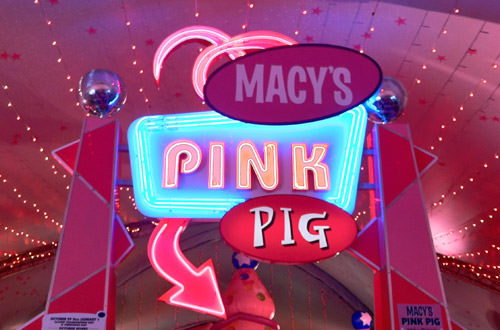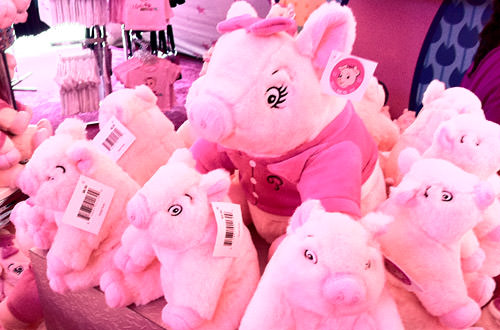 One of these years I'm going to ride that pig. Probably because my love of Invader Zim demands it...

• Eat! Copasetic Beth and Houston's Problem were kind enough to join me for dinner at The Varsity. For anybody unfamiliar with this Atlanta institution, it's "The World's Largest Drive-In Restaurant" located near Georgia Tech. Their menu is pretty limited and not very vegetarian-friendly, but they have a "Frosted Orange Drink" that I love, so I end up eating there every once in a while...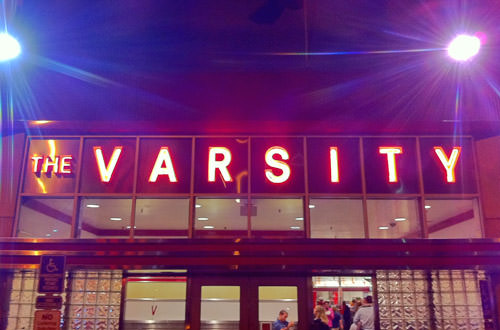 What makes the place interesting is that employees accepting orders will start screaming "WHAT'LL YA HAVE? WHAT'LL YA HAVE? WHAT'LL YA HAVE? at the top of their lungs when they're ready for their next customer. The first time I ate here (again with Copasetic Beth and Houston's Problem), the woman at the counter yelled "HAVE YOUR ORDER IN MIND AND YOUR MONEY IN HAND" at me as I approached the counter. For people not accustomed to it, this can be a little intimidating. But, given the sheer volume of customers streaming into the place, they have to do what they can to keep the line moving...
With practice, I now know to pass over my $5 while saying "GIMME A REGULAR F.O. AND FRIES!" so I don't get an eye-roll by not being ready and not knowing how to order properly...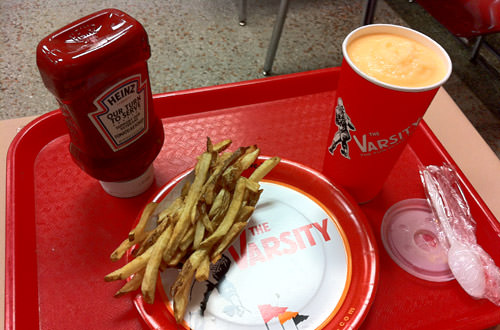 It's like an Orange Creamsicle in a cup, and oh so delicious!

• Sew! When I was fairly young, my grandmother taught me how to sew. She figured I should know how to hem a pair of pants or repair a tear if I had to. I was never really good at it, but I did manage to use what skills I had to make Halloween costumes and stuff...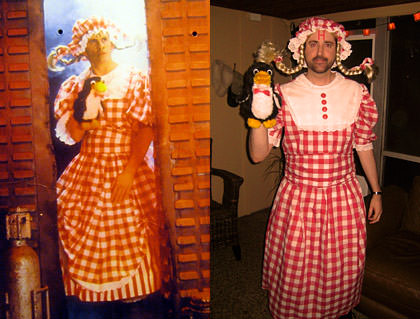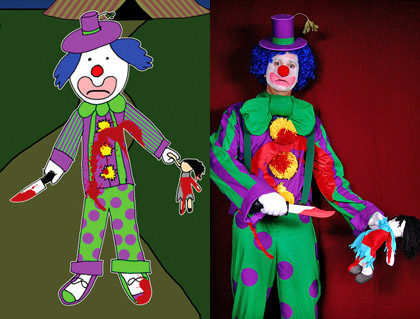 Since sewing is a handy thing to know how to do, I've always wanted to take a class so I could be better at it. The problem is that enrolling in a class requires you to be at a certain place at a certain time and adhere to a class schedule in a way my work and travel makes impossible. Enter Whipstitch and her e-courses, which allow me to take a "virtual class" which is a lot more flexible. The reason I bring this up is that you can now pre-purchase any of the 2012 courses (including the Sewing Basics class I'll be taking) for just $99... which is up to 45% off the regular price! If you've ever wanted to bone up on your sewing skills... or learn something new with the skills you already have... you can get all the details over at the Whipstitch Blog!

And now I should probably try and get some rest since there's no telling what time I'm going to be woken up for work.