I deleted my blog from ten years ago so I can't tell you with any certainty what I was doing back then. I might have a vague idea over a span of some weeks or months but, if you were to pick an individual day, I'd be hard-pressed to tell you what was happening.
For every day save one, of course.
I was working as a consultant and running late for a meeting on the morning of September 11, 2001. I didn't have time to turn on the television, nor did I have time to turn on my computer. I went directly from my bed to the shower to my car for the 20 minute drive to work. When I arrived, I vaguely remember some talk about an airplane crash as I walked through the lobby. But, for all intents and purposes, I was completely unaware of what had happened three hours earlier at the World Trade Center.
It wasn't until I walked into the conference room and saw the television replaying footage of The Twin Towers collapsing over and over again that I knew of the horrific events unfolding in New York.
And, like most everybody else on the planet, that news coverage became my life for the next several days.
As the tragedy would become our lives for the next ten years.
Because those iconic structures may no longer be with us... but they're not gone either. I watch a rerun episode of Friends, and there's the Towers in an establishing shot. I pop in my DVD of Eddie Murphy's Trading Places and the Towers are there. I read an old Spider-Man comic book and there they are again. I look through old photos and...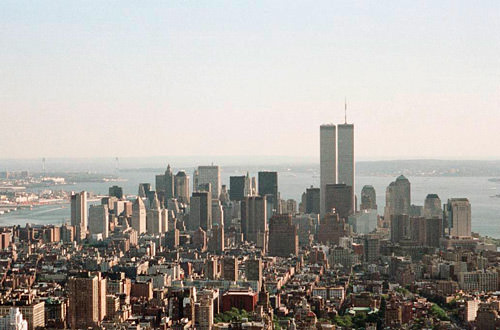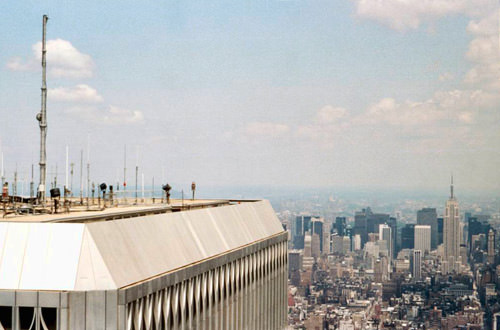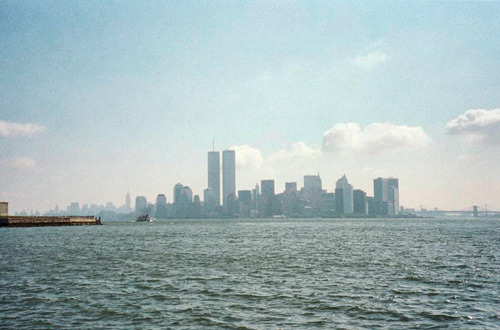 But that's me.
For those directly affected. For those orphaned or widowed. For friends and family of those who lost their lives. For those who now suffer from the debilitating effects. For those whose lives were forever changed. For so many people, I'd imagine it's quite different. They don't need a TV show or a movie or a comic book or a photograph. Their reminder is everlasting.
As is their pain.
I'm sure at some future date when all the people who were alive to remember the world before 9/11 are gone, perhaps the nightmare will start to fade.
In the meanwhile, we remember.
Because we need to remember.
Because it's impossible to forget.
Because our hope for peace must prevail.