Before we do this, GO GET FREE MATT & KIM!! Yes! FREE! And not a bad track!
Last night after my complete mental breakdown over losing David's Pizza, home of my favorite pizza on earth, I decided to drink a lot of alcohol and go see Captain America. While neither eased my pain completely, I was a lot better off at the end of the day.
I'm going to review Captain America: The First Avenger now, because I'm a total comic book geek like that but, if that's not something you care to read about, I'll just sum it up thusly: This film is pretty close to flawless. Not just for a comic book movie, but for ANY movie. Even if you're not into the whole super-hero thing, it would be worth your time to watch. I love, love, loved it...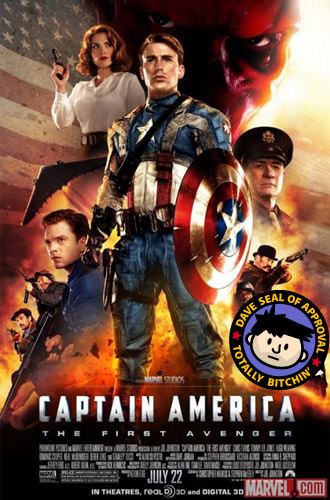 Before we get into the movie itself, a little background on me and Captain America.
Growing up, I was a total DC Comics fan (Superman, Batman, Wonder Woman, etc.)... and not much of a Marvel Comics fan (Spider-Man, Iron Man, Captain America, etc.). That being said, Cap was the first Marvel comic that I got into. It all started with Captain America and Falcon #211-213 by comics giant Jack Kirby. The stories were originally published in 1977, but I got ahold of them as a poly-bagged set the early 1980's (I'm guessing they were re-prints?). These issues were a great read, having plenty of action and featuring the quintessential Cap villains The Red Skull and Arnim Zola. Unfortunately, my new-found infatuation with the Captain America universe was short-lived, because the current issues of the title were a drastic step down from the Kirby reprints I had just read. After that I pretty much ignored Captain America unless he was in other Marvel titles, like The Avengers.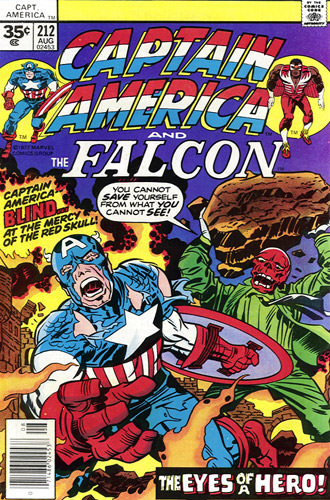 All that changed in 2004 when Ed Brubaker came onboard for a Captain America relaunch. Since then I've been a fan of the character, snapping up most of the graphic novel collections as they are released. Far from being an exercise in one-dimensional blind patriotism, Burbaker's treatment of the character was a fascinating exploration that actually had some depth to it. Even though he eventually ended up killing Steve Rogers, then bringing him back (of course), the book remains an excellent read.
Which is why I was terrified over the Captain America film despite the awesome set photos that were released. There was just too much to lose.
Fortunately, I had nothing to worry about. The First Avenger is near-flawless, and works on so many levels. As a straight-up action movie, it's a good time. As a war-movie, it's an immediate classic. As a super-hero film, it's faithful to the source material. Like Iron Man and Thor before it, the character just works on film. Beautifully.
It all starts as the USA has entered World War II and weakling Steve Rogers wants to join the fight. Unfortunately, a multitude of chronic illnesses makes him unfit for duty. Never one to be discouraged, Steve keeps trying until he has the good fortune to be noticed by Dr. Abraham Erskine. The good doctor is secretly working with the US Army to develop a new "super soldier" serum, and Steve Rogers has the qualities of heroism, bravery, and kindness he's looking for. The experiment is a complete success, and Captain America is eventually born... becoming the "Sentinel of Liberty" for the American war effort. Lots of cool action sequences ensue.
The Good Great
• Casting. I'm not the biggest Chris Evans fan, but there is no denying that he is Captain America on-screen. Unlike his previous role as The Human Torch in the Fantastic Four films, Evans actually has to project something more than cocky aloofness here. He has to be a living, breathing icon, and he nails it. The early scenes where special effects have turned Evans' perfect physique into wimpy Steve Rogers is where he really shines as an actor, and his every scene is exceedingly good. Other roles are equally well-cast, most notably the incredible Stanley Tucci as Dr. Erskine, Tommy Lee Jones as Colonel Phillips, and an absolutely amazing Hugo Weaving as The Red Skull.
• Story. Usually origin stories are notoriously superficial and boring on the screen, but director Joe Johnston and writers Christopher Markus and Stephen McFeely somehow managed to make Captain America work perfectly. The set-up is just right, telling the viewer everything they need to know about the world they'll be visiting. The progressive origin of Cap is both logical and entertaining. The action is full-on excitement without becoming comical. It's everything you want in a comic book movie... or any adventure movie, really.
• Costumes. Captain America's garish outfit would be a really easy thing to screw-up on the big screen. That didn't happen. The evolution of his costume is handled incredibly well, with everything making perfect sense. The period-specific costumes for all the other actors were equally amazing, and really made you feel you were back in time. Somebody should win an Oscar here.
• Rewards. There were clever moments with some of the characters which hinted to their futures (as shown in the comic books). They were clever enough to reward comic fans, but subtle enough not to confuse newbies. My favorite? Arnim Zola's intro. Genius.
• Effects. The tough thing about having futuristic energy weapons showing up in the 1940's is that it just doesn't work logistically. But the integration was so deftly handled and so logically explained that it just didn't matter. And, again, mad props to the people responsible for turning Chris Evans into wimpy Steve Rogers at the beginning of the film...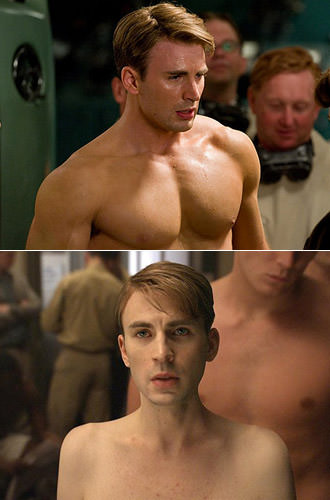 I know special effects are good now-a-days, but this is a-m-a-z-i-n-g.
The Not-So-Great
• Set-Up. I love the way that the Marvel Universe films are all fitting together (ultimately culminating with The Avengers movie next Summer)... but Captain America goes overboard. Having Tony (Iron Man) Stark's dad be the leading scientist of the war effort? Cool. Having the Cosmic Cube come from Thor's dad's treasure room? Great. But having the so much of the plot being a set-up for future films? Dangerous. Especially at the very end of the film, which seems a little tacked-on and artificial. In the future, let the movies stand on their own... if they're well-made and faithful to the source material, they'll still fit into the Marvel film universe and get people excited to see more.
• Bullets. Near the beginning of the film, a Hydra Nazi is being chased by Steve soon-to-be-Captain-America Rogers. Along the way he fires like a bajillion bullets from his gun... without re-loading. Man, how I hate that.

So overall? Fantastic and faithful film with a lot of action, honesty, and heart.
And this updates my whole "Y2K Super-Hero Comic Book Renaissance" scorecard as follows...
Batman Begins... A
Batman Dark Knight... A+
Blade... B
Blade 2... B
Blade Trinity... B-
Captain America... A+
Catwoman... F
Daredevil... B-
Daredevil (Director's Cut)... B+
Elektra... D
Fantastic Four... C
Fantastic Four: Rise of the Silver Surfer... D
Ghost Rider... C
Green Hornet... D
Green Lantern... C+
Hellboy... A
Hellboy 2: Golden Army... A
Hulk... C-
Incredible Hulk... B
The Incredibles... A+
Iron Man... A+
Iron Man 2... A
Jonah Hex... F
Kick-Ass... B+
Punisher... C+
Punisher War Zone... C
Spider-Man... B+
Spider-Man 2... A
Spider-Man 3... D-
Superman Returns... C+
Thor... B+
Watchmen... B
X-Men... C
X-Men 2: United... D
X-Men 3: Last Stand... F-
X-Men Origins: Wolverine... D
X-Men: First Class... B