I just came back from London & Venice, then left for Los Angeles.
Now I'm back from L.A. and am heading off to Las Vegas.
Apparently my travel layovers are no longer in airports, they're at home. It's like I've gone back in time twenty years and I'm living out of a suitcase again. Except now I actually have a suitcase and can afford to stay in accommodations where I don't have to worry about getting stabbed in the middle of the night because somebody wants to steal my socks.
Though I did have my personal shampoo stolen while staying at a Holiday Inn just five years ago.
I suppose it was all my fault for stepping out to Taco Bell so I could try the new "Crunchwrap Supreme" that everybody was talking about. Except I had them substitute rice for the beef, so I guess it wasn't actually the same Crunchwrap Supreme that everybody was talking about after all. Still tasted good. Though it's probably impossible for anything with this much saturated fat content to taste bad. Especially when it's cheese-flavored saturated fat...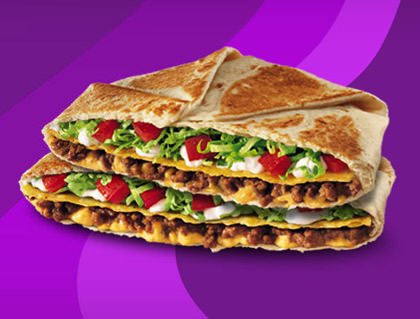 NOTE: Actual product will bear no resemblance whatsoever to this photographic fantasy.
Purple background is optional, and my not be available at your local Taco Bell.
I'm sure there's a life lesson here somewhere. I just can't decide if it's that you should never eat at Taco Bell... or you should never travel with your own shampoo and instead just use the crappy free stuff they give you at the hotel.
All I know is that they will let you take a full-size Taco Bell Crunchwrap Supreme through airport security. Try that with a full-size bottle of shampoo and you'll end up having it confiscated.
I'll leave it up to you to decide which is the bigger threat to National Security... but something tells me that the TSA has it all backwards.