It's a very special edition of Bullet Sunday on 10/10/10 Day! Or, if you're a binary type person, 101010 Day (more awesomely known as 42 Day). Next year will give us 11/11/11 Day. Then we get 12/12/12 Day. The end. For around a hundred years, anyway.

• Marathon! Once again I have somehow managed to be in Chicago during the massive Chicago Marathon. While I was in the lobby of my hotel tonight, somebody was making smart-assed comments to all the runners who had changed out of their running gear, but were still wearing their medals... "It's over! The race is over! You can take off your medals now!" To which I replied "Hey, if I somehow managed to survive running a marathon, I'd never take my medal off!" And it's probably true. I wonder why some people are compelled to crap all over other people's happiness?

• Twins! Usually when people show me a photo of some guy and say he looks like my twin, I just don't see it. This time I totally DO see it. Probably because the sign above his head is spelling it out for me...
ZOMFG! POD PEOPLE!! Thanks to Damian for confirming that I have a clone running around out there by emailing me this photo. I suspected as much all along.

• Betty! Possibly the coolest coffee mug you will ever see...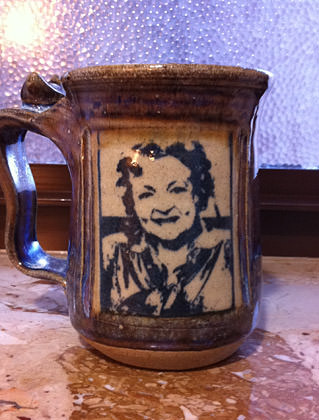 • Dining! Thanks to a last-minute meet-up with Leah in Chicago, I'm three for three nights of amazing dinners. At home my dinner usually consists of barely edible slop that comes out of the toaster or the microwave. To go from that to something like the gnocchi I had last night (which was so amazing I felt like weeping openly, then lighting the table on fire so I could distract people while I licked the bowl)... well... it's a pretty big shock to my system...
Food to die kill for is not something I want to get used to.

• Gap! The entire internet design community is up in arms over the new logo identity unleashed by The Gap this week. Everyone is shocked and appalled that a beautifully unique logo of timeless elegance, simplicity, and class has been replaced by a generic piece of shit that has no identity at all...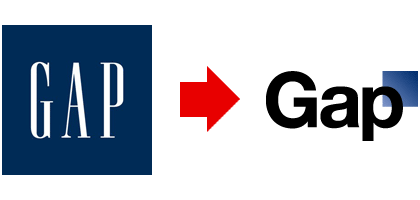 I, on the other hand, am not shocked at all. This is just the latest part of a shitty trend to "update" logos so they read easier at small sizes when displayed on mobile phones, websites, and all the other devices that modern society has embraced...
It's a noble (and probably necessary) endeavor, but it's always being done so badly. And while I'm sure at least some thought went into it, the end result looks exactly like so many of the other unbranded, bland, non-proprietary bullshit logos being churned out that you have to wonder WHAT thought went into it. When it comes to The Gap, it doesn't take a genius to see that their new "logo" is ultimately going to end up doing more harm than good... regardless of all the attention the bad publicity is getting them in the short-run. Sad, but oh-so-typical.

Now it's bye-bye bullets and back to work with me...