For all the dumbfucks out there who obviously have no concept of what The Golden Rule is, let me spell it out for you... TREAT OTHERS AS YOU WOULD LIKE TO BE TREATED. If you're Christian, you might better recognize this as "Do unto others as you would have others do unto you" from Matthew 7:12. If you study Buddhism like me, it's "Treat not others in ways that you yourself would find hurtful" from The Udanavarga 5.18. If you're a Jew or a Muslim or a Hindu or just about any other religion, this probably still sounds familiar because The Golden Rule is a universal concept for all humanity. It kind of has to be in order for people to be considered "human."
In fact, Scarboro Missions has an excellent poster you can get which illustrates this beautifully (click on the image to make bigger)...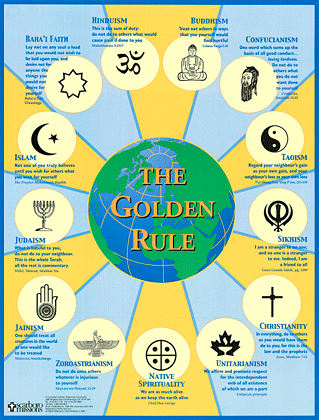 The reason I bring this up is because I am sick and fucking tired of a horrific personal tragedy occurring only to have the person responsible say "I'm sorry! I never thought this would happen!"
I'm sure that's the justification the bullies who tormented 13-year-old Seth Walsh will use. After being deliberately and systematically bullied because he was gay, this poor kid couldn't take it any more and hung himself. Now everybody is all shocked and horrified and "sorry" even though they stood around and watched it happen (or actually made it happen). Well, too little too late, a life described as "loving and kind" is gone. Destroyed by hateful morons too fucking stupid to understand that people don't like to be tormented by bullying day in and day out, and this is the only way they could find to escape it.
I hear about crap like this and go insane. It's pretty much my worst nightmare.
And as if that wasn't tragic enough, now there's been another suicide when Rutger's University freshman Tyler Clementi jumped off a bridge because his roommate streamed video of him having sex to the internet. And I'm sure that the dumbfuck responsible will be all "sorry" because they didn't realize people don't like to be tormented by having their personal sex life broadcast on the internet, and this is the only way they could find to escape it.
I mean, seriously. Did any of these assholes take ten seconds to ask themselves "Would I like to be treated this way?"
Did those responsible for driving Seth Walsh to kill himself even once think "Gee, I'd sure hate to be victimized every waking hour of every day... perhaps this poor kid I'm tormenting doesn't like it either?" Did Dharun Ravi and Molly Wei who are responsible for driving Tyler Clementi to kill himself ever think for just one second "Wow, I'd sure hate to be humiliated by having my personal sex life broadcast on the internet... maybe this poor guy wouldn't like it either?"
I'm guessing they didn't, because if they DID consider The Golden Rule, and then went ahead and did it anyway... well, that would make them monsters. Inhuman, evil, devious, vile, disgusting monsters. People so abhorrent that they have no place in society, let alone humanity.
And what about me? Did I ever think for a moment "Hmmm... if I ever made the horrible mistake of tormenting someone so badly that they ended up killing themselves, would I want somebody on the internet calling me an evil dumbass inhuman monster?"
Yes. Yes I did. And I seriously don't give a fuck.
Which makes me the biggest evil dumbass inhuman monster of them all.
Somehow, I'm totally okay with that.