And then, as quickly as it began, the cruise was over.
Truthfully, it doesn't feel like I had a vacation. With a port excursion most every day, I was waking up at 7:00am, getting back to the ship for dinner at 6:00pm, then working before going to sleep at 11:00pm so I could start it all over again the next day. But, then again, the idea of doing nothing and just lounging around the ship for ten days would drive me insane, so I guess this as good as it gets. I did get to see a lot of interesting and beautiful places, that's for sure.
In the end, I was very impressed by Disney Cruise Line...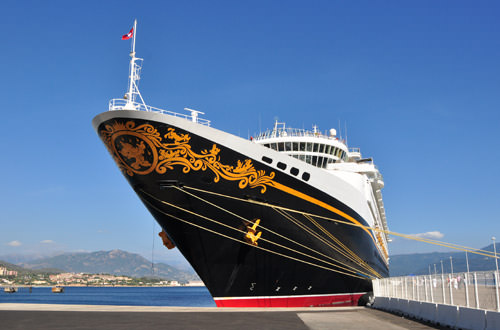 A few observations...
I was never really bothered by a bunch of kids, as I had expected. There are adults-only areas and adults-only shore excursions which keep your exposure to screaming kids to a minimum. Even at dinner they take care to seat people traveling without kids with other people traveling without kids.
That being said, there are a lot of kid-oriented activities to keep them entertained throughout the cruise.
The staff was, as expected, exemplary. At every turn in every area the crew was at the top of their game. At times I was blown away at the lengths they'd go to fix a problem. The bad internet, for example, was immediately refunded 50% after I complained about it being unusable at times. When my "character breakfast" time was mis-printed on my dining ticket, the head server arranged another for me. The dining staff was insanely obliging for my every request. If I didn't like the vegetarian options on the menu, they'd create something else... or even order me a pizza... rather than have me leave disappointed. Even the retail shop staff went the extra mile to make sure I was happy. Service is usually good on cruise ships, but Disney takes it to the next level entirely.
The food was incredible. Just incredible. The vegetarian options were often fantastic and really delicious, and only twice did I opt for pizza instead of the menu. If you could taste their pizza, you'd understand why... it was great.
Like most ships, Disney has an "upscale" restaurant which requires a fee to dine in. On the Disney Magic it's Palo, an adults-only dining area with a Northern Italian menu. The food, while truly excellent, wasn't really that much better than what you get from the restaurant menus. The service, surprisingly, was worse. The poor waitress at my table had to take orders, deliver drinks, deliver food, AND bus tables for four groups... two of them with six people! Naturally, she fell behind, and service definitely suffered. This was a really crappy thing to do to the poor woman... they should at least give her a busser to clean off tables for her. If I had it to do all over again, I would definitely pass on dining at Palo.
One area where I think Disney falls behind is when competing with Norwegian Cruise Lines "Freestyle Cruising." While I was never disappointed with my restaurant rotation... I still like the ability to choose my own restaurant and dress how I want. With Disney, if you don't like the restaurant your scheduled for (or want to eat at a different time), you can always go to the buffet or order a burger at the pool... but that's a far cry from eating when you want where you want. And I hate... hate... having to dress up for "formal night" and "semi-formal night" in order to attend my dinner. I AM ON VACATION! DON'T MAKE ME DRESS IN A SUIT FOR DINNER!
The port excursions were, as with other cruise lines, not run by Disney. They were operated by a local tour company at the port of call. But what makes Disney different is that they usually send one of their people with the tour group. This removes any worry of something going wrong because you never feel abandoned by Disney... even when you're not with Disney. This was entirely unexpected, but a great idea.
The ship itself was nice. Very nice. Everywhere was beautifully designed and impeccably maintained. Disney touches and theming were everywhere. Some things I'd expect to find (a library, for example) were missing... probably to make room for all the kids areas... but it didn't really detract from my experience. A big plus with Disney is a separate toilet room and shower room in most of their cabins. This would make traveling with family a much easier experience.
Hands-down the absolute best embarkation and debarkation experiences I've had with any cruise ship ever. Given the total mess that most cruise lines make of this, they could definitely learn a thing or two from Disney.
Overall, I thought this is one of the best cruises I've taken. And, while I prefer the "freestyle" aspect of NCL or the flexible options at Princess, I'd take another Disney Cruise in a second. The problem is that they only have two (soon to be three) ships, so their itineraries are really lacking. Unless you want to take the same Mediterranean Cruise over and over... or hop on a short trip through the Caribbean... your options are severely limited. Earlier this year, they had an amazing "Balkan Capitals" cruise that I'd love to take, but it's not available in 2011. Instead, they're going to Alaska, which I've already done. I'd say the odds of me cruising with Disney any time soon are pretty low... not because I don't like the company, but because they're not going anyplace I want to go.
So... if Disney is cruising a place you'd like to see, I wouldn't hesitate to recommend them. Everything from the ship to the service to the port experiences were gold.