And so Betty White was on Inside The Actors Studio tonight.
It's kind of odd seeing her relatively recent massive surge in popularity when I've been a huge fan of hers for as long as I can remember. I first saw her on game shows like Match Game, Pyramid, and (of course) various Password reruns and revivals. And while I didn't watch a lot of Mary Tyler Moore Show episodes, I (of course) remember her genius performances there. And then came appearances on everything from The Love Boat to Mama's Family... and (of course) The Golden Girls, where she (rightfully) became a huge star again.
From there, Betty gave me no shortage of reasons to remain a die-hard fan. Dozens of amazing guest appearances in just about everything... including a ballsy role in Lake Placid and her wicked turn as Catherine Piper on Boston Legal.
Now she's appearing everywhere, including her mind-boggling awesome guest-hosting gig on Saturday Night Live.
So what in the hell took James Lipton so long to finally get her on Inside the Actors Studio?
I have no idea. But it's about frickin' time.
Sadly, as Karl noted on Twitter, it was absurd that they cut the interview down to a mere one-hour show. Her career is so brilliant, varied, and long that TWO hours would barely scratch the surface. Yet they butchered it down to just one? Stupid. I mean, hey, it's Betty White... so the show was understandably fantastic. But it was a rushed superficial hack-job of an interview and James Lipton should be ashamed to air it. All I can hope is that eventually they release the full two-plus hours they recorded on iTunes or DVD or something.

Updating my New Television Season Scorecard... tonight was the premiere of No Ordinary Family...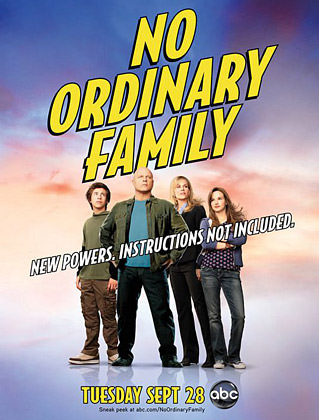 Now, I've made no secret of my scathing hatred for the pile of shit television show Heroes which featured boring super-powered people rarely using their super-powers (unless they were lame-ass powers that didn't require special effects). Now, for reasons I cannot fathom, ABC has decided we can't live without a mash-up of Heroes and Modern Family by way of ripping off Pixar's The Incredibles. Along the way, they steal from comic books left and right (the "super-speed" wife has to eat huge quantities to maintain her metabolism, just like The Flash, for example). Not to mention a blatant rip-off of TV's Greatest American Hero ("instructions not included?"... SERIOUSLY?).
The result is an all-new show that we've already seen a dozen times before.
And while it doesn't 100% suck, it does mostly suck. Because there's nothing surprising enough... exciting enough... new enough... to draw me in. Hell, even the big fight scene at the end (well done as it was) ended up being a rip-off of Nightcrawler's invasion of The White House in one of those awful X-Men movies. Nothing in the show has any semblance of originality to me. I was b-o-r-e-d.
On the plus side, I do think the performances were pretty good. And I think they set themselves up for the possibility of doing something interesting with the show's background mythology (unlike shitty Heroes which failed miserably with theirs). So, despite my better judgement, I will be tuning in for a few more episodes just to see if they go anywhere I want to be. Final score? C-