I got to the airport two hours early this morning because I wanted to have breakfast. Thanks to two screw-ups at the check-in counter* and outrageous waits at airport security**, I made it to the gate just as they started boarding. I didn't get to even so much as sniff breakfast, and ended up raiding the snack basket on the plane. If you can call Sun-Chips, Reeses Peanut Butter Cups, and a Twix bar breakfast, then I guess I had breakfast after all.
The flight from Seattle to Salt Lake City was fine. Pleasant even. But the flight from SLC to San Diego had such a dense concentration of self-important assholes in First Class that it never seemed to end. I will never, ever, get over the self-entitlement so many First Class passengers have... especially since 90% of them are getting their First Class seat as a FREE UPGRADE. They are not the least bit grateful for the nicer food, personal service, and extra legroom they got AT NO EXTRA CHARGE, all they do is make demands, be rude to the flight attendants, and bitch about everything. It is horrible and embarrassing, and I don't know how people working the flight can stand it... except it's their job and they have to.
Anyway...
A couple days ago I heard that the new Hard Rock Cafe Hollywood*** had finally opened up. This was important news, because it meant a quick drive up from San Diego would allow me to check another property off my list, putting my Hard Rock Total at 129. Never mind that I only had two hours of sleep and was near exhaustion... nothing brightens up your day and fills you with energy more than battling L.A. traffic for hours on end!
Other than a truck accident that halted traffic entirely on I-5 near Norwalk, and the usual gridlock on the 101 into Hollywood, the drive up wasn't bad at all. 2-1/2 hours, as expected. The Hard Rock Hollywood is one of the "new-style" (i.e. "boring") cafes with entirely too little rock memorabilia and waaayyy too much blank wall space, which sucks. But the staff was great... AND I got to have dinner with Amanda, which was awesome!
The drive BACK, however, was horrendous. I waited to leave until 6:30, hoping most of the southbound traffic would be over by then. For reasons I can't fathom, it still took me 3-1/2 hours to get back to San Diego. That's better than the 3 hours 52 minutes Google Maps was predicting, but still. Argh. Driving in SoCal is an exercise in patience and futility. When I was working here over a decade ago, I adapted to the rhythm and flow of SoCal traffic fairly easily. Mostly because you have to. If you don't, you go insane. Today I just can't adapt anymore. Even when you see funny-crazy-cool stuff on the road that only seems to happen in L.A. — IT'S DOMO-KUN!!!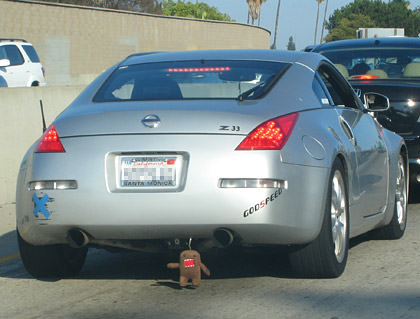 One thing that never seems to change in SoCal driving is the speed. I love how I'll be cruising down the highway in a pack of cars, then run across some people driving too slow, forcing everybody to deaccellerate. That's when I start screaming "OH, COME ON!!!" and get all pissed off because traffic is slow, only to look down at the speedometer and see that the "slow" I'm now going is 80 miles per hour. It's bizarre how I seem to lose all sense of speed in SoCal... except when I'm forced to slow down.
Now I suppose I really should get some sleep. But first it's time to update my travel map (for people who asked, the greyed-out States are States I haven't been to yet)...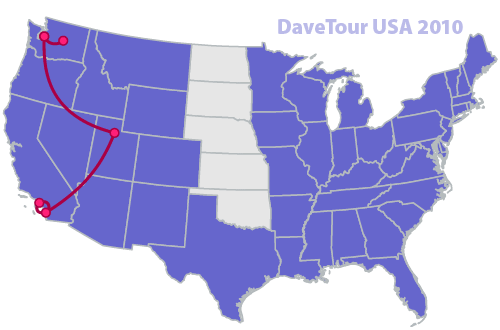 Tomorrow... Comic Con...


* NOTE TO AIRLINES... The whole point of a digital boarding pass is that there's no paper involved. Making your customers print out a paper boarding pass defeats the entire purpose, and is beyond stupid. If you're not going to deal with digital boarding passes... STOP OFFERING THEM!! Especially if you are going to make your customers stand in line twice to get something they shouldn't need in the first place.
** I am super serial here... any wait longer than 30 minutes to clear airport security is complete and total FAIL! Any wait over an hour is categorically absurd, and somebody needs to get fired.
*** The Hard Rock Cafe Hollywood is actually the new Hard Rock Cafe Los Angeles on Hollywood Boulevard... not to be confused with the long-since-closed Hard Rock Cafe Los Angeles in Beverly Hills or the still-open Hard Rock Cafe Hollywood in Universal City or the hotel and cafe in Hollywood, Florida. Yes. being a Hard Rock fan is not always easy.