Bleh.
When I arrived in Atlanta this morning after my redeye flight I was pretty dead. By the time I made it to my hotel I was mostly dead. The only part of me that wasn't dead was the part that was allergic to something in my room. Finally, after tossing in bed for a half-hour being all miserable with a sore throat and runny nose, I decided to take a bunch of antihistamines and see if I could catch up on some sleep.
I woke up five hours later at 2:00.
And by "wake up" I actually mean "sleepwalked," because it took at least an hour before I was able to function again.
After slapping myself into consciousness for a while, it was time for dinner with Muskrat, Whipstitch, and Val, where I drank too many of these...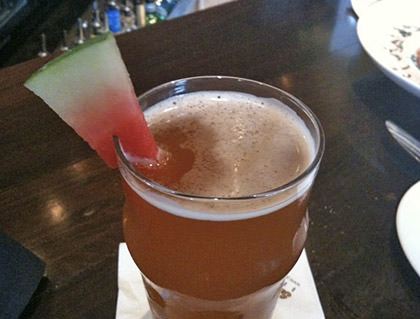 It's a delicious "Watermelon Wheat" beer that was a special at The 5 Seasons. A fantastic way to take the edge off a hot Atlanta day!
And now, since I have to be up early for work tomorrow morning, I must bid you adieu.
My travel map for this trip now looks like this...