Here I am in the Peach State of Georgia, where it's time once again for Bullet Sunday. Apparently I'm now in an area which is not included in the "97% of Americans" that AT&T's cellular network professes to cover, so Bullet Sunday is about all I got! Thank heavens for WiFi.

• Weather! Hot with a chance of hot humidity and hot thunderstorms? Well, let's just say I don't plan on spending a lot of time outdoors while I'm here...

• Wheaton! While at Comic-Con, I posted a photo of Wil Wheaton to my Flickr stream. After responding to @Whall making a Stand By Me joke about it, I mentioned that I had met Wil Wheaton twice, and wasn't going to stand in line for two hours to meet him again. For this, I got called "bullshit" on by some random stranger, and was told that "Standing in line at a Star Trek convention for a two second autograph doesn't count as 'meeting Wil Wheaton'."
Well, whatever... while I do have an autographed photo of Wesley Crusher that I was happy to stand in line for, that's not what I was talking about. Where I "met" Wil Wheaton was while he was an evangelist touring with NewTek, and it was hardly a "two second autograph." In fact, all I did was talk to him, I didn't even get an autograph at all. Or a photo. Though Wheaton did appear in the background of one of the photos I took of Kiki Stockhammer...
Bazinga! I'd mention that I stood in the airport security line out of San Diego with Paul Sr. of West Coast Choppers (from the TV show American Chopper) yesterday, but you probably wouldn't believe that either. Apparently I have nothing better to do than sit around and invent stories of chance encounters with famous people.

• Waffles! There is not a single Waffle House in all of Washington State (the closest is in COLORADO!), which means the only time I get to eat at one is when I'm traveling. This sucks, but at least I have something to look forward to...
The food is (relatively) inexpensive, tastes good, and available 24 hours. What more could you ask for?

• Wobble! When I was at the San Diego Zoo the other day, I was wandering through the new Elephant exhibit and came across an elephant dancing to some music that was playing nearby (you can barely hear it in the background there, as my iPhone doesn't have the best microphone)...
Rock on, Tantor! Though a part of me is kind of sad at the idea that he might be wobbling around because he's bored in his cage and doesn't have anything better to do. San Diego Zoo is better than most at providing nice habitats for their animals to live in, but it's still a cage at the end of the day.

• Watch! They keep adding cool bits to the TRON: Legacy trailer, which only makes me want to see the film more than ever. December is so far away...
They've youthed Jeff Bridges! And did a really good job of it! I hope the movie lives up to even a fraction of the hype that's building around it.

• Web! I hope that Flash videos in my previous two bullets didn't crash on you! For anybody who says that Mac users who whine about Flash are stuck in the past, and Flash has been much improved and runs perfectly on the Mac, I beg to differ. It's still the bug-ridden pile of bloated FAIL! it's always been, and still crashes all the time, as I can testify to because it happened again just today...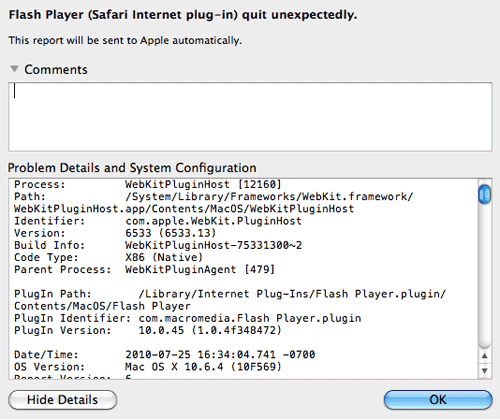 Flash just can't die fast enough.

And now... I guess I really should get back to work.