Hooray! It's a Bullet Sunday dedicated to three people I loathe on this Independence Day!

• Larry. One of the single worst interviewers on the planet, Larry King, has announced he's retiring. I have never, ever, understood his appeal. Every time I've seen one of his shows, I'm left wondering if he even knows who he's interviewing, since half the time he seems completely bewildered as to whom he's talking to. As if that wasn't enough, he's always looked like some kind of pervy alien to me...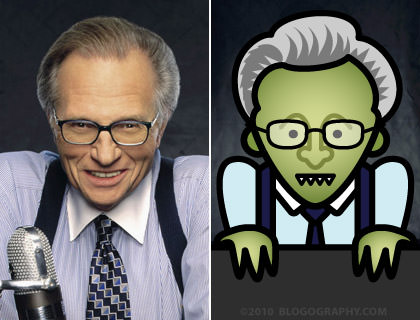 Here's hoping that Larry's replacement is somebody who's worth a shit. If CNN is going to get all the interesting people to interview, it would be nice if the actual interviews weere worth watching.

• Night. If there were ever an example of somebody who started with a bang, then faded to ridiculousness with an even bigger bang, it would be M. Night Shyamalan. Even though I figured out the "twist" in The Sixth Sense well before the reveal, I still enjoyed the film... mostly because of the performances which were terrific all the way around (in particular Toni Collette, who totally sold her unsellable character). I didn't necessarily think Shyamalan was genius for it, but I did think there was some talent there. Then came Unbreakable, which was a film I loved. I loved the story. I loved the performances. Sure there were some spots that did their best to sabotage the ideals of a non-super-hero super-hero film, but it was a good movie, right up until that awesome reveal at the end that is dropped on you like a bomb by Bruce Willis and Samuel L. Jackson being all amazing and stuff...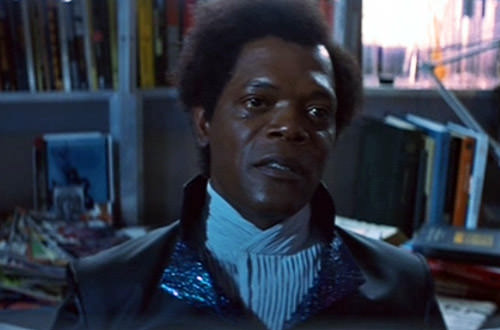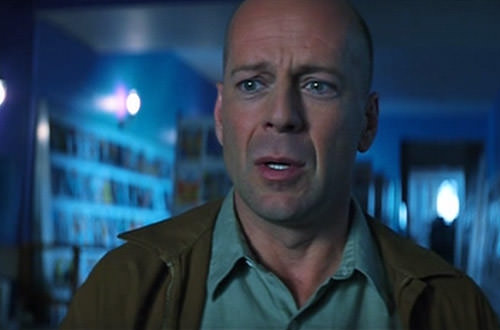 Unfortunately, every single thing that M. Night Shyamalan has released after this film has been stupid as shit. Signs? Stupid, nonsensical shit. The Village? Stupid, predictable shit. Lady in the Water? Stupid, self-indulgent shit. The Happening? Stupid, stupid, STUPID shit. You'd think I'd have learned my lesson after The Village, but I keep going back for reasons even I don't understand.
Until now. Because Shyamalan's latest film is based on Avatar: The Last Airbender, which is one of my most favorite cartoons ever...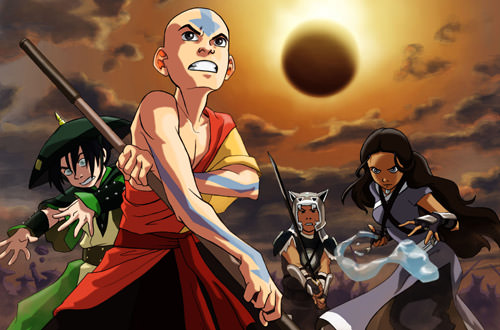 There is no way I am going to watch as something I care for so much is utterly destroyed by Night's hackery. And, not that I really needed to go there, but the pitiful 8% Fresh rating at Rotten Tomatoes only confirms that it's yet another stupid as shit film in a chain of stupid as shit films. Netflix has the REAL Avatar on Watch-It-Now, so I'll just watch that instead. What is it going to take for movie studios to stop giving M. Night Shyamalan millions of dollars to crank out more crap films? Aren't there other filmmakers out there more deserving?

• Mel. I find it scary that Mel Gibson has turned into the very racists he made fun of while playing Riggs in Lethal Weapon 2...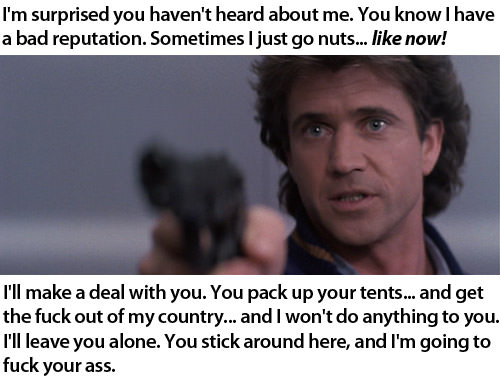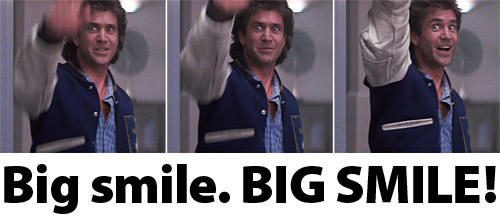 Unfortunately, I'm quite sure that racist tirades like Mel's recent N-word meltdown are anything but rare. Reprehensible stuff like this goes on all the time behind closed doors of all races, religions, and creeds. But Mel Gibson's celebrity status has made him somebody with influence, and this is not the kind of crap that deserves the spotlight. Hopefully these repeated offenses will be enough to bury the asshole back to obscurity.

• 20/20. Today's word in the TWENTY/TWENTY meme is "wrong."
Something that I've always thought is very wrong is when restaurants and butcher shops use happy animals to advertise their meats. Which basically means that the animals are inviting you to eat them... like in Restaurant as the End of the Universe. The cutest suicidal animals are in Asia...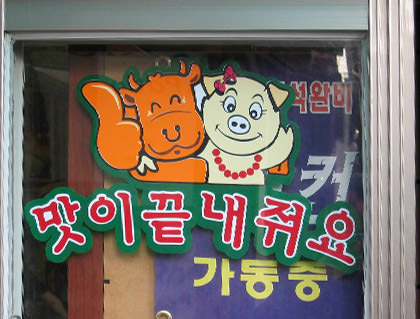 And I don't think this needs any explanation...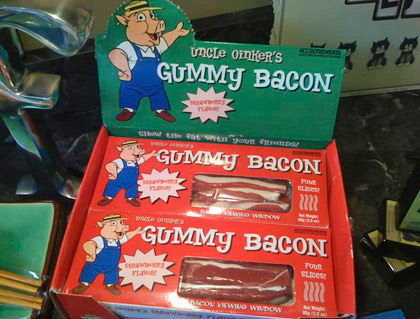 And now, before I go, something mostly right...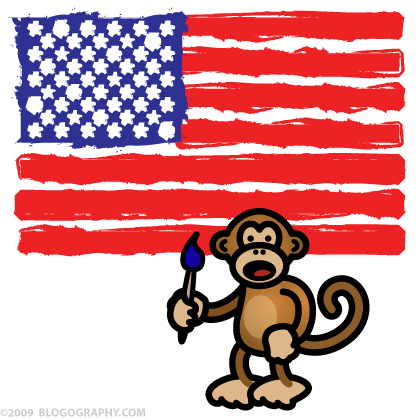 Happy 234th Birthday, USA!